Lifeless Wahoos dominated by Hokies as Blacksburg streak continues
By Jerry Ratcliffe
BLACKSBURG – Last year, this game between two crusty old rivals was for all the marbles in the Coastal Division, an ACC Championship appearance and an Orange Bowl invite.
This time around, the only thing Virginia and Virginia Tech were playing for was pride.
Virginia Tech 33, Virginia 15.
Wasn't as close as the score indicated as Tech dominated, controlling the game with a strong running attack that piled up 252 yards on the ground, and confused UVA quarterback Brennan Armstrong with different pass coverages that led to the Cavaliers' lowest offensive output this season (322 yards).
It was as good as over at halftime when the host Hokies used two big offensive plays to build a 27-7 lead, continuing the Cavaliers frustration at Lane Stadium, where they haven't won since 1998.
Virginia, finishing 5-5 overall, 4-5 in the ACC, opened the game strong offensively when it marched 75 yards on its opening possession to take a 7-3 lead. From that point on the Cavaliers seemed to lose their mojo, punting the ball away on three of their next four possessions.
The Hokies gave UVA an excellent opportunity to stay in the game on one of those punts when James Mitchell muffed the return and the Cavaliers' Hunter Stewart recovered at the Tech 24. After back-to-back runs by Armstrong for a total of three yards, followed by an incomplete pass, Virginia settled for a 39-yard field goal attempt by Brian Delaney, which was no good.
"It felt more like a lost opportunity," said UVA coach Bronco Mendenhall, who is 1-4 in this rivalry. "You have to come away with points … that's how you win rivalry games."
"That was a big opportunity we missed," said wide receiver Terrell Jana. "That could have changed a lot of things for us."
Instead, the Cavaliers felt momentum slipping away as Tech practically sealed the game over the next 10 minutes, adding a field goal and two explosive plays for touchdowns. Running back Khalil Herbert bolted 76 yards for a touchdown and wide receiver took a pass from Braxton Burmeister, shook off UVA defender De'Vante Cross and jetted 65 yards for another score in the final minute of the half.
That left Mendenhall & Company in damage control during the break.
"There wasn't a lot of screaming and yelling or anything else," Mendenhall said.
Maybe there should have been because his team appeared lifeless at that point to those outside the locker room.
"It was just execution," Mendenhall said. "We gave up two giant plays on defense and we were inconsistent on offense. It was just a matter of executing our way back into the game.
"When we closed it to within 30-15, it looked like that could be a really strong finish and a competitive ending. Then a couple of turnovers got in the way."
And how.
Tech scored on its first possession of the second half to go up 30-7, but the Cavaliers showed a faint pulse on a 57-yard drive ending on a 23-yard TD pass to tight end Tony Poljan. The Wahoos had cut the lead to 30-15 with 4:50 remaining in the third quarter.
From that point on, Virginia's offense was dead on arrival and the defense was so worn down from being on the field too long that it was a hopeless cause.
After that TD, the Cavaliers offensive possessions went like this: interception (leading to a Tech field goal); punt; interception; time expired on the final drive.
It wasn't exactly a good night for Armstrong, who had improved week by week until Saturday night. The redshirt sophomore wa 25 of 46 for 259 yards, two touchdowns, two interceptions and was sacked four times. He was also UVA's leading rusher in an anemic running attack that garnered only 55 yards.
Falling behind the way it did, Virginia became one dimensional in a hurry and played right into the defensive game plan of the Hokies, who finished the season 5-6 overall, 5-5 in the ACC.
"It's immediate motivation to get it right," Mendenhall said after the game. "It's our goal and desire to win the state every single year. Not every other year or less frequently than that. We're motivated already to get back to work."
When that will be won't be clear until Virginia holds a team meeting to decide on whether to accept a possible bowl invitation. Playing perhaps their worst game since a lopsided Military Bowl loss to Navy to end the 2017 season, would be motivation enough to play in a bowl game and potentially end the season on a less sour note.
"Our team will choose that in a team meeting on Monday," Mendenhall said.
Senior wide receiver Terrell Jana, one of the team captains, said he would be in favor of whatever his teammates want.
"We would be one of the few teams to go to four bowls in a row," Jana said in reference to UVA's bowl history. "We haven't talked much about it because our focus was on Tech. This might change some minds.
"Everyone is disappointed," Jana said. "We all wanted to win in this stadium. This wasn't a good reflection of who we are as an offense. Sometimes you need a good lesson like this, to get humbled."
Virginia was certainly humbled wire-to-wire in every phase of the game, even though it was a mere 3-point underdog coming in and riding a four-game winning streak. The Hokies had lost four in a row.
"I think it hurts, no matter what," Mendenhall said of the loss. "The things that are controllable, that we didn't control, which again really comes down to the precision and the assignment soundness and the consistency.
"Those are the things that I always take personally and like to see at an elite level. That didn't really reflect how we played from beginning to end."
Team Notes
UVA played game No. 10 of the season, becoming one of 17 FBS programs in 2020 that has not been the reason for a COVID-19 postponment or cancelation in 2020 and has reached 10 games played. They join: Army (10); Auburn (10); Boston College (11); Clemson (10); Coastal Carolina (11); Duke (11); Georgia Southern (12); Iowa State (10); Kansas State (10); Kentucky (10); Oklahoma State (10); South Carolina (10); Syracuse (11); Texas State (12);
West Virginia (10); Western Kentucky (11).
UVA and VT met for the first time in series history in the month of December (102 games).
UVA's 322 yards of total offense was its lowest output of the season.
Player Notes
WR Lavel Davis Jr. had three catch for 75 yards. Fourteen of his 20 receptions this season have gone for 20+ yards. All but one have gone for a first down or a touchdown.
Davis moved into second place on UVA's freshman receiving list, passing Billy McMullen (483, 1999), Herman Moore (466, 1988) and Tyrone Davis (465, 1991). Davis Jr.'s season total after the game is 515 receiving yards.
WR Terrell Jana (24) and TE Tony Poljan (66) each went over 400 receiving yards for the season, joining both WR Billy Kemp IV and WR Lavel Davis Jr. It is just the third time since 2000 UVA has had four different receivers with 400+ receiving yards in the same season. It also happened in 2003 and 2016. The only other time UVA has had at least four players each with 400+ yards receiving was 1991.
With nine receptions, WR Billy Kemp IV became the 26th Cavalier in program history with at least 100 career receptions. Kemp IV currently has 102 career receptions, tying him for No. 24 all-time at UVA with Canaan Severin.
With three receptions, WR Terrell Jana extends his active streak with a reception to 27 games.
With 24 receiving yards, Jana moved passed former teammate Joe Reed (1,465) for No. 17 all-time on the UVA career receiving yards list. Jana now has 1,481.
With five receptions, TE Tony Poljan extends his active streak with a reception to 23 games.
Poljan notched his sixth touchdown of the season, pushing him to a four-way tie for No. 2 on UVA's single-season touchdown receptions list by a tight end. He shares the spot with Ed Carrington (1965), Bruce McGonnigal (1989) and Heath Miller (2003). The six career touchdowns at UVA also puts Poljan in a tie for No. 8 in program history for career touchdowns by a tight end.
With 66 receiving yards, Poljan now has 411 for the season, which puts him in a three-way tie for No. 7 on UVA's single-season receiving yards by a tight end list. He shares the spot with Ed Carrington (1966) and Aaron Mundy (1992).
With five receptions, Poljan now has 38 for the season, which puts him in a three-way tie for most single-season receptions by a tight end in program history. He shares the spot with Chris Luzar (2001) and Heath Miller (2002).
Coen King notched a career-high 10 tackles.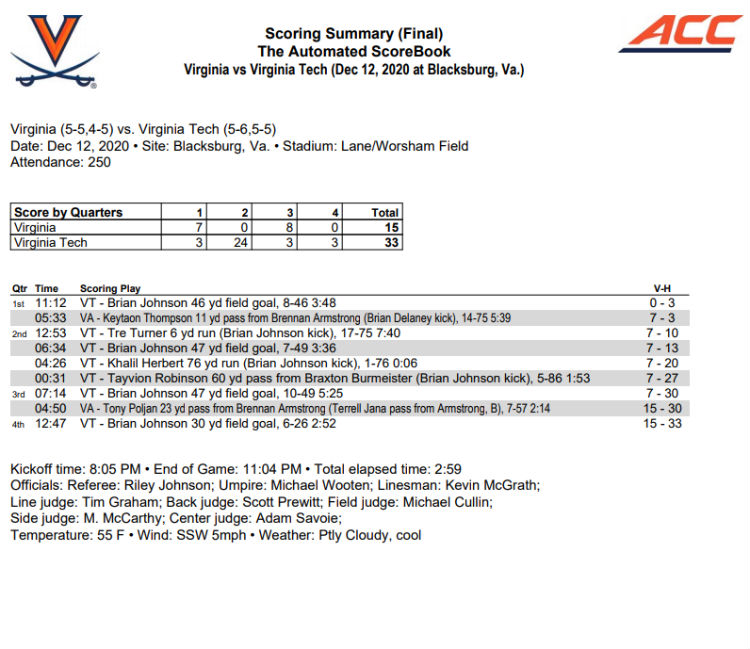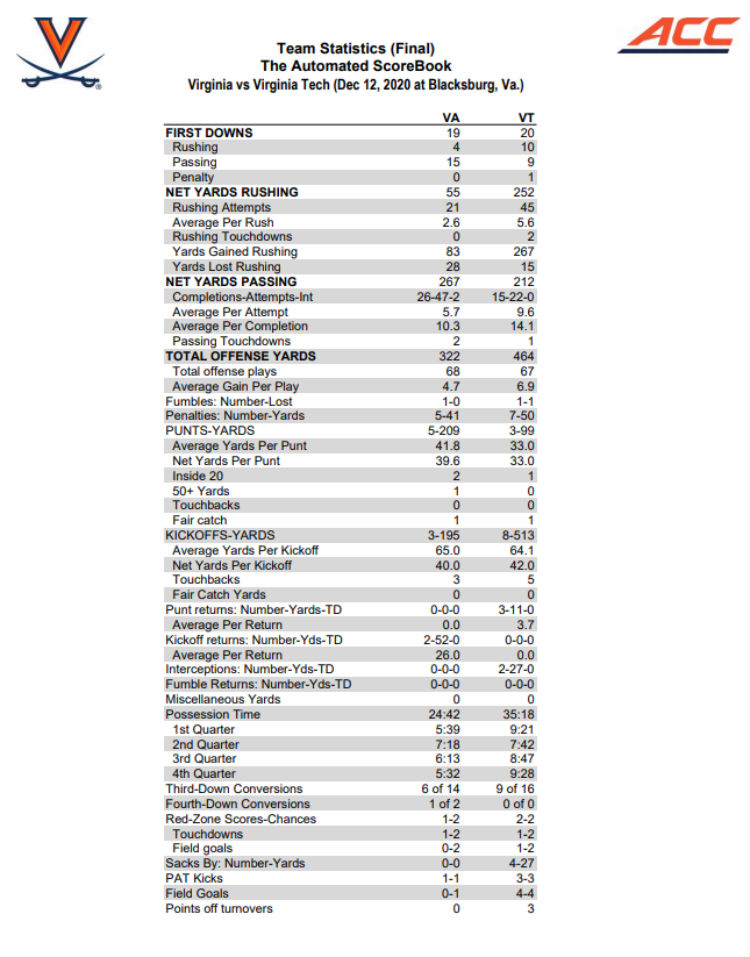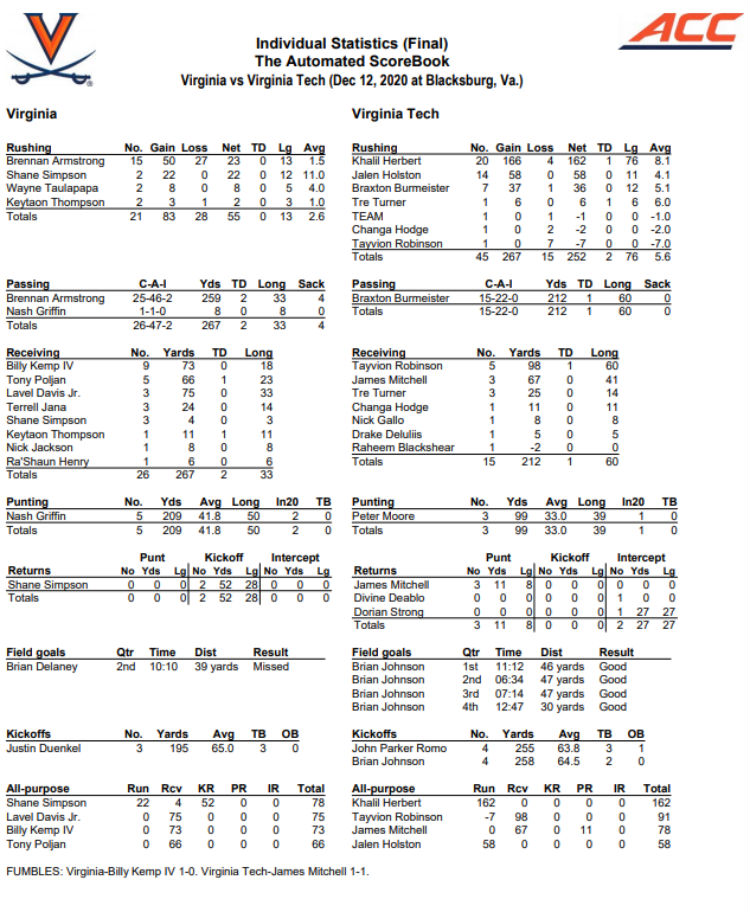 Comments