FINAL: Virginia 52, William & Mary 17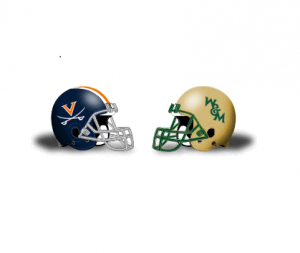 Virginia got it done in all three phases in its home-opening 52-17 win over former boss Mike London and the William & Mary Tribe, in front of a boisterous crowd at Scott Stadium Friday night.
Below is a complete recap of the contest, which moves the Cavaliers to 2-0 on the season:

Individual Statistics
RUSHING: W&M — Albert Funderburke 5-50; Owen Wright 10-12; Jaret Anderson 3-10; Hollis Mathis 15-10; Kilton Anderson 1-(-9); Ted Hefter 1-(-10). UVA — Mike Hollins 11-78; Bryce Perkins 7-68; PK Kier 6-45; Brennan Armstrong 3-13; Tavares Kelly 1-9; Lamont Atkins 3-5; Chris Sharp 1-4; Billy Kemp 1-(-1), TEAM 2-(-5).
PASSING: W&M — Kilton Anderson 4-8-0-103; Hollis Mathis 0-4-1-0; Kane Everson 1-1-0-27. UVA — Bryce Perkins 16-26-2-192; Brennan Armstrong 9-10-1-103.
RECEIVING: W&M — Zach Burdick 2-65; Brandon Battle 1-39; Tyler Klaus 1-16; Donavyn Lester 1-10. UVA — Joe Reed 4-58; Tavares Kelly 4-1; Hasise Dubois 3-50; Terrell Chatman 3-44; Billy Kemp 3-34; Hayden Mitchell 2-49; Terrell Jana 2-35; Chris Sharp 2-13; Tanner Cowley 1-6; Lamont Atkins 1-5.
Attendance — 45,250.
Game Statistics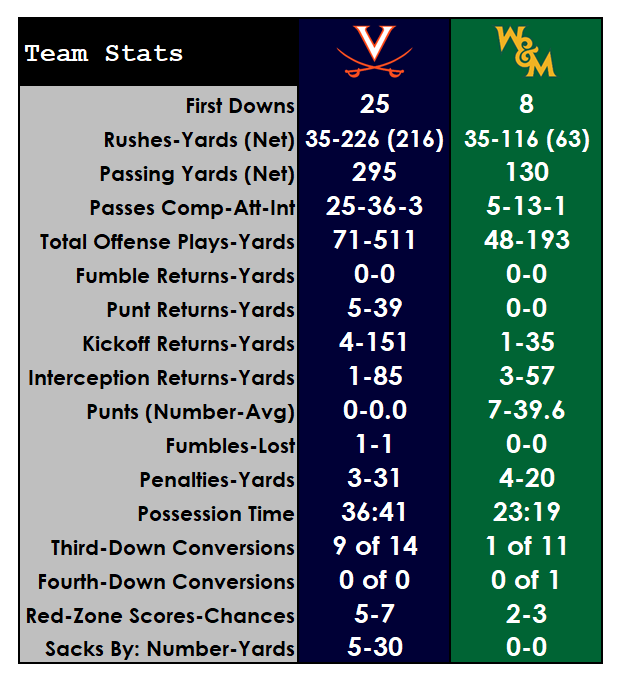 First Quarter
William & Mary got the ball first and committed two penalties before punting to end its first drive. Six different Cavaliers touched the ball in their first six offensive plays, capped by a 40-yard touchdown pass from Bryce Perkins to an open Joe Reed down the sideline, who made a nice move to stay inbounds and keep the ball inside the pylon. The play was originally ruled down at the 1-yard line, but was changed to six points after review with 9:37 on the clock. Wahoos 7, Tribe 0.
True freshman Hollis Mathis guided the Tribe down to the Cavalier 30-yard line on the next series, but didn't see UVA cornerback Nick Grant on a second-and-7 pass attempt. Grant snatched it for his first career interception and took it 85 yards to the house with 6:53 left in the period. It was the third-longest interception return in Wahoo history. Wahoos 14, Tribe 0.
After a W&M punt, Perkins connected with Hasise Dubois for 19 yards on a third-and-18 to keep the chains moving. PK Kier had a nice 18-yard run down to the W&M 7-yard line, and Perkins trotted in for six more on the following play with 1:37 on the clock. Wahoos 21, Tribe 0.
Jordan Mack finished the period with a sack.
Second Quarter
Jordan Mack (with a little help from Aaron Faumui) started the second quarter with a sack, and W&M punted again two plays later. UVA's Billy Kemp had his second solid punt return of the half, a 24-yarder that followed an 18-yarder in the first quarter, to set the 'Hoos up at midfield.
On the ensuing drive, Perkins took a big hit on third down but bounced off of it and got 15 yards, plus the first down. He then found Kemp for his first career reception, another 15 yards, and then connected with former Arizona State teammate Terrell Chatman for a sliding 15-yard touchdown with 11:56 left in the half. Wahoos 28, Tribe 0.
William & Mary got on the board with 9:06 left in the half on a 40-yard field goal by Jake Johnston. Wahoos 28, Tribe 3.
The Tribe kicked off to Reed, who tied a Virginia record with a 100-yard return for his second score of the night, and it only took 15 seconds off the clock. Wahoos 35, Tribe 3.
Perkins made perhaps his only bad decision of the half with the 'Hoos on the move with under four minutes to go, as he was picked off by free safety Miles Hayes with 3:42 showing, but the Tribe went on to punt again.
Brian Delaney misfired on a 30-yard FG attempt from the right hashmark with 11 seconds left, and the half came to a close with the 'Hoos enjoying a comfortable 32-point advantage.
Third Quarter
UVA received to start the second half and Perkins engineered a 10-play, 70-yard march that lasted five 1/2 minutes and culminated in the first collegiate touchdown (on his first career carry) of true freshman Mike Hollins, with 9:30 left in the quarter. Wahoos 42, Tribe 3.
Perkins' second interception came midway through the period and gave the ball to W&M at the 50, and quarterback Kilton Anderson hooked up with Zach Burdick for 38 yards down to the UVA 12, but the 'Hoos held the Tribe to a 37-yard field-goal try. Johnston, however, missed wide right with 5:50 on the clock, and the Cavaliers took over from their own 20.
Brennan Armstrong stepped in under center on the next Wahoo series and was blindsided by Trey Watkins as he threw on a third-down play, and Arman Jones picked it off and raced 47 yards for the Tribe's first touchdown of the night, with 2:55 left in the third. Wahoos 42, Tribe 10.
Fourth Quarter
Delaney kicked a 34-yard field goal with 14:22 remaining, and then Albert Funderburke scored from 2 yards out to cap a 75-yard drive for William & Mary with 12:20 to go. Wahoos 45, Tribe 17.
Hollins scored his second touchdown of the night with 9:06 remaining for the final result. Wahoos 52, Tribe 17.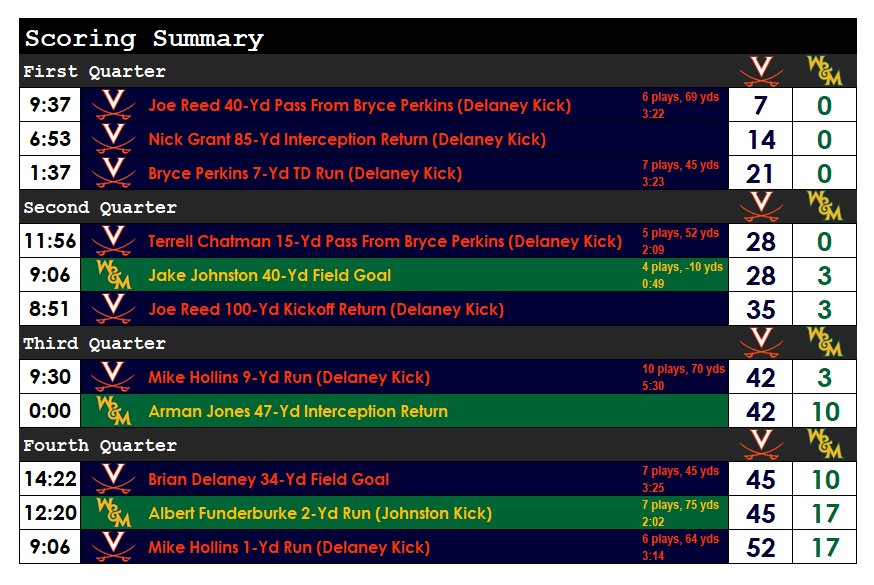 Team Notes
UVA is 30-6-1 all-time against William & Mary.
UVA is 24-4 all-time against William & Mary at home.
UVA scored 21 points in the first quarter for the first time since the 2018 Ohio game in Nashville.
UVA's 35 points in the first half are tied for No. 9 all-time for the first half in UVA history.
UVA scored in all three phases of the game (offense, defense, special teams) for the first time since Sept. 21, 2002 against Akron.
Virginia scored 50+ points in a game for the first time since beating Temple in 2005, 51-3.
Virginia has scored on each of its opening drives in the first and second halves in both games this season. At Pitt UVA scored field goals in its opening possessions of each half. Against William & Mary, UVA tallied touchdowns.
UVA's defense has not allowed an offensive touchdown in 10 of the last 12 quarters played.
UVA did not punt in a game for the first time since 1989 against Duke.
UVA had four collegiate debuts against William & Mary. OG Tyler Fannin, WR Jalen Harrison, OLB Jairus Satiu**, DE Ben Smiley II**
**-denotes true freshman
First collegiate starts: LT Bobby Haskins, OLB Noah Taylor.
Player Notes
QB Bryce Perkins finished with 68 rushing yards, making him the 44th Cavalier in program history to rush for 1,000 yards in a career.
With 192 passing yards, Perkins now has 3,053 career passing yards. He is the fastest Cavalier to 3,000 career passing yards and 1,000 career rushing yards (15 games), breaking Shawn Moore's previous record of 31 games.
Perkins was intercepted for the first time in 2019, breaking his FBS-leading active streak for most passes (145) without an interception.
Perkins has thrown multiple touchdowns in 14-of-15 career games for the Cavaliers.
CB Nick Grant collected his first career interception in the first quarter. He returned it 85 yards for a touchdown. It was the third-longest return in UVA program history.
Grant's interception for a touchdown was the first by a Cavalier since Quin Blanding returned one 58 yards against Duke in 2017.
WR Joe Reed had a 100-yard kickoff return for a touchdown in the second quarter, tying the program record for longest kick return for a touchdown. He is the fourth Cavalier to return a kick 100 yards for a touchdown and first since Marquis Week in 2004 against North Carolina.
Reed extends his UVA career record for kick returns for a touchdown to four.
With two kick returns for a TD in 2017 and one in 2018, Reed is the only UVA player to return a kick for a touchdown in three separate seasons.
WR Terrell Chatman finished the game with a career-high three receptions. He hauled in his first Virginia touchdown on a 15-yard scoring strike from Bryce Perkins. It was the second career touchdown of Chatman's career. He tallied one last year against UTSA for Arizona State.
WR Billy Kemp IV had a career-long 18-yard punt return in the first quarter.
Kemp made his first career reception in the second quarter on a 15-yard haul.
TB PK Kier had a career-long rush of 18 yards in the first quarter.
TB Mike Hollins rushed for his first career touchdown in the third quarter on his first career rush. He is the first Cavalier to accomplish that feat since Jordan Ellis in 2015 against William & Mary.
WR Hayden Mitchell made his first career catch in the fourth quarter. The reception went for 28 yards.
Up Next
The Cavaliers (2-0, 1-0 ACC) will host Florida State Saturday at 7:30 p.m. in the ACC home opener.

Comments