Long day in Champaign: Illinois keeps UVA without a TD in 24-3 win
By Scott Ratcliffe
Miscues, missed opportunities and overall offensive ineptitude plagued Virginia Saturday, as Illinois took advantage and cruised to a 24-3 win in Champaign, handing Tony Elliott his first loss as a head coach. The Cavaliers (1-1) committed an untimely early turnover that ultimately led to 21 unanswered Illinois points, and UVA could never climb out of the hole.
Illinois' Chase Brown, the nation's leading rusher coming into the weekend, led the way with 146 yards on 20 carries, while Syracuse transfer quarterback Tommy DeVito threw for 196 yards and a pair of scores.
The Fighting Illini (2-1) got off to a sloppy start themselves and gave up the rock four times in the first half, but made key plays in all three phases to build an 18-point halftime advantage, and their defense made things tough for the Wahoo offense all day long.
Brennan Armstrong and the Virginia offensive line struggled, with Illinois applying heavy pressure throughout the contest. Armstrong often found himself running away from Illini defenders, and finished the contest completing 13 of his 32 pass attempts for 180 yards, while netting negative-9 yards rushing. The senior quarterback was hurried six times, sacked five times for 39 yards, and intercepted twice.
Virginia was 1 for 16 on third-down conversions and 1 for 4 on fourth downs, finishing the game with 222 total yards (180 passing, 42 rushing) and held the ball for just 26:09. Illinois posted 394 yards (198 rushing, 196 passing).
Jay Woolfolk led Virginia with 31 yards rushing (on one carry late in the game), while Perris Jones added 26 yards on seven carries. Lavel Davis Jr. registered a team-high 67 yards receiving on just two catches, while Keytaon Thompson had a team-high five receptions for an additional 62 yards. Sophomore DB Langston "Lex" Long led the Cavaliers' defensive effort with 13 tackles (8 solo, one for a loss) and a fumble recovery. Senior linebacker Nick Jackson added nine stops (4 solo) and a sack, one of three for UVA on the evening. 
FIRST QUARTER
Virginia won the coin toss and chose to defer to the second half. Chase Brown picked up a first down with a 13-yard run on the first play from scrimmage, but senior cornerback Anthony Johnson picked off DeVito's first pass attempt on the following snap, and UVA took over just inside the 50-yard line less than a minute into the contest.
Facing a third-and-7 on the Cavaliers' first possession, Armstrong overthrew Dontayvion Wicks, and the Hoos punted, wasting an early opportunity as Jones' 3-yard carry was all Virginia could come up with on the opening series.
After an Illinois first-down reception, Chase Brown appeared to gain another 10-plus yards but coughed up the ball (poked free by senior safety Antonio Clary), and Long was there to pounce on it with 12:49 on the clock.
UVA took over at the Illinois 32-yard line, but a 4-yard loss and a false-start penalty backed the Hoos up to the 41. On third-and-19, Armstrong, who misfired on his first three attempts, finally completed one for 17 yards to Thompson, but it was two yards shy of the marker. Brendan Farrell came on and barely snuck a 42-yard field goal over the crossbar to give Virginia a 3-0 lead with 11:08 showing. The Illini committed two turnovers in its first six offensive plays, but despite excellent field position, UVA could only turn them into three points.
The Cavalier defense came up with a crucial third-down stop on the ensuing drive, as DeVito was blasted by Long one yard short, forcing a three-and-out.
When the Hoos got the ball back, Armstrong couldn't get a hold of the snap on first down, losing 27 yards on the play. Jones was able to pick up 16 yards on second down, but Armstrong was sacked on third down, and Daniel Sparks punted the ball back to the home team with 6:30 left in the opening period.
After another Illinois three-and-out, Billy Kemp IV stumbled just before hauling in the ensuing punt inside the 10-yard line, and tried to avoid oncoming tacklers but had the ball knocked free by Sydney Brown, leading to the game's first touchdown, as Matthew Bailey fell on it in the end zone, and UVA trailed, 7-3, with 5:38 on the clock.
Virginia couldn't get anything going on the next drive, punting the ball right back to Illinois less than a minute later, as Armstrong completed just one of his first six attempts.
Former Illinois walk-on Michael Marchese scored his first career touchdown on the ensuing Illini possession, as DeVito found him wide open down the sideline for a 39-yard score, putting the Cavaliers in an early 14-3 hole with still 3:35 left in the first.
Armstrong came up short on a third-down scramble, as Virginia punted away for the fourth time in its first five drives, and Illinois was on the move again. After an Aaron Faumui unsportsmanlike conduct penalty, DeVito found Pat Bryant for 43 yards down to the UVA 2-yard line, as a forgettable, nightmarish quarter for the Hoos came to a close with the Illini knocking on the door again. Virginia was outgained 164-9 in the period, despite having possession of the ball for more than 10 of the first 15 minutes.
SECOND QUARTER
It didn't take hardly any time for Illinois to add to the lead, scoring just four seconds into the second, as DeVito found tight end Tip Reiman for a 2-yard touchdown, and UVA was behind, 21-3.
The Cavaliers were able to move the ball a little on the next drive, as Armstrong rushed for a 12-yard gain and a first down before another punt, but Sparks pinned the Illini down at the 4-yard line, giving the defense some momentum to come up with a stop and keep the game within reach.
Illinois marched right back down the field, however, and looked to have put another six points on the board, but Bryant was stripped by Cavalier sophomore Jonas Sanker, with a little help from Clary, just before crossing the goal line on what would have been a 17-yard touchdown catch. Fentrell Cypress II scooped up the ball in the end zone and picked up five yards, as the Hoos dodged a huge bullet with 9:25 left in the half.
On the next snap, Armstrong finally registered a big play, hooking up with a wide-open Davis for a 62-yard gain to the Illinois 33. Two plays later on third-and-3, Armstrong was nearly intercepted over the middle, but the offense stayed on the field and Thompson got just enough on a fourth-down grab to keep the chains moving.
Armstrong looked for Wicks in the end zone twice but came up empty, and then Farrell's 41-yard attempt bounced off the right upright, and the Hoos still trailed by 18 with 6:39 left. Virginia punted yet again on its ensuing possession, as Illinois resumed control from its own 42 with 3:15 to go.
Three plays later, Miami-Ohio grad transfer Kam Butler popped DeVito for a sack and a fumble, and junior lineman Jahmeer Carter fell on top of the ball, giving the Hoos life with 2:30 remaining in Illini territory. However, on third-and-2, Mike Hollins was stuffed at the 37-yard line for no gain, and Armstrong threw incomplete to Wicks on fourth down with 58 ticks left, turning the ball over on downs, as the Illini defense came up with another clutch stop.
Georgia Tech transfer Chico Bennett Jr. registered the first full sack of his career to end the half to avoid any further damage, as the Cavaliers were staring at a 21-3 halftime deficit. Illinois outgained Virginia in the half, 264-114, as the Hoos went 0 for 10 on third downs across the opening 30 minutes. Armstrong was 5 for 15 for 94 yards, while DeVito completed 13 of 16 for 155 and the two touchdowns. Chase Brown rushed for 104 yards in the first half alone.
THIRD QUARTER
UVA received the kickoff coming out of the locker room and things didn't improve much off the bat, as Hollins couldn't juke enough defenders on a third-and-17 to give the Cavaliers their first successful third-down conversion of the day, and Sparks' ensuing punt traveled just 22 yards to the UVA 48.
The Wahoo defense then smothered DeVito on a third-down carry, but Chase Brown got to the edge on fourth down to keep the Illinois drive alive, before picking up another 12 a few plays later. Clary let a golden chance slip away, nearly intercepting a DeVito pass in the red zone, but Caleb Griffin's ensuing 31-yard field-goal attempt sailed wide left. UVA took over from its own 20 with 8:27 on the clock, but came up empty again with another quick three-and-out.
This time, the Illini made the Cavaliers pay, adding to their lead with a 10-play scoring drive capped by a 23-yard Griffin field goal to make it 24-3 with 3:32 left in the third.
The song remained the same for the UVA offense, as Armstrong was sacked on third down late in the quarter to put an end to another ineffective possession. The Cavaliers amassed just six total yards in the period. Through three quarters and its first 12 total possessions, UVA punted nine times (eight three-and-outs), including to end all three drives in the third.
FOURTH QUARTER
Illinois left the door open, as Griffin missed a 45-yarder and UVA took over with 12:23 to play, needing three scores to get back in the game, but a microcosm of the evening came with 11:29 to play. Armstrong's pass to a wide-open Grant Misch — that possibly could've gone for six — was underthrown, and the senior tight end lost his footing trying to adjust as the ball hit the Memorial Stadium turf incomplete.
A few plays later, with a yard to go, Armstrong went deep for Demick Starling, but came away with nothing for the 14th time on third down. After a Cavalier penalty on fourth down, a diving Bailey picked off an Armstrong pass to add to the frustrations with 10:57 remaining, before Illinois melted another 4:30 off the clock.
Armstrong's pass to Wicks in the end zone fell incomplete with 4:27 to go, and then he was picked off by Kendall Smith after lofting one up in the air on the following play, and Illinois took over deep in its own territory.
UVA had one last crack at making it respectable, but Armstrong was sacked to make it third-and-14 from the Illinois 46 with just over two minutes left. As Armstrong briefly went under the injury tent, Jay Woolfolk came in and threw one incomplete deep for Davis, but an Illinois defensive holding penalty gave the Cavaliers an automatic first down — their first third-down conversion of the game.
Woolfolk showed off his wheels and ran it himself down inside the Illinois 10-yard line as the game went under two minutes. On a third-and-goal from the 5, Armstrong re-entered and threw incomplete for Davis, and then found Wicks in the back of the end zone on fourth down, but he landed out of bounds, and Illinois took over with 56 seconds to play to keep Virginia out of the end zone for the first time since last season's loss to Notre Dame. It also broke a streak of 18 games in which Armstrong had thrown a touchdown pass.
Game Stats
Scoring Summary
Virginia    3 – 0 – 0 – 0 — 3
Illinois     14 – 7 – 3 – 0 — 24
First Quarter
UVA (6:30) — Brendan Farrell 42-yd field goal. Virginia 3, Illinois 0.
ILL (5:38) — Matthew Bailey fumble recovery (Caleb Griffin kick). Illinois 7, Virginia 3.
ILL (3:35) — Michael Marchese 39-yd pass from Tommy DeVito (Griffin kick). Illinois 14, Virginia 3.
Second Quarter
ILL (14:56) — Tip Reiman 2-yd pass from DeVito (Griffin kick). Illinois 21, Virginia 3.
Third Quarter
ILL (3:32) — Caleb Griffin 23-yd field goal. Illinois 24, Virginia 3.
Player Stats
Rushing
UVA — J. Woolfolk 1-31; P. Jones 7-26; M. Hollins 5-12; X. Brown 4-9; B. Armstrong 11-(minus-9). Total: 29-42; ILL — C. Brown 20-146; R. Love III 9-33; T. DeVito 9-12; C. Hayden 4-9; I. Williams 1-1. Total: 45-198.
Receiving
UVA — L. Davis Jr. 2-67; K. Thompson 5-62; D. Wicks 2-23; M. Hollins 2-13; G. Misch 1-8; X. Brown 1-7. Total: 13-180; ILL — P. Bryant 2-60; M. Marchese 2-43; L. Ford 4-20; I. Williams 3-19; T. Reiman 2-14; B. Hightower 2-13; C. Brown 1-3. Total: 17-196.
Passing
UVA — B. Armstrong 13-32-180-0-2; J. Woolfolk 0-4-0-0-0. Total: 13-36-180-0-2; ILL — T. DeVito 17-25-196-2-1. Total: 17-25-196-2-1.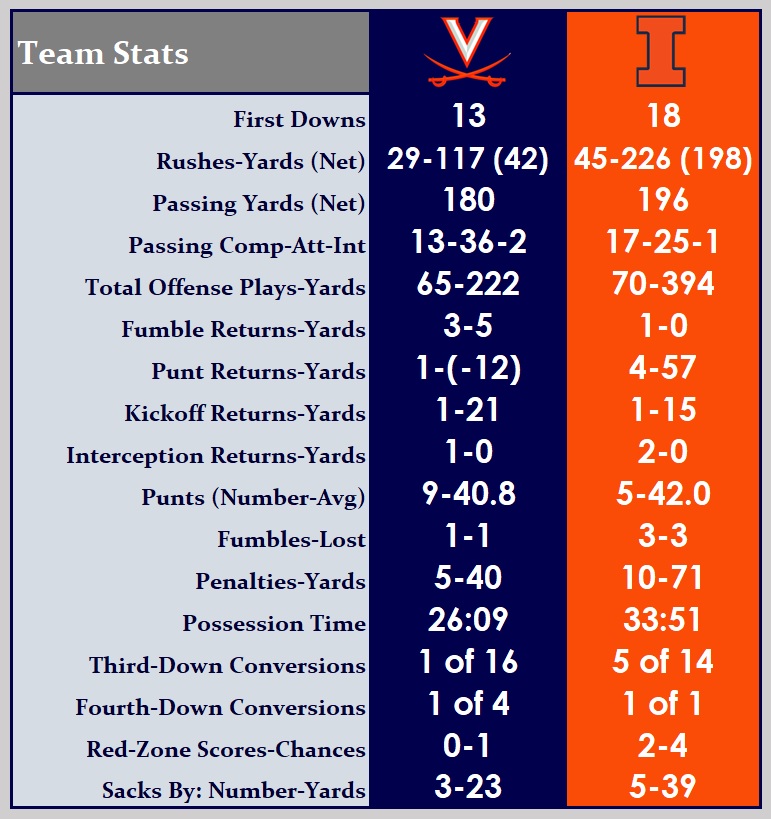 Team Notes
Courtesy UVA Media Relations
Virginia drops to is 1-3 all-time against Illinois.
UVA is 8-12 all-time in games against active members of the Big Ten and falls for only the third time in the last eight matchups against Big Ten foes.
The Virginia defense forced four turnovers – three forced fumbles and an interception. Two of the turnovers came on the first two Illinois' drives.
The three fumble recoveries were the most in a game since being credited with three against Duke on Oct. 19, 2019.
The Cavaliers finished with 222 yards of total offense (42 rush, 180 pass) in the contest, their lowest output since compiling 191 against Virginia Tech in 2017. Including today, UVA has amassed 300 or more yards in all but eight games since the 2017 season, a span of 64 games.
Player Notes
Cornerback Anthony Johnson picked off the game's first pass, his sixth career interception and fourth at UVA (three in 2021).
Antonio Clary, Jonas Sanker and Kam Butler each were credited with forced fumbles. It marked the first time Clary and Sanker forced a fumble in their careers.
Butler recorded his fourth career forced fumble on a strip sack in the second quarter. It was his 16th career sack. He had three forced fumbles last season playing for Miami (OH) and 15 career sacks with the Redhawks.
Long led the team with 13 tackles (eight solo and five assisted), only his second multiple tackle game of his career. He had two in the season opener against William & Mary last season.
Nick Jackson (6.5 career), Chico Bennett Jr. (1.5 career) and Kam Butler (16 career) each recorded their first sacks of the 2022 season.
Long and Bennett Jr. made their first collegiate starts in the contest.
Lavel Davis Jr.'s 62-yard reception in the second quarter was the 13th catch of 20 or more yards in his career. He has 26 career receptions.
Jay Woolfolk's 31-yard rush late in the fourth quarter was the longest rush of his career.
Keytaon Thompson led all Cavaliers with five receptions, the fifth time in the last six games he's caught five or more passes. He finished with 62 yards receiving
Wide receiver Billy Kemp IV was held without a catch for the first time since Nov. 2, 2019, snapping a 28-game receptions streak, tied for the second-longest active streak in college football going into the game.
Quarterback Brennan Armstrong did not record a touchdown pass in the contest, snapping a school-record streak of 18 games.
UP NEXT
The Cavaliers return home next Saturday (Sept. 17) to face Old Dominion. Kickoff at Scott Stadium is set for 2 p.m. on ACC Network.