Looking back at Virginia's rich running backs legacy; Can Bronco make it happen again?
By Jerry Ratcliffe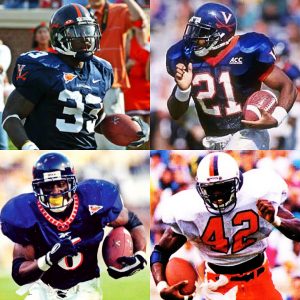 With Virginia football players having returned to begin voluntary workouts, August training camp is just around the corner assuming nothing drastic changes in the weeks ahead.
Should college football kick off as planned on Labor Day weekend, Wahoo fans have a lot to look forward to in UVA's opener against Georgia in Atlanta.
One of the things I'm curious to see is the development of the Cavaliers' running attack. I asked Bronco Mendenhall a couple of times last fall about what needed to occur for his offense to become complete, so they can win games against the best teams his program will face.
He didn't blink with his answer. It's all about the running game.
Most of Virginia's rushing attack the past two years came from dual-threat quarterback Bryce Perkins.
However, with the entire offensive line returning in addition to starting tailback Wayne Taulapapa and backup Mike Hollins, in addition to other potential contributors, all UVA fans are wondering if they'll see the best running game in years.
During my long tenure of covering Virginia football, it's easy to recall an era when the Cavaliers had an NFL back in its backfield every year. It didn't hurt that there was usually at least one NFL offensive lineman leading the charge, but George Welsh and Al Groh normally had a terrific running back, if not two, toting the mail.
"Actually it did become a 'Tailback U' for a 10- to 12-year period," former running backs coach Ken Mack said of Virginia in an interview quite some time ago, looking back at a plethora of Wahoo running backs. "We had as good a running back and production of the position as anybody in the country."
Just look at the parade of running backs UVA trotted out over actually more than 12 years. Mack was around for most of it, but returned to his alma mater — North Carolina — to help Mack Brown in Brown's first run in Chapel Hill.
Here's a quick list:
1982-1985 — Barry Word (led the ACC in rushing in '85), sharing the backfield with Howard Petty.
1987-1989 — Marcus Wilson
1990-1992 — Terry Kirby (led ACC in rushing in '90 and '92)
1995-96 — Tiki Barber (led ACC in rushing in '96)
1997-1999 — Thomas Jones (led ACC in rushing in '98, '99)
2000 — Antwoine Womack (led ACC in rushing in 2000)
2001-2004 — Alvin Pearman
2002-2005 — Wali Lundy
2006 — Jason Snelling
2007-2008 — Cedric Peerman
All of these backs went on to enjoy NFL careers. Since then, there has been little for Wahoo fans to get excited about as far as a dominating ground game.
Let's review that golden era of Wahoo running backs when the Cavalier offense resembled a rolling ball of butcher knives.
Here is part of that interview with Ken Mack from years ago with some George Welsh thrown in as well.
"I took a lot of pride [in UVA's running game)," Mack said. "Me, OB (offensive line coach and later offensive coordinator Tom O'Brien) and George. We worked real hard on running the football. When a lot of people were starting to invest a lot of time throwing the ball, we did as well, but we wanted to make sure that the running game didn't suffer."
Welsh learned a lot of football working under Rip Engle and then Joe Paterno at Penn State, where Welsh was the backfield coach. He took that to Navy, then brought it with him to Charlottesville in 1982.
"At Navy, we had Napolean McCallum (Heisman Trophy candidate) and Eddie Meyers, so we had 1,000-yard rushers at Navy. That was George's philosophy and his intention at Virginia," Mack said.
"It's always better if you're going to be in a two-back offense," Welsh said prior to his passing in early January of 2019. "Going back to my days at Penn State and Navy and early days here, there wasn't a lot of one-back stuff. That was before teams were getting eight men around the ball except the wide-tackle six. Then they started bringing safeties up, so it was harder to run the ball with a two-back set.
"I learned to appreciate the running game at Penn State, refined it at Navy, and when I came here I knew what I wanted to do and how to do it. It was a question of getting the right people in the offensive line and tailback," Welsh said.
Certainly the game changed as Welsh said in his reference to crowding the tackle box, forcing teams to throw the ball. Still, it is highly important for offenses to be able to run the ball effectively in order to have success for the most part.
BYU's best teams under Mendenhall had a potent running game aided by a mobile QB, but also because of a solid O-Line and a tough, capable running back.
Still, it's nice to reflect on that stretch of years when the Wahoos' running game was feared. Here's a look at those backs from the coaches who knew them best:
"Barry Word got the ball rolling," Mack said. "He was kind of the first one and the guy that set the standard for others to follow. He was big, fast, athletic and tough. I would have liked to have him had better hands than he had, but his hands were adequate."
Welsh said his new staff at Virginia was lucky to have Petty and Word, and also Antonio Rice, who moved from tailback to fullback because he had great vision, made the right cuts and held onto the football. When the offensive line got better with the improvement of All-American Jim Dombrowski (who is now in the College Football Hall of Fame) and fellow O-Lineman Bob Olderman, the running game really began to click.
"You've got to have the right people up front," Welsh said. "The way we practiced [the running game] and emphasized it made it better. Once you got the reputation, it was easier to recruit tailbacks."
Mack believed that Petty and Word helped make each other better. Because they were in the game at the same time, the offense had a fresh running back for every play.
"What they should get credit for is that they were unselfish enough and trusting enough to share the time back there," Mack said. "Howard didn't have the speed that Barry had. Howard was a good inside runner. Barry had to actually learn how to run inside. He had great speed, but had a tendency to want to bounce it outside.
"Once he figured out that he was big and strong and as physical as a lot of linebackers, he actually learned to like it. I had to work on him to not run over people because he enjoyed running over people."
Word remains No. 11 on UVA's all-time rushing list with 2,257 yards and a 5.6 average per carry (behind only Terry Kirby and John Papit 1947-50), and 17 rushing touchdowns. Petty is 14th with 2,171 yards (4.5 average) and 21 rushing TDs. Word was ACC Player of the year in 1985.
Word played in the NFL (third-round choice) from 1987 to 1994 with the Saints, Chiefs, Vikings and Cardinals. He rushed for 2,897 yards (4.1 average) and 16 TDs. He was particularly good for the Chiefs from 1990-92, rushing for 1,015 yards in '90 and was named NFL Comeback Player of the Year, even though he split carries with Christian Okoye.
Marcus Wilson was UVA's top rusher for three consecutive seasons (1987-89), more out of necessity after star-studded Chris Warren left school and transferred to Ferrum College where he became an All-American at the Division III level, but later had a great NFL career with the Seattle Seahawks.
Warren came out of Fairfax and left UVA after two years.
"Chris Warren was everything you could ever want at the position," Mack said.
Maybe that's why Southern Cal wanted Warren to be the next tailback in a great line of running backs in the Trojans' program.
"He was fast, fast, fast," Mack said of Warren. "Great athlete, great hands. He was on the verge of becoming strong and physical like Barry. I remember against South Carolina how Chris ran up and down the field on them but we eventually lost him before we really had a chance to help him realize his potential."
Warren went on to star at Ferrum and was a fourth-round choice of  Seattle, where he played from 1990-1997, and later played with Dallas and Philadelphia. He was a three-time Pro Bowler and rushed for 7,696 yards and 58 TDs during his career. He also had 1,935 receiving yards.
He left the Seahawks as the club's career rushing leader and is a Pro Football Hall of Fame nominee.
"If Chris had stayed here for four years, it would have been scary," Mack said. "Just absolute great speed. He was so athletic that it didn't look like he was running fast. I used to stay on him about running faster or harder. I've never seen anyone so fluid in motion. Just a great athlete."
Meanwhile, when Warren left, UVA turned toward Wilson, who was in the Cavaliers' secondary.
Mack said that Wilson was underrated, an over-achiever who never got as much recognition as he deserved.
"I don't know if the fans really appreciated what he did," Mack said. "He went from almost a starter in the secondary to starter at running back, then became a household name (in Virginia) for three years, then played for the Raiders when they were in L.A., and then the Packers."
Mack remembered that the thing Wilson had going for him was that he was tough. In those days, UVA ran between the tackles a lot and Wilson would just throw his body up in there.
"Certain things about running backs stick out in my mind most, and so playing NC State in Raleigh was one of them when Marcus put our team on his back and personally wore down the State defense by running tackle to tackle. He just wore them out," Mack said.
Welsh clearly remembered Wilson as well.
"He wasn't a natural [at running back] and I didn't want to move him because I thought he had a great future as a safety," Welsh said. "But after Word and Petty left, we didn't have anybody else left."
Wilson still remains No. 12 on UVA's career rushing list, just behind Word with 2,219 yards rushing (4.6 per carry) and 13 rushing TDs. He was drafted in the sixth round by the L.A. Raiders in 1991, but moved over to Green Bay from 1992 through 1995.
Remember what Welsh said about how once Virginia gained a reputation for running the football, it became easier to recruit running backs?
Well that opened the door for Terry Kirby, Tiki Barber and Thomas Jones all in a row.
Kirby was really the breakthrough that Welsh and his staff had been waiting on. Right out of Tabb High School, Kirby was rated the No. 1 offensive prospect in the country, just the type of player that Welsh needed to land to gain the attention of the state's best recruits.
"I think it helped the program a lot to recruit a national recruit like Kirby," Welsh said. "I don't think Kirby would have come here if we didn't emphasize the run, and the tailback was the prominent guy."
Mack thought recruiting Kirby was really easy because he clicked with the Tabb star from the time the two first met.
"[Kirby] and Chris Slade (Kirby's teammate at Tabb) were on campus for something with O'Brien. I was in the weight room working out and I heard about them. OB brought them in the weight room and introduced me.
"I sized him up, looked him up and down, and he was smiling. We chit-chatted. Last thing I told him before he left was that, 'I'm going to be your college running back coach.' He smiled and said, 'You might be.' From then on, it was easy for me."
The pressure to land Kirby was immense. Alums, state media and Welsh all placed a huge emphasis on getting the best player in the state, not to mention the nation.
"We wanted to run the football, so we had to have somebody like him at that time," Mack said.
Kirby was a coach's dream. He was smart, a student of the game, a hard worker both on the field and in the weight room, and led by example. He was also good in the classroom and a two-sport athlete (he also played basketball for Jeff Jones).
"There's a lot of guys we coach that you don't want to have anything to do with after football," Mack said. "Kirby was the kind of guy you liked to spend time with even away from work."
This sportswriter attended Kirby's signing ceremony at Tabb, tape-recorded it, and drove back to Charlottesville that evening where I met with Welsh and his staff, who were celebrating at a local joint called "Charley's."
"It was a victory party because it was so important to get not only Kirby but also Slade, which opened the eyes of other in-state prospects," Mack said. "That was a monumental catch, not only getting two great football players, but it led to getting some more."
Welsh was so delighted with the haul that he picked up the tab for his entire staff that night, left his credit card with O'Brien, something he rarely did.
Kirby ranks No. 3 on UVA's career rushing list with 3,348 yards (5.9 yards per rush, second only to Papit's 6.0) and 24 rushing TDs. He was also a solid receiver.
"Too bad he got hurt his senior year because he was on his way to a really special year and career," Welsh said.
Kirby played for four NFL teams — he was drafted by the Dolphins, then played for the 49ers, Browns and Raiders.
He finished his career with 2,875 rushing yards, 3,272 receiving yards and 43 touchdowns, including three kickoff returns and a punt return for scores. He also passed for three touchdowns (4 of 6 passing, with no interceptions).
"The one thing I would have liked for Terry to do was to make people miss a little bit better," Mack said. "He didn't have the drop-your-hips and spread-your-feet and make people look silly like Tiki had. Not many people do.
"But Terry always came to play. He was always prepared physically and mentally. He was one of those guys that when we bed-checked the kids on Friday night, a lot of coaches can't go to sleep worrying about the game. When I coached Terry Kirby, I slept like a baby. I knew he would be ready to play on Saturday."
By this point in Welsh's era, defenses were stacking the box against the run, so the UVA staff had to get more creative to keep its run game strong.
"The amount of talent we accumulated on the offensive lines every year and running backs, that combination was tough to beat," Welsh said. "We had to be more imaginative with zone blitzes coming in and defenses bringing at least one safety down to where we couldn't' block the eighth guy. Some teams started bringing two safeties down and that was near impossible. Between a little imagination, changing formations and things like that, we managed to keep our running game going."
Then along came Tiki Barber, who eventually learned how to run between the tackles and was a lethal receiver out of the backfield, which kept defenses honest. Barber was another huge recruiting battle that Virginia needed to win.
"The one thing I was blessed with all those years at Virginia was good kids," Mack said. "Tiki was just another one of those, just a great kid. They all got their degrees, went to class, showed up on time and did what I asked them to do."
For Barber, it took a little longer than Mack expected for him to get his running game together. Tiki was a terror when he rushed outside, but between the tackles, not so much. Until something changed.
"His sophomore year, that was the 'time to grow up talk,'" Mack said. "I can't use the language here that I did with him, but I basically told him to stop farting around and live up to his potential. Have confidence in me and yourself, and let's go do this."
They were in Mack's office, the walls adorned with some of UVA's great running backs, when the coach pointed to the pictures.
"I told Tiki to be the next one on my wall of fame," Mack said.
Barber got the message, putting together one of the most stellar careers in UVA history. He's the No. 2 rusher of all-time for the Cavaliers with 3,389 yards and a 5.2 average per carry along with 31 rushing TDs. He also owns the most games (19) with at least 100 yards rushing.
Barber retired as the New York Giants' all-time rushing and receptions leader. The three-time Pro Bowler played his entire career with the Giants, where he is a member of the franchise's Ring of Honor.
Tiki rushed for 10,449 yards (4.7 average) and 55 rushing TDs. He also had 586 receptions for 5,183 yards and 12 scores. He retired as one of the top 25 leading rushers in NFL history and has been nominated for the Pro Football Hall of Fame.
"I was afraid we were going to lose Tiki to Michigan during the recruiting battle for him," Mack said. "That was the school I was worried about. One of the staff members did a great job of recruiting his mom."
Mack chuckled after that last statement and added, "Me." It was Mack who developed a great relationship with Tiki and twin brother Ronde's mom.
"I said I don't know if we'll get Ronde and Tiki, but we'll get their mom to sign," Mack laughed.
In terms of running style, Tiki had it all.
"He had great speed, great hands, the moves you want," Mack said. "He learned to be tough, to play bigger than he was. When they thought he was 6-2, 215 pounds, that's how he played. He didn't realize he was 5-9, 185.
"Tiki was also a great receiver. I think it was a tie between him and Kirby as best receiver of all the backs I worked with at Virginia. They both had great hands. The fastest was probably Chris Warren or Barry Word, although Tiki might have been the quickest."
Barber wasn't shy about predicting Virginia's football future during his senior year. He told media that Thomas Jones would break all of his and UVA's rushing records.
Tiki was right.
Jones, a chiseled running back out of deep Southwest Virginia, rewrote all of UVA's rushing records. The durable Jones, who never missed a practice, let alone a game, carried the ball 809 times during his four-year UVA career.
That's way more than his closest pursuer, Wali Lundy, who had 742 career rushes.
Jones is UVA's all-time leading rusher with 3,998 yards rushing, a 4.9 average per carry, and 36 rushing TDs, second only to Lundy, who posted 43 from 2002-2005 and became the Cavaliers' all-time leading scorer.
"Thomas Jones was another great back who came because of our reputation," Welsh said. "There's no doubt. We always believed at Navy and Virginia that you've got to hang your hat on something. There needed to be something that we were best at. You can't say you're going to run it this year, then throw it the next, then switch again. The numbers changed but the system stayed the same, even after O'Brien left (to become head coach at Boston College). We basically taught the techniques and the backs the same thing for a long time."
Mostly that was repetitions — lots of them — in practice. Under Welsh, UVA always had four or five running plays it was going to run, no matter what. It was surprising to many that the Cavaliers didn't have that many running plays.
When the defenses began to jam the box with safeties, Welsh decided to feature wideouts that could beat one-on-one coverage and when he didn't, Virginia struggled a bit.
Jones was followed by Womack as the running parade marched on.
"Jones and Womack were as good as we've had here," Welsh said. "They're all different in their ways. Who knows what would have happened if Chris Warren hadn't left. In some ways, Chris was the best all-around athlete at that position that I've ever had."
Jones retired among the top 25 leading rushers in NFL history with 10,591 yards (4.0 average) and 68 rushing TDs. He also had 308 receptions for 2,023 yards and three scores.
He was drafted by the Cardinals and played for the Bucs, Jets, Bears and Chiefs.
Jones has also been nominated for the Pro Football Hall of Fame.
Womack ended up 13th on UVA's all-time rushing list with 2,207 yards (5.1 average), although he was injured in the opening game of the 2001 season at Wisconsin and missed most of the campaign.
Later, Lundy would become one of six UVA backs to hit the 3,000-yard rushing plateau (he remains No. 6 all-time with 3,193 yards), while Alvin Pearman, now a professor at Stanford, put together a complete turnabout in his Cavalier career and is No. 10 on the Virginia career list with 2,394 yards. He was also an outstanding receiver.
Lundy and Pearman both had healthy stints in the NFL as well, adding to UVA's running backs legacy.
Who will the next great Wahoo running back be? Taulapapa? Hollins? Someone else in the system?
It's going to be interesting to watch how Mendenhall and running backs coach Mark Atuaia figure this out in the coming seasons, starting Labor Day weekend in the Mercedes Benz Dome, all things permitting.

Comments