Love hits a home run with his "new" Birdwood design
By Jerry Ratcliffe
When Davis Love III and his team designed the "new" Birdwood Golf Course, he remembered many lessons learned from the great architects on how to get the best out of the land he was working with.
After the work was done, Love said, his group didn't make many changes from their original plans, but "we got the best hole. I don't think there's a bad hole and I don't think there's a signature hole."
Bingo.
I had the honor of playing the "new" Birdwood on Friday and it was fabulous. The Love design group delivered Charlottesville, UVA and Boar's Head Resort a new masterpiece with lots of "wow" factor.
I had played the original Birdwood by Lindsay Ervin on its opening day back in 1984. While it was a really good and challenging golf course, I frankly thought there were a few faulty, perhaps unfair holes. Been playing it ever since until Love & Co. came around and made a really good golf course much better.
Our foursome of Mike Shiers (NBC 29), Dan Schutte (CBS 19), Bill "Catfish" Smith and yours truly got a media sneak peek, and we all liked what we saw.
While I admit the only thing I miss from the original Birdwood was the island green (Love has a great disdain for island greens), everything else is better. 
Birdwood gives golfers of every skill level all they want with six sets of tees on most holes, going back to the tips at more than 7,000 yards, then varying from 6,510 to 6,030, to 5,445, to 4,740 and finally to 3,856.
It plays to a par-71 with one par-5 on the front and three par-5's on the back.
My immediate impressions, I loved the Zoysia fairways, loved the V8 Bent greens, loved the concrete cart paths, loved the brand new golf carts with perhaps the most comfortable seats I've experienced anywhere, and equipped with GPS, which gives you all the information you want about the hole you're on.
I really liked the variety of holes, great bunkers, and plenty of challenges. It was pointed out to me before the round by Birdwood's longtime PGA Director of Golf Martin Winters to be careful and wise on some of the approach shots, and he was correct. Anytime I didn't focus, I paid the price. Luckily my game was on well enough that it didn't happen but a couple of times.
For a long period of time, I was the VSGA "Virginia Golfer" magazine's guy who always wrote about new courses opening up across the state, which also meant I would get a special preview round usually before the course was open to members, etc. I've seen a lot of terrific courses over time and Love has built a winner.
"We wanted this course to look like it had been on the property for a long time," Love said during a recent interview. "We didn't want it to look modern. We wanted it to look classic and timeless and fit the property.
"I always want somebody to play at one of my golf courses and say, 'Well, who built this?' I don't want them to be able to say it's a cookie-cutter course."
Mission accomplished.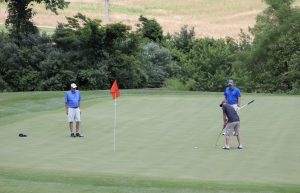 It was also important for Love to incorporate Birdwood Mansion and its ancient water tower into the course, and he did a brilliant job of doing so off the new 16th and 17th holes. The 16th is a short, but tricky par-4 and the 17th is a gorgeous par-3, all blended into the history of the place.
"If you go back, Donald Ross and the classic architects gave you a variety of holes, so that's what we wanted," Love said. "Some risk-reward, some easy holes, some long, some short. That's what Scott Sherman has really taught me working with him so much — don't look at just this hole, look at the holes leading up to it and the holes after it, so we have a balance of holes. So when I'm on site, I like to walk the holes and then make a decision about the hole we're working on.
"Ben Crenshaw told me you better have a club in your hand, and you better have a flag in the dirt or you're not going to be able to tell what's going on. So I think the length of the par-5's, the risk-reward, and maybe a par-3 from the middle tees with an open front all balances itself out where there's some hard acts and some that are fairly easy."
Well done, Mr. Love, well done.
(SUNDAY: What two LPGA players thought about the "new" Birdwood after their rounds on Friday.)
Comments