Mendenhall, Cavaliers Take Giant Step Forward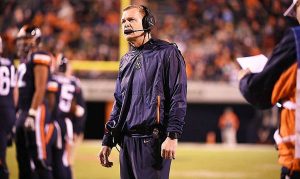 By Jerry Ratcliffe
CHARLOTTE — A year and a day ago, Virginia football wasn't a thing of beauty. The Cavaliers had been annihilated in their first bowl game in six years in a 49-7 embarrassment at Navy.
As soon as they returned to Charlottesville, those returning players determined that 2018 would not end that way.
On Saturday, the Cavaliers made a significant statement and what Bronco Mendenhall described as a GIANT step forward with a stunning, 28-0 upset over South Carolina in the Belk Bowl. Virginia not only won the game, it dominated the Gamecocks in a highly-touted ACC-SEC matchup.
All week long, Wahoo players absorbed the trash talk from South Carolina players who said they wanted to flex their SEC muscles over a foe from a weaker conference. But it was the Gamecocks who ate crow.
UVA's defense, playing with only four defensive linemen (freshman end Aaron Faumui missed the game after being diagnosed with mononucleosis), not only posted a shutout of South Carolina — a team that had only been held to less than 24 points twice all season — it shut down the Gamecocks' vaunted passing game.
USC quarterback Jake Bentley was a mere 17 of 40 for 218 yards and was intercepted twice.
Meanwhile, the Bryce Perkins-led Virginia offense stacked up 413 yards of total offense and controlled the clock with a staggering time of possession of 42 minutes, 35 seconds to South Carolina's 17 minutes, 25 seconds. The oft-criticized play-calling of offensive coordinator Robert Anae was not in question on this day as he kept the Gamecocks' defense off balance and on their heels all game long.
Along the way, Belk Bowl MVP Olamide Zaccheaus (12 receptions, 100 yards, 3 TDs) and running back teammate Jordan Ellis, both reached the 1,000-yards plateau for the season.
South Carolina's defensive focus during its bowl preparation was to contain UVA's Perkins, a dual-threat, and make him beat them with his arm. The Gamecocks didn't accomplish anything on their checklist.
Perkins also played MVP-worthy or at least Blimp Worthy football. He rushed for 81 yards and did beat the Gamecocks with his arm, completing 22 of 31 passes for 208 yards and three scores (no interceptions), and scrambled out of several potential sacks only to complete a big throw.
Afterward Mendenhall was overwhelmed with joy in ending with an 8-5 season (including two overtime losses), Virginia's first bowl win since 2005, and keeping the Cavaliers undefeated in Charlotte where they won the first two bowls here (then the Continental Tire Bowl) in 2002 and 2003.
"I'm so proud of our football program, the coaches and players, and the progress that we've made in a three-year span," Mendenhall said. "Our team worked tirelessly from our last overtime loss to this game. We clearly weren't satisfied with our loss to Virginia Tech (at season's end) and we had a lot to play for."
Mendenhall enforced a fierce practice schedule in preparation for South Carolina, so much that he and his staff were concerned that their players might not have enough left for the bowl.
The Cavaliers had plenty left and it showed from wire-to-wire.
"I want to give Coach Mendenhall and Virginia credit," said South Carolina coach Will Muschamp. "They got after us. It goes to a 21-0 game, it changes our approach a little bit and they go to some exotic pressures and some different things and some double edge pressure and they did a nice job of designing some things there. When you get into a 21-0 game against their defense, I knew it was going to be a difficult deal."
Virginia's defense was short-handed with Faumui's absence, causing the Cavaliers to go with what he called "a two-down" the majority of the game, meaning two down linemen, "and that gave us a two-deep," he chuckled.
"We lost a player (Faumui) at a position where we couldn't afford to lose another player," Mendenhall said.
Didn't matter, they controlled the line of scrimmage for the most part and kept South Carolina's potentially explosive passing game on the sidelines.
The Gamecocks converted only 2 of 13 third downs and 2 of 5 fourth downs (which Mendenhall considers the same as a turnover). Meanwhile, UVA converted 11 of 17 third downs and its only fourth-down attempt.
"[Virginia] was schemed up and did a really good job of disguising their coverages," USC's Bentley said.
Mendenhall told his players that the best Christmas gift he could give them would be to work them hard enough to earn a win that they would never forget.
"Our defensive coaches knew what the challenge was ahead of them for this game," Mendenhall said. "They watched USC vs Clemson. They knew what was capable and they knew we weren't going to win unless they played well. They played exactly as they prepared."
South Carolina, in a losing effort, posted 600 yards of offense on No. 2 Clemson in the regular season as Bentley threw for 510 yards.
For Mendenhall, going from 2-10 in his first season (2016) to losing a bowl last season (6-7 record) to 8-5 and a bowl win is a significant gain for Virginia.
"We are significantly closer (to arriving)," Mendenhall said. "When you play late in the year with high-stakes games, that requires a different level of maturity, performance and execution. A bowl victory is significant, especially when you put it in contrast to a year ago, you can't be more striking in this setting."
Reminded that he has eight starters returning on defense and seven on offense, including All-American corner Bryce Hall, who announced after the game that he's coming back after being rated as a potential first-round draft choice, Mendenhall was asked about building expectations for 2019.
"Yeah, maybe we won't be picked last," he cracked.
The Cavaliers were picked to finish dead last in the ACC's Coastal Division this season and ended up tied for second.
"This was a huge leap for our program," Perkins said. "We're not done. This is the first step. Next year we want the Coastal and the ACC Championship."
Comments