Men's Golf: No. 16 Cavaliers open play at NCAA Championships Friday
Courtesy UVA Media Relations
The No. 16 Virginia men's golf team makes its first appearance at the NCAA Golf Championships since 2017 when the 30-team tournament gets underway Friday at Grayhawk Golf Club in Scottsdale, Ariz. The Cavaliers will tee off from the 10th tee at 12:25 p.m. MST while paired with Alabama and Texas A&M. Virginia qualified for the NCAAs following a third-place finish at the NCAA Las Vegas Regional.
After three days (Friday through Sunday) of stroke play, the field is reduced to 15 teams and the top nine individuals not on one of those teams for the fourth round (Monday) that will decide the individual champion. The top eight teams from stroke play advance to two days (Tuesday and Wednesday) of match play competition to determine the NCAA Champion.
During the second round, UVA, Alabama and Texas A&M will start at 7:05 a.m. MST from the 1st tee. The third round is repaired based on the team standings. It starts at 6:10 a.m. MST while Monday's final round of stroke play starts at 10 a.m. MST.
Virginia is one of five ACC teams to advance to the NCAA Championships. Also qualifying were Duke, Georgia Tech, North Carolina and Florida State.
THE VIRGINIA LINEUP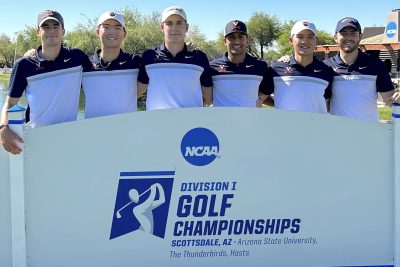 Golfer (Year; Hometown; Stroke Avg.)
Pietro Bovari (Sr.; Milano, Italy; 71.60)
George Duangmanee (Jr.; Fairfax, Va.; 72.56)
Ben James (Fr.; Milford, Conn.; 69.00)
Jaron Leasure (Jr.; Nashville, Tenn.; 72.44)
Bryan Lee (Fr.; Fairfax, Va.; 72.00)
Deven Patel (So.; Johns Creek, Ga.; 72.40)
IN THE RANKINGS
(Golfstat; Golfweek)
Virginia — 16th; 17th
Ben James — 7th; 4th
Pietro Bovari — 153rd; 156th
REGIONAL RECAP
Virginia was third at the Las Vegas Regional site shooting    49-under 815 at Bear's Best Las Vegas. That was the best regional score in program history. The Cavaliers' finish was also a program best. Freshman Ben James shared co-medalist honors at 20-under 196. It was his fifth first-place finish of the season. His score matched the school record he set in his collegiate debut at the Streamsong Invitational. James shot 65 in the first (along with fellow first-year Bryan Lee) and third rounds to set UVA 18-hole scoring marks for a regional. Deven Patel posted his best collegiate tourney score, shooting 11-under 205 to place 14th. Bryan Lee was 36th at -6, 210, Pietro Bovari was 48th at -2, 214 and George Duangmanee was 65th at +4, 220.
Ticket Punched!
Hoos are headed to the Natty! pic.twitter.com/5UDYHqf1Ah

— Virginia Men's Golf (@UVAMensGolf) May 17, 2023
BIG BEN
A leading candidate for national freshman of the year honors, Ben James is on a Hulk-like run this year, smashing records on multiple occasions.
RECORDS
Five wins – UVA single-season record
69.00 stroke average – UVA single-season record
54-hole score (196, twice) – UVA single-round record
Rounds of par or better (31) – UVA single-season record
Birdies in a season (160) – UVA single-season record
Par 4 scoring average (3.8898) – UVA single-season record
HONORS
Member of U.S.A. Palmer Cup Team
All-ACC
Finalist for Jack Nicklaus Award
Finalist for Haskins Award (only freshman among 10 finalists)
NCAA Las Vegas Regional co-Medalist
ACCOLADES
Helped UVA to first No. 1 (Golfweek) ranking in program history
Led UVA to first match play appearance at ACC Championships
ACC Golfer of the Month (September & March)
Participated in Walker Cup December practice session
Was UVA's top finisher in 10 of 12 tournaments
Ranked as high as No. 3 in the nation by Golfstat, the highest individual ranking ever by a Cavalier
NCAA HISTORY
The 2023 NCAA Championships marks the 18th time the Cavaliers have earned a bid to the national tournament. UVA's last NCAA appearance was in 2017 when the Cavaliers finished 10th, shooting 10-over 1162 at Rich Harvest Farms in Sugar Grove, Ill. Jimmy Stanger led UVA with a 10th-place finish, shooting 2-under 286. That was the fifth best showing by a Cavalier at the event. Former Virginia golfer Dixon Brooke won the NCAA individual crown in 1940, the second year of the championship. The Cavaliers finished 15th that year.
COACHING NOTES
Bowen Sargent is in his 19th season at Virginia.
This season Sargent directed the Cavaliers to their 15 consecutive NCAA Regional appearance
During his tenure, Sargent's teams have won 25 tournaments
This year the Cavaliers took top honors at the Streamsong Invitational to open the season by shooting a school record 56-under 808.
Following the win at Streamsong, Virginia earned its first No. 1 position in a golf ranking (Golfweek).
UVA also placed first at the Hamptons Intercollegiate this year.
He was named the ACC Coach of the Year in 2010
He graduated from NC State in 1992 and was named to the All-ACC teams in 1990 and 1991.
HOOS HIGHLIGHTS
It has been an eventful year for the Cavalier men's golf team. Heading into the NCAA Championships, here are some highlights:
UVA picked up wins at the season-opening Streamsong Invitational and the Hamptons Intercollegiate
The Cavaliers finished third or better in eight of 12 tournaments this season.
UVA set a school record at the Streamsong Invitational, shooting 56-under 808.
The Cavaliers bookended that accomplishment by posting their best-ever score (-45, 819) and finish (third) at a NCAA Regional site.
Virginia reached the match play portion of the ACC Championships for the first time since the format was adopted in 2021.
Six Cavaliers have posted a score of six-under or better during the season
UVA enters the NCAA with a scoring average of 282.69, the best in program history
Virginia set a single-season record with 26 rounds of par-or-better
The 23 eagles combined by the team this season are the most in program history
The Cavaliers' par-4 scoring (4.064) and par-5 scoring (4.6606) stand as the best single-season marks in program history
Ben James' 9-under 63 at the Streamsong Invitational was one shot from the UVA scoring record (-10) set by Jimmy Stanger.