Men's Golf: UVA advances to NCAA Championships; James shares medalist honors
Courtesy UVA Media Relations
The No. 16 Virginia men's golf team posted a third-place finish Wednesday at the NCAA Las Vegas Regional to advance to the NCAA Championships for the first time since 2017. UVA's place finish was the best ever by a Cavalier team at a regional competition.
The top five teams from six regional sites seed the 30-school field for the national tournament at Grayhawk Golf Club in Scottsdale, Ariz., May 26-31.
Freshman Ben James shared medalist honors with San Francisco's Matthew Anderson. That duo finished at 20-under 196. James shot 7-under 65 during the final round after posting scores of 65 and 66 on the event's opening two days. James is the first Cavalier to win a NCAA Regional.
James' final round was bogey free with five birdies and an eagle on the par-5, 17th hole. His score matched the school record he set in UVA's first tournament of the season. The win was James' fifth this season.
As a team, Virginia shot 16-under 272 during Wednesday's final round for a 54-hole total of 49-under 815.
Arizona State, ranked fourth, took first place at 59-under 805 while eighth-ranked Stanford was second at 57-under 807. San Francisco was four shots behind UVA in fourth place and East Tennessee State defeated Northwestern in a playoff to become the final team to advance to the NCAAs. Those squads tied for fifth at 821.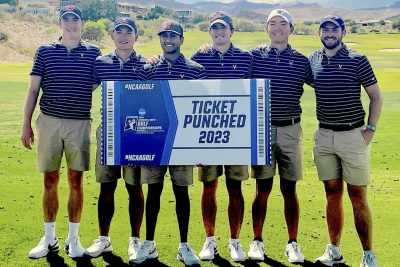 Virginia's team score of 49-under 815 was the lowest ever recorded by a Cavalier squad at a regional site. The previous best performance against par was the score of 22-under 842 UVA shot in 2016 to advance to the NCAA Championships. UVA's opening round performance of 19-under 269 at the Bear's Best Las Vegas course was also a regional best performance.
James had plenty of help from his teammates during Wednesday's round. All four of UVA's scoring players finished under par. UVA's second overall finisher was freshman Deven Patel who placed 14th at 11-under 205. That was his best tournament score as a Cavalier. Patel posted a final-round score of 70.
Freshman Bryan Lee, who shot 65 during the first round, rebounded from a second-round score of 78 to post a round of 5-under 67. He was 36th overall at 6-under 210. Senior Pietro Bovari shot 70 and was 48th at 2-under 214. George Duangmanee was 65th at 4-over 220. He posted a final round score of 78.
Virginia is one of five ACC teams to advance to the NCAA Championships. Also qualifying were Duke, Georgia Tech, North Carolina and Florida State.
UVA will be making its 18th appearance at the NCAA Championships. The Cavaliers' top finish was 10th place in 2017. Virginia has one NCAA individual champion. Dixon Brooke claimed the title in 1940.
That's 5⃣ wins this season for Big Ben!
He finishes the NCAA Las Vegas Regional at 20-under 196, matching the school record score he set when he won his first tourney of the year! pic.twitter.com/ovd7gOrt13

— Virginia Men's Golf (@UVAMensGolf) May 17, 2023
NCAA Las Vegas Regional
Bear's Best Las Vegas
Las Vegas, Nev.
Par 72, 7,217 yards
Final Results
Team Results
1. Arizona State — 262-276-267-805
2. Stanford — 268-266-273-807
3. Virginia — 269-274-272-815
4. San Francisco — 277-268-274-819
5. Northwestern — 278-268-275-821
5. East Tennessee State — 272-275-274-821
7. Oklahoma State — 276-275-278-829
8. Cincinnati — 277-280-278-835
8. UNCG — 276-279-281-836
10. Oregon State — 277-279-285-841
11. Long Beach State — 285-278-278-841
12. Kansas City — 289-280-277-846
13. Davidson — 276-286-293-855
14. Lehigh — 294-293-293-880 
Individual Leaders
1. Ben James, Virginia — 65-66-65-196
1. Matthew Anderson, San Francisco — 66-64-66-196
3. Preston Summerhays, Arizona State — 62-70-65-197
Virginia Results
1. Ben James — 65-66-65-196
14. Deven Patel — 67-68-70-205
36. Bryan Lee — 65-78-67-210
48. Pietro Bovari — 74-70-70-214
65. George Duangmanee — 72-70-78-220
Ticket Punched!
Hoos are headed to the Natty! pic.twitter.com/5UDYHqf1Ah

— Virginia Men's Golf (@UVAMensGolf) May 17, 2023