Men's Lacrosse: No. 2 UVA faces No. 7 Georgetown in NCAA quarterfinal matchup
Courtesy UVA Media Relations
For the second time in the last three years, No. 2 seed Virginia takes on seventh-seeded Georgetown in the NCAA Tournament Quarterfinals on Saturday. Opening faceoff from Tom & Mary Casey Stadium in Albany, N.Y. is set for noon on ESPNU.
NUMBERS TO KNOW
5 – Thomas McConvey (27-21-48) needs five points to break Virginia's single-season points record by a midfielder, which was set by Dox Aitken (44-8-52) in 2019.
7 – Virginia's seven NCAA championships are third most by any program since the NCAA Tournament's inception in 1971.
146 – Virginia's 2023 roster combines for 146 NCAA Tournament games played. Four players in Jeff Conner, Xander Dickson, Cade Saustad and Petey LaSalla have appeared in 11 tournament games each.
VIRGINIA IN THE NCAA TOURNAMENT
Virginia (12-3) has appeared 42 NCAA Tournaments all-time and Saturday's game marks the program's 93rd tournament contest.
Only Johns Hopkins (48) and Maryland (45) have been to the tournament more times than UVA.
The Cavaliers are 58-34 (.630) all-time in NCAA Tournament games and have won 10 of their last 11 tournament contests, dating back to 2019.
Only Johns Hopkins (72), Maryland (70) and Syracuse (65) have more NCAA Tournament wins than Virginia.
SERIES HISTORY
Virginia leads the all-time series, 5-0, over the Hoyas (13-3).
Three of UVA's wins in the series have come in the NCAA Tournament, including the most recent meeting in 2021.
All three prior NCAA Tournament meetings between the Cavaliers and Georgetown (2003, 2006 & 2021) have come in the Quarterfinals round, and UVA went on to win the national championship all three times.
In 2021, the then-fourth seeded Cavaliers advanced to Championship Weekend after UVA scored nine straight goals in the first half to knock off then-No. 5 seed Georgetown, 14-3. UVA's three goals allowed tied its NCAA Tournament single-game best.
Connor Shellenberger scored six goals and dished out one assist against the Hoyas.
Shellenberger's six goals tied UVA's NCAA single-game record for most goals. He matched Doug Knight's 1995 game against Brown and Mikey Herring's 2019 game against Robert Morris.
The UVA defense held Georgetown's Jake Carraway scoreless. He had the nation's longest active goal-scoring streak entering the game at 44 games.
MORE ON THE GEORGETOWN SERIES
In the 2006 meeting, the Cavaliers exploded for nine goals in the third quarter to ultimately secure the largest win in series history. Ben Rubeor scored five goals and Matt Ward set UVA series records with five assists and eight points. Kip Turner also recorded a dozen saves before the Cavaliers advanced to Lincoln Financial Field for Championship Weekend.

In the 2003 quarterfinals, John Christmas scored three goals and Tillman Johnson made 15 saves as the Cavaliers held for the inaugural victory, 12-7, despite winning just seven of 30 faceoffs.
ON DECK: Quarterfinals 🆚 the Hoyas

🕛 12 p.m.
📍 Albany, N.Y.
🏟️ Tom & Mary Casey Stadium
📺 ESPNU

— Virginia Men's Lacrosse (@UVAMensLax) May 19, 2023
LAST TIME OUT
After a lightning delay halted play in between the first and second quarters, Virginia pulled away with ease, defeating Richmond 17-8 in the first round of the NCAA Tournament last Saturday at Klöckner Stadium.
Payton Cormier (6g) and Connor Shellenberger (2g, 4a) recorded six points each and Petey LaSalla won 18 of his 27 attempts at the faceoff X.
Cormier's six goals tied for the most in a single NCAA Tournament game in school history.
Xander Dickson's (2g, 1a) first score of the day saw him shatter Virginia's single-season goals record as the fifth-year attackman surpassed Doug Knight's 1996 record of 56 goals.
Defensively, Cade Saustad held Richmond attackman Dalton Young (2g, 2a), the Atlantic 10's Offensive Player of the Year, to just four points. Matthew Nunes (12-3) earned his second NCAA Tournament victory of his career in net after turning away nine Spider shots on goal.
CAVALIERS AMONG THE NATION'S STATISTICAL LEADERS
Virginia currently leads the nation in assists (11.87/gm), ground balls (40.33/gm), points (29.47/gm), scoring offense (17.60/gm) and shot percentage (.382). The Cavaliers are second in scoring margin (5.67/gm), fifth in man-up offense (.571) and seventh in clearing percentage (.904).
Connor Shellenberger is currently second in assists (3.36/gm) and 10th in points (4.86/gm). Xander Dickson is fourth in goals (3.87/gm), fifth in points (5.13/gm) and second in shot percentage (.569). Payton Cormier is fifth in goals (3.77/gm), 19th in points (4.62/gm) and fourth in shot percentage (.505). Cade Saustad is seventh in caused turnovers (2.13/gm) and Petey LaSalla is 16th in ground balls (8.07/gm).
VIRGINIA ON THE VERGE OF SETTING PROGRAM'S SINGLE-SEASON ASSISTS RECORD
With 178 assists on the season, Virginia needs just seven assists to break the UVA single-season assists record (184), which was set by the 2006 national-champion Cavaliers.
This year's Cavaliers team has led the nation in assists per game for most of the year and is currently averaging 11.87 assists per game.
NINE CAVALIERS NAMED INSIDE LACROSSE ALL-AMERICANS
Thomas McConvey (1st), Connor Shellenberger (2nd), Xander Dickson (2nd), Cade Saustad (3rd), Grayson Sallade (3rd), Evan Zinn (HM), Payton Cormier (HM), Petey LaSalla (HM) and Cole Kastner (HM) were named All-Americans by Inside Lacrosse on May 17.
Virginia's nine selections led all Division I programs nationally.
The announcement also marked the first instance of McConvey garnering first-team honors.
Voting by participating media members was completed after conference tournaments and before the NCAA First Round.
SHELLENBERGER NAMED TEWAARATON AWARD FINALIST
For the second consecutive year, UVA attackman Connor Shellenberger was named one of five Tewaaraton Award Finalists, the Tewaaraton Foundation announced May 11.
Joining Shellenberger on the list are Pat Kavanagh (Notre Dame), Brennan O'Neill (Duke), CJ Kirst (Cornell) and Tucker Dordevic (Georgetown). The five finalists are invited to Washington, D.C., for the Foundation's annual ceremony on June 1 where the winner will be announced.
The announcement marked Virginia's 12th finalist in school history. Only Duke (14) and Syracuse (12) have also had at least a dozen finalists in its program's history.
Shellenberger joins Ben Rubeor (2007-08) and Steele Stanwick (2011-12) as UVA's only two-time finalists. Chris Rotelli (2003), Matt Ward (2006) and Stanwick (2011) were winners of the trophy.
ON THE HORIZON
The winner of Virginia and Georgetown will face the winner of No. 3 seed Notre Dame and No. 6 seed Johns Hopkins in the semifinals in Philadelphia at Lincoln Financial Field on Saturday, May 27. Opening faceoff will commence at either noon for 2:30 p.m. on ESPN2.
The Fighting Irish and Blue Jays are set to square off in Annapolis, Md. at Navy-Marine Corps Memorial Stadium on Sunday at 2:30 p.m.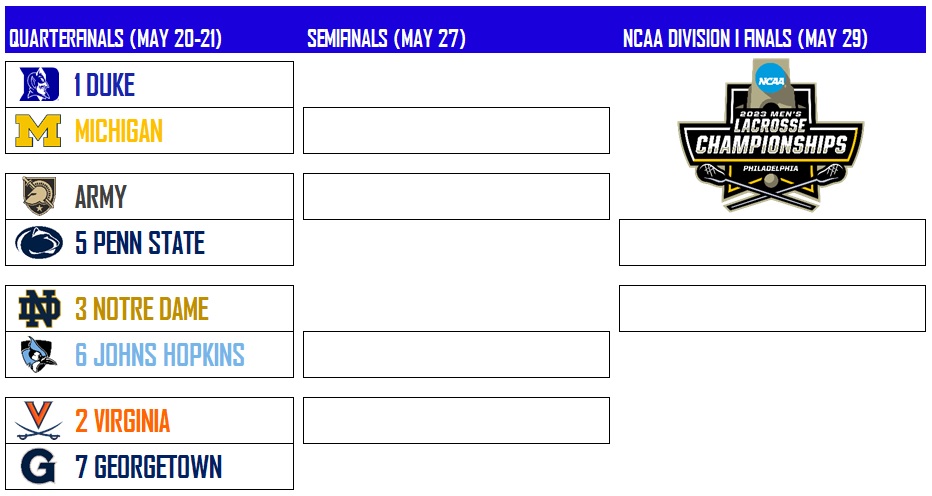 Earn another week 🙏 pic.twitter.com/4NnwCkgohq

— Virginia Men's Lacrosse (@UVAMensLax) May 19, 2023