Men's Lacrosse: Shellenberger's 10-point day lifts No. 2 UVA to 17-14 win over Hoyas
Courtesy UVA Media Relations
With six goals and four assists, Connor Shellenberger tied a UVA NCAA Tournament single-game record of 10 points to lead No. 2 seed Virginia to victory, 17-14, over seventh-seeded Georgetown in the quarterfinal round Saturday afternoon at Tom & Mary Casey Stadium in Albany, N.Y.
Shellenberger, the 2021 NCAA Tournament Most Outstanding Player, tied with UVA's Conor Gill, who scored one goal and dished out a NCAA Tournament record nine assists against Cornell 21 years ago. Saturday also marked Shellenberger's third 10-point performance of the season, which also ties his career high.
With the win, the Cavaliers (13-3) advance to Championship Weekend at Lincoln Financial Field in Philadelphia, where UVA will make its 25th semifinals appearance. The Hoos will face No. 3 seed Notre Dame (12-2) at 2:30 p.m. on ESPN2. Top-seeded Duke will take on No. 5 Penn State in the first semifinal at noon.
Defensively, Cole Kastner recorded a game-high four caused turnovers. Cade Saustad limited Tewaaraton Award Finalist Tucker Dordevic to just two goals on eight shots. Matthew Nunes (13-3) earned the win in the crease for UVA after stopping 13 Hoya shots, including four in the fourth quarter.
HOW IT HAPPENED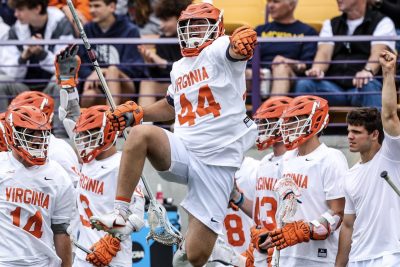 After Petey LaSalla (17-33 FO) won the opening faceoff, he found Shellenberger who ripped his first of four first-period goals just seven seconds in, a perfect embodiment of his individual performance to follow. Another LaSalla win on the ensuing faceoff led to yet another Shellenberger goal, this one unassisted. LaSalla continued to dominate the faceoff X throughout the period, finishing 8-for-12. Shellenberger had four goals in under 7:00 of play as the Hoos led 7-4 at the end of the first.
Virginia's shooting cooled off in the second, connecting on just three of its 12 shots in the quarter. Meanwhile, the Hoyas (13-4) began to heat up. As Georgetown chipped away at the UVA lead throughout the period, the Hoyas gained possession of the ball in the final 15 seconds of the half and Nicky Solomon scored his first of the afternoon with one second displayed on the game clock to shrink the Cavaliers' lead back to one, 10-9. Griffin Schutz (2g) got on the board with a pair of unassisted goals in the second, while Peter Garno (2g) capped the scoring for the Hoos in the first half. The Hoyas and UVA combined for just three saves in the second quarter.
Georgetown got on the board first to start the second half and tie the contest 10-10 for the first time. A minute later, Shellenberger's fifth score gave UVA the lead again, but Georgetown would tie the game once more, 11-11, with 9:47 to play. After that, the Hoos embarked on a 4-0 run to take their biggest lead of the contest, which was capped by Garno's second goal of the game on a UVA man-up opportunity.
Shellenberger and Xander Dickson (2g, 2a) went on to score twice in the fourth. Dickson's goal put the Cavaliers up 15-11. The Hoyas took 17 shots in the final period, but only recorded three goals, including two in the final 80 seconds of play, as the Hoos punched their ticket to Championship Weekend for the third time under head coach Lars Tiffany.
WITH THE WIN… 
Virginia improved to 59-34 all-time in the NCAA Tournament and 6-0 in the series against Georgetown, including 4-0 in NCAA Tournament games.
Only Johns Hopkins (71), Maryland (70) and Syracuse (65) have more NCAA Tournament wins than UVA.
The Cavaliers have won 11 of their last 12 tournament contests dating back to 2019.
Virginia advanced to its 25th Championship Weekend appearance and third under the direction of Lars Tiffany.
We'll see you in Philly!

🔶⚔️🔷#GoHoos pic.twitter.com/xQWpcog9IH

— Virginia Men's Lacrosse (@UVAMensLax) May 20, 2023
ADDITIONAL NOTES 
With 9 assists on the day, the Cavaliers broke the team single-season record for assists, now with 187 on the season. The previous record was set by the 2006 national-champion Cavaliers, which dished out 184 assists after going 17-0 en route to capturing the program's fourth NCAA title.
Connor Shellenberger (6g, 4a) tied the UVA NCAA Tournament single-game record of 10 points, which was originally set by Conor Gill in the 2002 quarterfinals against Cornell.
In eight career NCAA Tournament contests, Shellenberger (26-22-48) is averaging 6.00 points per game.
It marked the third time this season Shellenberger has tallied 10 points in a single game.
Shellenberger's four assists moved him to No. 5 on UVA's career assists list. Now with 137 career assists, Shellenberger passed former teammate Matt Moore (134a).
Shellenberger currently leads all active Division-I players in career assists.
With two goals, Xander Dickson became UVA's first-ever 60-goal scorer in a single season.
In addition to his two goals, Dickson notched a pair of assists to move to No. 4 on UVA's single-season points list. Dickson now has 81 points on the season.
With one assist, Thomas McConvey extended his point streak to 68 games. Having registered at least one point in all 68 career games, McConvey's streak is the longest among all active Division-I players. For his career, McConvey has amassed 154 goals and 69 assists.
McConvey, now with 27 goals and 22 assists on the year, moves to No. 3 on UVA's single season points list by a midfielder. He needs just four more points to break Dox Aitken's 2019 record of 52 points.
With two goals and one assist, Payton Cormier extended his point streak to 44 games. During his streak, Cormier has registered 132 goals and 26 assists.
Saturday's contest marked UVA's first-ever in Albany, N.Y.