Men's Soccer: Virginia welcomes newest member, 12-year-old Jaxon Forgrave
By Jerry Ratcliffe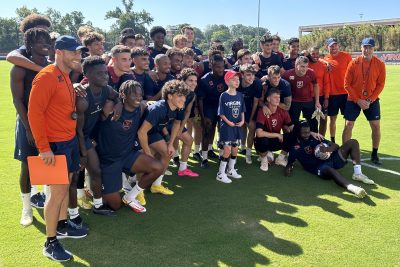 The Virginia men's soccer team will hit the field with a secret weapon this season, 12-year-old Jaxon Forgrave, who has signed a National Letter of Intent with the Cavaliers.
Head coach George Gelnovatch and associate head coach Matt Chulis introduced Forgrave, who lives in Waynesboro, to the team in a special ceremony after a recent practice. Jaxon, whose favorite sport is soccer, came to the Wahoos via Team Impact, a national nonprofit that connects children with serious illnesses or disabilities with college athletic teams.
Jaxon was born with Arthrogryposis Multiple Congenita (AMC) and a neurological condition Bi-lateral Perisylvian Polymicrogyria, a joint disease that limits movement.
"Today we introduced a new member to our team and we're just happy to have Jaxon around," said Gelnovatch, crediting Chulis for discovering the squad's newest member. "Jaxon was with us this spring, but in an official capacity today, and he'll be around a lot more in Klöckner (Stadium) as opposed to our training field."
Jaxon's mom, Brittney Forgrave, said that her son had once played in an adaptive youth soccer league started by her and her husband when they lived briefly in Connecticut, but nothing like that exists in Central Virginia. Still, by connecting with UVA men's soccer, Jaxon has his love of the sport refueled.
"It's exciting because it allows him to bond with college athletes and have a big-brother relationship with them," his mom said. "Hopefully it will impact him the rest of his life.
"This gives him the confidence to keep going, to make new friends, to put himself out there," Brittney said. "I think with a kid with disabilities, it's really hard. You tend to want to stay in your shell, but being able to put yourself out there allows you to have cool experiences like this one."
Jaxon's mom said that because her son doesn't get to be on a regular sports team, this is special for him to be part of something.
"As a mom, and having a boy, you especially hope for your kid to be a part of a team, so this journey will be incredible and very impactful for him to have these relationships."
Gelnovatch said that his team has been inspired by their youngest member, that the relationship is a two-way street.
"Jaxon's resilience, what he's been through, what he's dealing with, makes us all remember we've all got something to get through," the coach said. "He's a positive, energetic kid who's going through a lot of stuff, and our guys can see that and we're all better for it."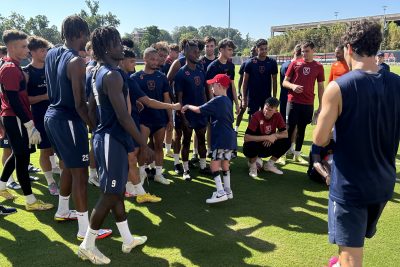 The UVA players are learning more about Jaxon's story every day and they appreciate what he brings to the program. Senior forward Leo Afonso, who hails from Sao Paulo, Brazil, noted how Jaxon serves as inspiration to him and his teammates.
"I think adding Jaxon to the team is a great thing for us," Afonso said. "He's a really happy kid and we love having him around."
Afonso, who was recently named to the ACC Preseason watch list, said not only is Jaxon benefitting from a relationship with his older teammates, but the Cavaliers are learning from Jaxon as well.
"We've learned not to take anything for granted," the senior said. "You never know what's there for you the next day and to just enjoy the little moments in your life."
Watching Jaxon sign the National Letter of Intent drew a huge cheer from the team as they welcomed him into their huddle afterward.
"In the beginning, he was a little shy and he's coming more out of the shell and it's just nice having him around," Afonso said. "He's such a happy kid and we're just excited that he's part of our program."
See videos below of Jaxon's special signing day and team celebration.
Virginia officially opens the season at home on Thursday at 6 p.m. against Iona, then hosts Loyola Marymount at 7 p.m. on Sunday.