Miami's Larrañaga knows all about Tony Bennett's basketball roots, calls UVA the ACC's most consistent team
By Jerry Ratcliffe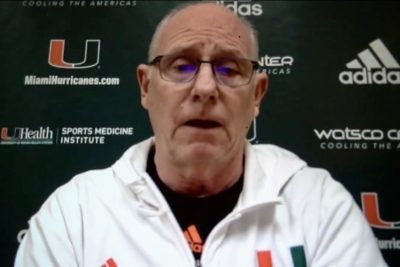 Miami coach Jim Larrañaga didn't have to think long to answer a question Monday about why Virginia's basketball program is so good.
Larrañaga's No. 22 Hurricanes (11-1, 2-0 ACC) host No. 6 Virginia (8-1, 1-0) on Tuesday night (8:30 p.m., ACC Network). UVA owns a six-game winning streak against Miami, including three in a row on the 'Canes home court, the Watsco Center.
"Why is Virginia so good?" Larrañaga said. "Because Tony Bennett is an incredibly skilled coach."
Larrañaga, a former assistant coach for Terry Holland in the 1980s, is very familiar with Bennett and his roots. Bennett's father, Dick, was head coach at Wisconsin-Green Bay, then the University of Wisconsin, and was credited with creating and developing the "Pack-Line" defense, which is used with great success by UVA coach Tony Bennett, who annually produces one of the nation's best defenses.
"I always thought [Tony's] dad was the best coach I ever coached against when I was the head coach at Bowling Green, and we played Wisconsin-Green Bay," Larrañaga said. "I thought he was so good that I called Dick Bennett and asked if I could come out and pick his brain and find out all the things he was doing as a coach that made him successful. And he was so generous and hospitable. We went to Green Bay and tried to absorb as much basketball knowledge as we could from a guy that I thought was a basketball genius."
Larrañaga, who also uses the "Pack-Line" defensive philosophy, noted that Tony Bennett learned a lot from Dick Bennett, but also played in the NBA and has combined all that knowledge into his own coaching style, which he has used to elevate the status of Virginia basketball over the past 14 seasons.
Bennett is only three wins away from passing legendary Terry Holland as the winningest coach in Virginia men's basketball history.
"So, the Virginia program has been, in my mind, the most consistent ACC team since I arrived in the league 12 years ago," Larrañaga said.
UVA may have suffered its first loss of the season last Saturday against a solid Houston team, but Larrañaga said that will have no bearing on the Cavaliers' trip to Miami for their Tuesday clash in conference action.
"That has nothing to do with this game, whether they won or lost," Larrañaga said. "We just know we're going to be very well-prepared to come into the Watsco Center and play the best basketball for that day. They obviously lost to a great Houston team.
"It was a great game, two high-level teams, both of whom probably have aspirations of being in the Final Four and winning a national championship. So, that game is over, and just like us on Saturday, we won the game, it's over and now we're preparing for Tuesday night."
Virginia opened as a 2-point favorite according to Sportsline betting line.
Tuesday: Larrañaga talks about Virginia's personnel and the key to Tuesday night's game against the sixth-ranked Cavaliers