Miscues haunt ninth-ranked Cavaliers in 70-59 loss to Gamecocks
A much-needed 16-3 scoring run got No. 9 Virginia back into the game in the second half against visiting South Carolina Sunday at John Paul Jones Arena, and the team's 22-game win streak in the building against non-conference opponents looked like it may survive.
However, too many untimely UVA turnovers — a season-worst 19 of them on the afternoon — combined with a solid all-around performance and strong finish by the Gamecocks led to a 70-59 loss for the Wahoos (9-2), their second of the season.
Carolina junior guard Jair Bolden, who did most of his damage in the early going, put up a game-high 22 points to lead the way to snap the Cavaliers' streak, as the Gamecocks (8-4) recorded 14 steals and outscored the 'Hoos on the interior (28-20) and in transition (16-6).
Three other Gamecocks scored in double figures, as the Cavaliers gave up 70 points for the first time all season. It was the first victory for a non-ACC foe at JPJ since West Virginia knocked off Tony Bennett's squad, 66-57, back in December of 2016.
"I can always live with tough shots that are made if you're bothering the shot, but it's almost like it surprised us," said Bennett. "And then I thought there were stretches where we battled and fought and made it more difficult for them to score but that's when a careless turnover happened or we gave up a transition bucket, an offensive rebound, and that was just too much and I think at times we beat ourselves."
Trailing by nine with 13:25 left in the contest, a Braxton Key steal and dish on the fast break to freshman Casey Morsell for a three-point play cut the USC lead back down to six, 42-36. A Gamecock offensive foul gave it back to the 'Hoos and then Morsell nailed one from downtown to cut it to three to cap a 10-0 UVA run that ignited the JPJ crowd.
On the next trip down the floor, South Carolina followed a miss with a Wildens Leveque kick-out to Bolden for an open 3-pointer, but then UVA sophomore guard Kihei Clark answered with a triple of his own on the other end, extending the Wahoos' spurt to 13-3 and getting them back within a single possession.
UVA senior forward Mamadi Diakite scored shortly thereafter to make it a one-point affair, and then a Cavalier takeaway led to Key's game-tying free throw just seconds later to knot it up at 45-apiece with 11:10 remaining.
The Gamecocks went back ahead with two quick buckets, but a Diakite dunk and a foul on a sweet feed from Jay Huff trimmed it back to 50-48 with just over nine minutes to play.
After South Carolina split a pair of freebies, Huff scored to cut it to 51-50 just before a questionable Wahoo foul gave the visitors two more free throws to push it back to three by the under-8 break, and it was pretty much all Gamecocks from there.
Another Bolden bucket gave the visitors a 57-50 advantage before Justin Minaya knocked one down. Clark then coughed up his seventh turnover of the game, the most in his Cavalier career, which led to another Carolina point from the stripe to make it a nine-point contest with five minutes to play. On the day, Virginia's 19 giveaways translated into 23 South Carolina points.
"I just think we are being aggressive, sometimes too aggressive, to the point where we hurt ourselves…," said Morsell. "South Carolina did a great job of making shots, killing the momentum of the game. We just have to play our basketball, just take care of the ball, defend at a high level and just be smart."
AJ Lawson scored through traffic after another Cavalier miss on the other end to make it a 12-point game and silence the crowd.
After a Kody Stattmann 3-pointer, Huff couldn't convert from the stripe after he got fouled on a power slam with around two minutes to go. Then, South Carolina's Jermaine Cousinard scored his only field goal of the day on a stickback rebound after a Bolden 3-point try missed everything, and it was back to a three-possession game as time eventually ran out on the 'Hoos.
"There were turnovers and fast-break points and rebounds in that stretch that were just too much, and some unnecessary fouls that put [the Gamecocks] at the line," Bennett said of the closing minutes. "So again, that's part of us trying to be in that spot again and be a little tighter, a little surer, and a little sounder and all those areas but those were very costly and that was frustrating because that's for the most part in our control and that's the hard stuff."
Stattmann connected on the opening possession of the game to give Virginia a 3-0 lead, which only held up for just over a minute as the Gamecocks answered with seven straight points, and they would not trail again the rest of the game.
The Cavaliers found themselves behind by as many as 13 in the first half, missing eight of their next 12 shots while turning the ball over 12 times in the process, which led to a dozen South Carolina points.
Key hit a pair at the line before his putback of a Tomas Woldetensae 3-point miss cut the deficit down to 25-18 with 6½ minutes until half, but a Trae Hannibal jumper, followed by his strip of Morsell and score on the other end quickly pushed it back to double digits, causing Tony Bennett to call for a timeout with 5:29 left in the opening frame.
Diakite converted on consecutive baskets before a pair of Clark free throws drew the Cavaliers a little closer late in the half, but the Gamecocks went into the locker room with a comfortable 33-24 advantage.
The Gamecocks shot 56 percent from the field (14 for 25) in the opening 20 minutes alone, led by Bolden's 15 points.
A Key 3-pointer made it a two-possession game to start the second half, but a Minaya and-1 followed by a Lawson steal-and-dunk pushed the lead right back into double figures before the big run that got the 'Hoos back in the ballgame.
In addition to Bolden's big game, Lawson scored 14, Minaya had 12 and Keyshawn Bryant put up 10 points as Carolina finished at 55 percent (27 for 49).
Diakite registered a team-high 21 points on 6-of-13 shooting, while adding two blocks and a pair of steals. Clark once again filled the stat sheet with 9 points, 7 assists and 5 rebounds despite the gawdy turnover tally. Key had 8 points, 5 boards, 2 steals and 2 blocks in 29 minutes.
Virginia will close out its non-conference schedule in one week at home against Navy.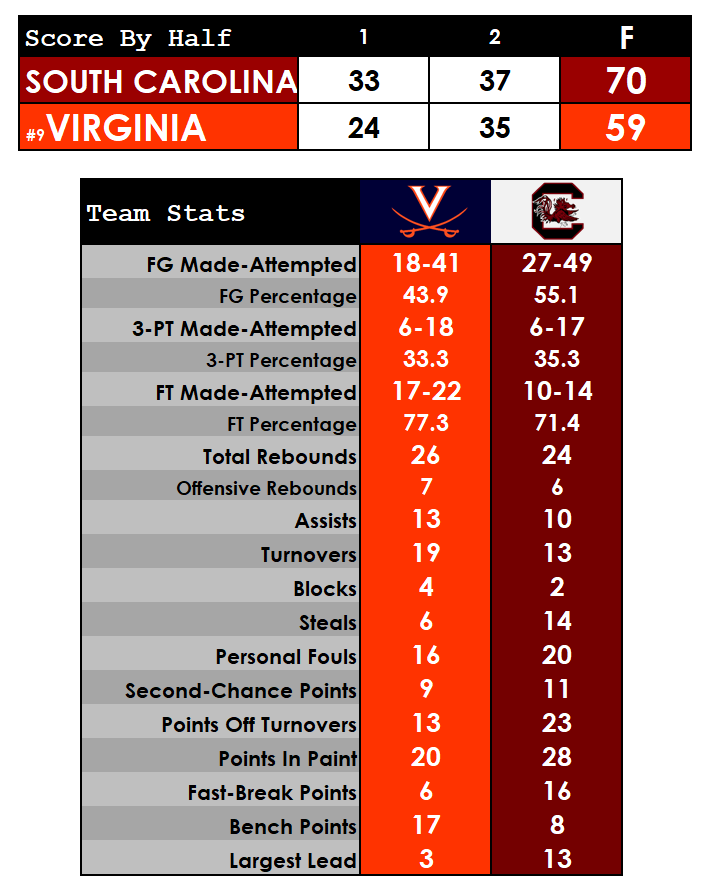 Courtesy UVA Media Relations:
Team Notes
UVA's 22-game home non-conference winning streak ended
UVA committed a season-high 19 turnovers, most since 19 vs. West Virginia on Dec, 8, 2015
UVA allowed a season-high 16 fast break points
UVA had 12 turnovers and 17 field goal attempts in the first half
UVA climbed back into the game with a 16-3 run in the second half
The Gamecocks shot 55.1 percent from the field, highest against UVA since Florida State (3/15/19)
South Carolina led 33-24 at halftime
Series Notes
UVA is 26-25 all-time vs. the Gamecocks, including a 16-9 mark in Charlottesville
The Cavaliers posted a 14-20 mark from 1953-71 against South Carolina when the Gamecocks were members of the ACC
UVA is 3-3 against the Gamecocks since 1990
Player Notes
Double-figure scorers: Mamadi Diakite (21)
Diakite had a career-high nine made free throws
Diakite had two blocks to move into fourth on UVA's all-time list with 131
Kihei Clark had a career-high seven turnovers

Comments