Mother's Day brings Virginia another in-state commitment in DB Ryan
By Jerry Ratcliffe
Virginia football continued to make progress in the state on Sunday when the Cavaliers received a special Mother's Day commitment from Fredericksburg defensive back Aidan Ryan of James Monroe High School.
Ryan, a 6-foot-1, 190-pound, 3-star safety, became UVA's 13th commitment to the recruiting class of 2021 (see list below), and the fourth from the state of Virginia, along with a fifth player from the state who is in prep school in North Carolina.
It was a special day for Ryan and his mom, Amy, a single mother who raised Aidan on her own.
Ryan had more than 20 offers, but didn't have any from a Power 5 conference school until a month ago when things began to pop. Louisville called, followed by Virginia and then Vanderbilt.
He chose the Cavaliers over those schools along with Appalachian State, East Carolina, Liberty, JMU, Temple, ODU, Princeton, Army, Navy and others.
"I just thought about it and there's no place I'd rather be," Ryan told Taft Coghill of the Fredericksburg Free Lance Star. "UVA has felt like home ever since my first visit and in reality that is home because of my home state. I feel like there is value behind growing up in your home state and having the chance to represent them once you grow up."
COMMITED…love you mom❤️ @shotbybev @STAC_UNCUT @BrianDohn247 @KGriffinJMHS pic.twitter.com/DC3GF2Bq2k

— aidan ryan☠️ (@aaidannn) May 10, 2020
Ryan visited Virginia last fall and was scheduled to visit again in the spring until the NCAA declared a recruiting dead period due to the coronavirus pandemic. Still, the Fredericksburg recruit was impacted by the closeness of the Virginia coaching staff and the bond between the players in the program.
As a junior at James Monroe, Ryan stacked up 54 tackles, including 34 solo, to go along with five tackles for loss, a forced fumble, 11 pass breakups and an interception returned for a touchdown. He also returned two kickoffs for scores. Ryan has 10 career interceptions, three of which were for TDs.
He also plays quarterback for Monroe and posted 1,275 yards and 12 TDs passing, along with 690 rushing yards and an additional five scores.
"He can do it all," James Monroe coach George Coghill told the Free Lance Star. "He can run. He can be physical. He has great ball skills. He'll be able to high-point the ball. We've had him all over the place, so he hasn't been able to specialize in one position and get that next-level coaching. I think once he gets that and he truly learns one position, he's going to be a force to be reckoned with."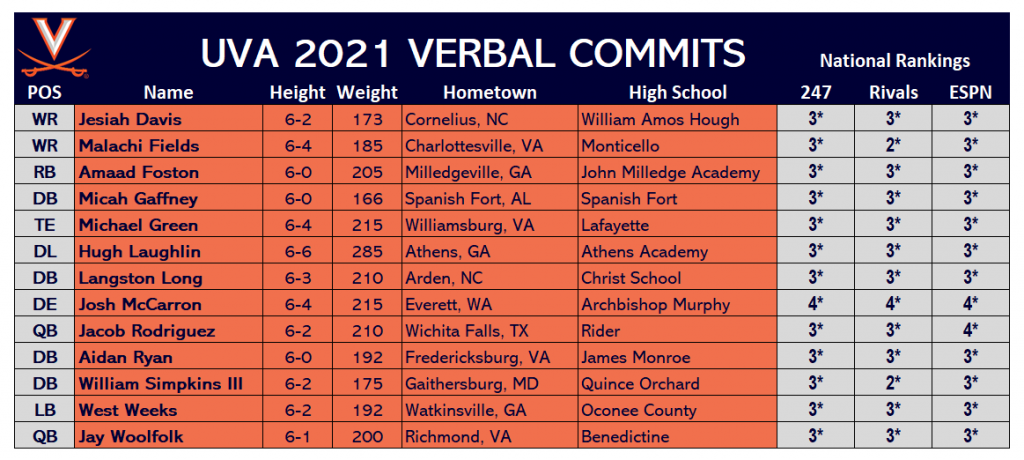 Comments