"Mr. May" Shellenberger poised for another magical Championship Weekend
By Scott Ratcliffe
He's already earned the moniker "Mr. May," and Virginia attackman Connor Shellenberger is in the midst of another memorable postseason run for the second-ranked Cavaliers.
The next step towards another trip to the national championship game awaits this Saturday at 2:30 p.m. at Lincoln Financial Field in Philadelphia, where UVA (13-3) will square off against No. 3 Notre Dame (12-2) for a third time — this one for a spot in the NCAA title game on Monday.
Shellenberger, who was recently named one of five finalists for the Tewaaraton Award (the Heisman Trophy of college lacrosse) for a second-straight year, is coming off an impressive 10-point performance (a career-high 6 goals and 4 assists) last week in the national quarterfinal win over No. 7 Georgetown, matching a postseason single-game program record in the process, one that has stood for 21 years (Conor Gill, 2002).
It didn't take long for the redshirt junior and Charlottesville native (St. Anne's-Belfield) to find the back of the net against the Hoyas, as faceoff specialist extraordinaire Petey LaSalla gobbled up the ball on the opening faceoff and assisted Shellenberger for the game's initial goal just seven seconds in. LaSalla, who was recently selected sixth in the second round by the Whipsnakes in the Premier Lacrosse League draft, then claimed the ensuing faceoff, leading to another Shellenberger tally moments later.
"I think when you're able to get a goal that early in the game, I think it helps you get into that zone that all athletes talk about, and a lot of credit to Petey LaSalla, our faceoff guy." said Shellenberger. "He's been pretty dominant the last couple of weeks and he won the first two out the front and made my job really easy."
Shellenberger, the former No. 1 recruit in the nation in 2019, according to Inside Lacrosse, recently told Mark Packer and Taylor Tannebaum on "ACC PM" just how important LaSalla is to the overall success of the team, and how much he will be missed next season.
"I don't want to think about life without Petey next year either," he said of LaSalla. "He's been so dominant for us and he's so clutch, and especially this time of year, he seems to thrive. But yeah, I think it's just a lot of reps during practice. We haven't always been the cleanest I guess, and a lot of it has been my fault. I'll take the blame.
"But a lot of credit goes to Petey. He continues to trust me and he's such a threat with the ball in his stick that it forces teams to have to respect and slide so it makes my job really easy whether to shoot or hit one of our finishers, [Payton] Cormier or [Xander] Dickson down low."
Shellenberger continued his hot start against Georgetown, scoring twice more in the opening quarter, helping the Wahoos build a three-goal advantage. When the Hoyas rallied back and tied it up at 10-10 in the second half, Shellenberger put the Cavaliers back in front, then added two more goals in the closing minutes to help seal the team's 25th trip to Championship Weekend.
His 10 points also tied a personal single-game career high, as he achieved that feat twice already this season — once against Harvard on Feb. 18 (3 goals, 7 assists) and once against Towson on March 11 (4 goals, 6 assists).
The All-ACC first-team selection admitted that this past season was a "frustrating" one, as he dealt with injuries and had to sit out against North Carolina on April 7. Shellenberger credited UVA associate athletic trainer Rebecca Vozzo and assistant coach Sean Kirwan for helping him get back on the field, and he's since elevated himself back to top form, now that the stakes are higher and higher with each big game. Despite having to miss some time, Shellenberger has still provided 78 points (27 goals, team-high 51 assists) this season.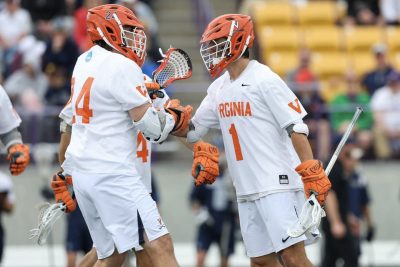 "There's been a lot of ups and downs and not feeling like you can practice as much as you want and have the chemistry with the offense that you need to go out there and perform on Saturday," said Shellenberger. "But a lot of credit, like I said, a lot of credit to Rebecca Vozzo and then our offensive coordinator Coach Kirwan as well. They've been super patient with me and kind of helped me out through this whole process, so I think we're definitely trending in the right direction for these next eight days."
Tournament time holds special significance for Shellenberger, who is averaging 6 points per contest in his eight career NCAA Tournament games (26 goals, 22 assists), and he will be looked to for similar production this weekend against a Notre Dame team hungry to avoid a third loss to the Cavaliers and keep its season alive.
"I think individually, it's easier to lock in because I guess it's pressure, but it's also just realizing that anytime you step on the field can be that last moment with your teammates, with the coaches, and everything that you've worked for since August is on the line," Shellenberger said of playing in May. "So there's really no looking to the next game. There's no thinking about the past, you just constantly have to be present and it kind of helps you get to that zone quicker."
In the Hoos' two wins against the Irish in the regular season (Notre Dame's only two losses this year), Shellenberger only scored three times, but dished out eight assists. Notre Dame coach Kevin Corrigan said that regardless of what Shellenberger may have been going through from a physical standpoint during that time, he was certainly impressed by his skills on the field.
"I haven't noticed him being hurt," joked Corrigan. "That must mean in games that were not against Notre Dame. He's a terrific player. He elevates any offense that he's part of."
Shellenberger, who is the active national leader in the assist category with 137 (good for fifth on Virginia's all-time list), also gives a ton of credit to fellow attackmen Cormier and Dickson, who along with Shellenberger have combined for 138 of the team's 281 goals and 85 assists (223 points) on the year. As deadly as the talented trio is on the field, Shellenberger explained that they're just regular college kids, and that the time spent off the field pays dividends on gamedays.
"We've always spent a lot of time together," Shellenberger said. "There's never a dull moment with Xander and Payton there. I think a lot of what we do on the field definitely stems from the camaraderie that we have off the field. A lot of trips to B-Dubs and getting breakfast and all those little things that kind of help create the product that you see now on Saturdays.
"But I just have to give them so much credit, because everyone gives me a lot of the credit for making them look good, but those guys make my job really easy with how good they are off-ball, and even what they're able to do with the ball. When I was banged up earlier this year, you were able to see how much they're able to do dodging, so those guys are complete players and make the rest of our jobs really easy."
As Dickson revealed in a separate interview earlier this week, Coach Kirwan compared the dangerous Virginia attack to a tractor trailer.
"The culture of [the offense] is so selfless and the ball movement is so strong this year that we kind of understood if one person goes down, we just think of ourselves as an 18-wheeler, Kerwin says, just another wheel," said Dickson. "So I think we were able to sort of persevere through that… Now, when Connor's healthy, it should be absolutely terrifying for defensive coordinators."
Should the Hoos advance past the Irish, there's a good chance that top-seeded Duke will be the championship opponent. It's been well documented and publicized that the Blue Devils have had UVA's number over the years, but for Shellenberger, it'll be a matter of first things first, as he insists that all of the focus will be on Notre Dame come Saturday afternoon.
As for the Tewaaraton, Shellenberger explained that if he does ultimately get chosen as the winner, it would only mean that the success that the Cavaliers achieved together as a group was what made it possible.
"It would obviously be really special," he admitted. "I think it's one of those things that you throw up on the on the wall when you're 7-8 years old watching college lacrosse, but I think the beautiful thing about the Tewaaraton and a lot of individual awards is it usually is decided by the team that wins it all, and that kind of takes the individual or selfish pressure away from it and allows you just to focus on your teammates and just go and do all the right things during the game. And if you're the team standing on Monday with the championship trophy, you have a high chance of winning that award, so I think that's one of the great things about it."
Click below to watch the full interview.