National Championship Tale of the Tape: UVA vs. Texas Tech

MINNEAPOLIS — It all comes down to 40 more minutes of basketball on Monday night, as Virginia shoots for the program's first NCAA championship at 9:20 p.m. ET against West Region champion Texas Tech at U.S. Bank Stadium.
The Cavaliers (34-3) squeaked by Auburn Saturday night by a point, thanks to three crucial, pressure-packed Kyle Guy free throws with six-tenths of a second on the clock to advance to the tournament final for the first time.
The Red Raiders (31-6) knocked out Michigan State, 61-51, in Saturday's second semifinal and will also be competing for their first-ever national title Monday.
Texas Tech was unranked to start the season, but won its first 10 games and by December, the Red Raiders did not drop out of the top 20 of the AP poll the rest of the way. They climbed as high as No. 7 in the penultimate rankings.
Tech went 2-2 against ranked opponents this season (L 69-58 vs then-No. 2 Duke at Madison Square Garden on Dec. 20; W 66-59 vs then-No. 23 Oklahoma on Jan. 8; L 79-63 at then-No. 11 Kansas on Feb. 2; W 91-62 in the home rematch against the then-No. 12 Jayhawks on Feb. 23).
After clinching their first No. 1 seed in the Big 12 Tournament as co-regular-season champions (tied with Kansas State with a 14-4 conference mark), the Red Raiders were bounced in the opening round by 10th-seeded West Virginia.
Tech was on a roll leading up to that game, having won its final nine games of the regular season, and has been hot in the Big Dance since then.
TTU head coach Chris Beard was recently named AP National Coach of the Year in just his third season in Lubbock, and also earned Big 12 Coach of the Year honors. Beard guided his team to the Elite Eight a season ago for the first time in program history, and has obviously eclipsed that feat in 2018-19.
After losing Keenan Evans, Zhaire Smith and Zach Smith from last year's squad, Beard got his troops back to the tournament and now he'll have an opportunity to win a title.
He admitted Sunday afternoon that he is quite familiar with Virginia and its style of play, and knows that his team will be in for a dogfight come Monday night.
"It's really good. It's as good as advertised," Beard said of the Wahoo defense. "I've watched a lot of Virginia games this year, just as a fan… You've got to be able to move the ball around. You can't just come down and make one pass and go get a basket. So I think our ability to move the ball around and get the defense shifting will be big for us."
Both teams come into the matchup with a reputation of tough defense, so it's quite possible we'll see a grind-it-out affair where neither side will allow anything easy. Texas Tech owns the nation's top field-goal percentage defense (37 percent), just a shade ahead of UVA (5th, 39 percent).
"They're different than us," said UVA coach Tony Bennett, when asked about how closely the two teams' defenses resemble each other. "They're really special defensively. I have the utmost respect for how they play, but it is a different system. I think someone said, statistically, we're two of the top five teams defensively.
"You can see it. They're very physical. Their ability to take your ball, and some of the — just look at the games in the tournament and what they've done to some of the great offensive teams has been so impressive."
The Red Raiders held No. 14 seed Northern Kentucky to 37 percent (23 percent from deep) in a 15-point win (72-57) in the opening round, then blasted 6th-seeded Buffalo, 78-58, also holding the Bulls to 37 percent from the field. In the Sweet Sixteen, Tech hammered second-seeded Michigan, 63-44, giving up just 16 points in the first half against the Wolverines, a fixture in the top 10 most of the season. Michigan made just 16 field goals and shot 33 percent against the Raiders, and missed 18 of 19 tries from beyond the arc.
Top-seeded Gonzaga led the Raiders by two at halftime in the Elite-Eight matchup, but TTU rallied for a 6-point win to punch their ticket to Minneapolis. The Zags shot better than Tech's other tournament opponents (42 percent), but connected on just 7 of 26 3-point attempts.
Saturday, Michigan State struggled to get much going against the Raiders, shooting 32 percent (on only 15 made FGs) from the floor and 29 percent from deep.
On paper, the Wahoos hold the edge offensively — they're ranked 3rd in the country according to KenPom in adjusted offensive efficiency, while the Raiders are ranked 28th in the same category.
When looking at the offensive numbers, there are also a lot of similarities between the two squads — both teams are shooting at a 47-percent clip on the season. UVA shoots the 3-pointer at 39 percent, Tech is at 37 percent. Virginia is a 74-percent free-throw shooting team, the Raiders are 73 percent from the stripe.
Jarrett Culver is the Raiders' leading scorer (18.6 ppg) and rebounder (6.3 rpg), and also leads the team in the assists category (3.7 a game).
Another sophomore guard, Davide Moretti, can light it up from long range, as can graduate transfer Matt Mooney, who went off for a game-high 22 points on 8-for-16 shooting (4 for 8 from deep) against the Spartans Saturday.
Senior big men Tariq Owens and Norense Odiase have combined to average 12.9 points and 11.1 rebounds per contest, and each can defend well in the paint. The 6-foot-11 Owens has swatted 91 shots this season, while Odiase is a presence at 6-8, 250 pounds, and has sent away 33 shots of his own.
The aforementioned Raiders have started all but two games all year (both Owens and Odiase missed one start), and only three reserves have averaged double figures in minutes (Brandone Francis, 23.7; Kyler Edwards, 17.7; Deshawn Corprew, 13.8).
They say defense wins championships — Monday's title fight should be a prime example of two of the nation's top defensive squads going head to head in a do-or-die, win-or-go-home battle. The ultimate question is, which side will be able to outlast the other?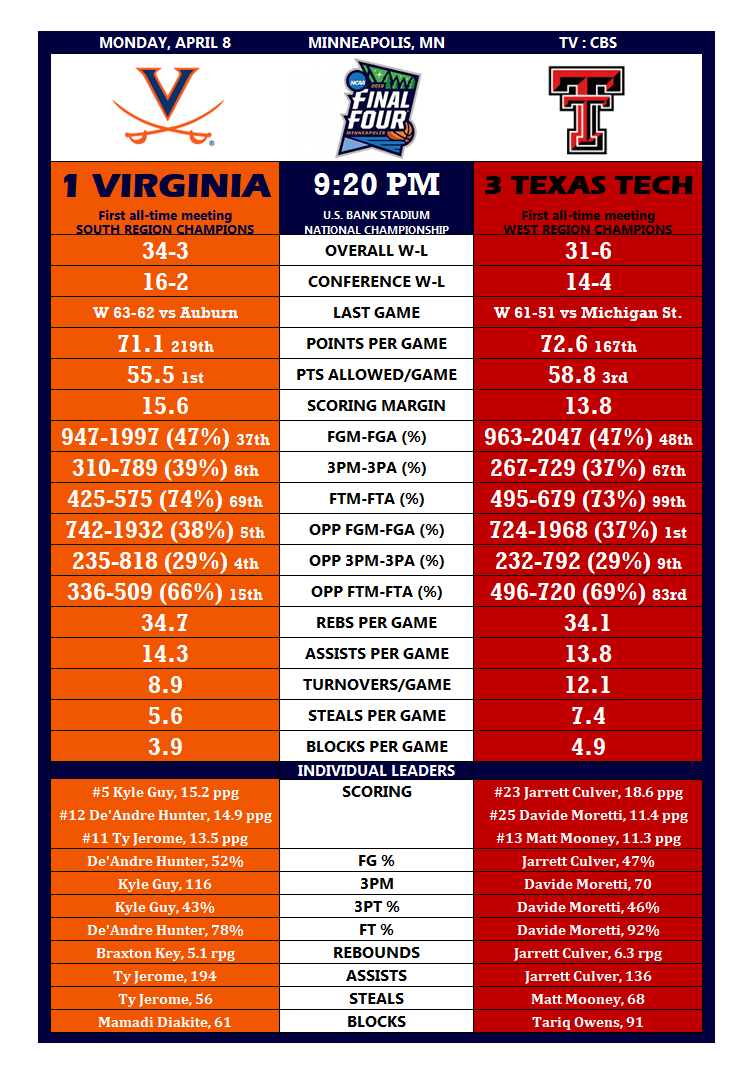 Comments