National Perception Of UVA May Change, But Bennett, Players Won't
By Jerry Ratcliffe
With thousands of Wahoos flooding Charlottesville on Saturday afternoon, the city officially became "Title Town," as its favorite sons from the Virginia basketball team paraded into an excited Scott Stadium with the national championship trophy in tow.
Mamadi Diakite, one of the heroes in a string of heartstopping nail-biters, clutched the coveted trophy to his chest like a shipwrecked sailor would a coconut on a deserted island. It would appear that the trophy hasn't left Diakite's sight since Minneapolis, a distinct honor ordained to the junior forward from Guinea, because Jack Salt told him so.
"[Salt] makes me do it every time," Diakite cracked. "He's a senior, so I've got to do it."
The one-liner drew a roar from the estimated 22,000 fans on hand for the ceremony. They were there to witness a historic moment in UVA basketball history, in Charlottesville history.
It was as if Tony Bennett and his program, all his players, assistant coaches, the Wahoo Nation fan base, the city, had all transcended through a threshold that few ever behold. Rarified air, usually reserved for the sport's anointed blue bloods, Virginia reached its One Shining Moment on Monday night.
Five days later, the Cavalier celebration continues sine die.
While the perception of UVA basketball has changed, the cynics and emotional vampires are seen sliding off Bennett's back after years of claiming that he couldn't get his team to paradise, and Cavalier fans believe they have finally arrived, that's all well and good.
Through it all, Bennett has remained steadfast in reminding his players not to change who they are, or to forget what got them to the winner's circle. Remember the Five Pillars. Stay true to one's self.
That is as important to Bennett as the new addition to the Virginia trophy case.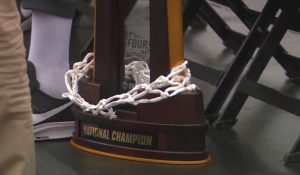 The last thing Bennett said to his team in Minneapolis the night they downed Texas Tech in overtime for the title, carried that theme. It wasn't about being champions. It was about remaining unchanged.
"I told our guys in the locker room, I said put your arms around each other, take a look at every guy in here, look at each other," Bennett retold the story. "Promise me you will remain humble and thankful for this. Don't let this change you.
"We'll have memories. We'll be at each other's weddings — or, I'll be at their weddings (laughter) — but stay humble and stay thankful. It's a great story."
We're all familiar with the story, the redemption from last year's misery and humiliation, the close calls in their six-game postseason March to fame. Ralph Sampson, Virginia's greatest legend, said Saturday it was the greatest story in college basketball history. Who's to argue?
Bennett believes so, too.
He was truly stunned when he walked out of the Cavaliers' football locker room at Scott Stadium and saw the entire West side of the facility packed, upper and lower sections with fans festooned in orange and blue.
He and associate head coach Jason Williford had some sort of bet on crowd size (a handshake bet, Bennett pointed out), that Kyle Guy divulged during a post-event press conference.
When university officials were trying to figure out where to hold the celebration, they said John Paul Jones Arena was out for two reasons. One, it was hosting a Monster Truck show, and two, at just under 15,000 capacity, it couldn't hold all the 'Hoos in 'Hooville, let alone those coming from every hamlet in the Commonwealth and beyond.
Upon hearing the second explanation, Bennett wasn't sold.
"C'mon," he remembered saying. He was overruled.
Saturday, he was blown away.
"This community has been through a lot, and to see this come together and celebrate with them … like we said, it was united celebration. Nothing else mattered but celebrating this. It was healing in so many ways and was not lost on any of us," Bennett said, referencing the tragic events of Aug. 12, 2017, a day that will live in Charlottesville infamy.
Bennett, Guy, others, said the reality of winning the national championship still hasn't totally sunk in.
"I'm not sure it's going to settle in any time soon," said Guy, who was Most Outstanding Player of the Final Four. "It's so crazy. You dream of moments like this. Life has been chaotic. There's been lots of media requests and what not, and staying after class to take photos (with students, and probably a few professors). It has been fun. It comes with the territory, so just trying to do it all."
Through it all, Guy has held steadfast to his coach's request, and remained unchanged.
Bennett recalled a song being played during the ceremony, "Back Home," which contains a line about the city won't change us, we'll always know our way back home.
"That's something I think these young men will always know, that this will always be a family, and the way back home to Charlottesville," Bennett said. "The pillars in our program, no matter where life's journey takes us … to all these cities, that for me won't change. They will always know their way back home.
"When you coach a team, you're bonded together for life, but this will be special," Bennett added. "Sometime we'll be wobbling out [on stage] 30 years from now when they commemorate the 2019 championship team, and those will be times to come together."
Just like all the great teams in all sports, the ones that overcame injuries or other adversity, that beat the odds, that were destined to make history, Virginia joins that select group. Bennett won't change. His players won't. But history has reserved a special place for the Wahoos of '19.
"I've watched national championships, and remembered watching Valvano running the floor when they hit the shot," Bennett said. "You know what? Virginia is now part of one of those memories. The way it ended the previous year, it makes for one of the greatest stories of resilience and for hope."
The coach hopes Virginia's story inspires others, not just teams, but individuals struggling to overcome, those who have given up, to find a way, beat the odds, fight for success.
Certainly the way that Virginia fought back in its opening round game against No. 16 seed Gardner-Webb made a statement about resiliency. The miracle finishes against Purdue, Auburn, the end of regulation against Texas Tech, were all examples of never giving up, as Jimmy V requested from all of us.
Bennett only watched the second half of the championship game on Friday night. He thought back about how intimidating the Purdue crowd in Louisville was in the Elite Eight battle. The Gardner-Webb second-half comeback, the Clark-to-Diakite play, the Guy free throws, Hunter's domination of the Red Raiders in the second half, all sweet memories.
"Those hotel ballrooms, talking about stuff (team walk-throughs and strategy sessions)," Bennett said. "Those are the things I'm locked into."
Then, there's the reaction that he gets when Virginia fans approach him, some wondering if they'd ever see this day come.
"When people come up to you and their eyes are welling up because it means so much to them, that kind of drives it home," Bennett said. "If we can be a light for people and show a great sign for them, it's great to be used like that for sure."
In Tony's eyes, it's all God's plan. He has been used as an instrument to show the way for others. For Tony Bennett, that matters more than anything else.
Comments