Nation's best shooter, Kon Knueppel, sets second visit to Virginia
By Jerry Ratcliffe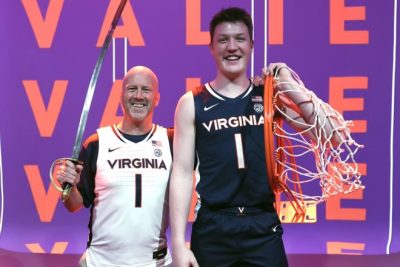 The best shooter in the nation has scheduled a second visit to Virginia, which is a major piece of good news for Tony Bennett.
Kon Knueppel, a 5-star guard from Milwaukee, Wisc., is one of the most sought after players in the recruiting class of 2024, and seems to be narrowing the field for his future basketball home.
Knueppel announced that he will visit Alabama on Sept. 8-10, Virginia on Sept. 14-15, and Duke on Sept. 16-17. Marquette and Wisconsin remain in the mix, but many recruiting analysts believe the sharpshooter's decision will be among those five schools. He has not visited Alabama or Duke, both relative newcomers to his recruitment. He visited Virginia during last basketball season, taking in the Cavaliers' win over Duke at John Paul Jones Arena.
Arguably the top shooter and best scorer in the nation, Knueppel has a strong game. He describes himself as more of a combo guard, and while he excels as a perimeter threat, doesn't mind mixing it up a bit with some physical play.
The guard has great size, listed now at 6-foot-6, 215 pounds. 247Sports composite has the Wisconsin Lutheran star rated as the No. 20 all-around player at any position in his class nationally, the top recruit in Wisconsin and top 10 at his position.
Knueppel has all the shots: catch-and-shoot jumpers, jumpers coming off of screens and spot-up jumpers. During the spring EYBL Circuit, he led the nation in scoring with an average of 22.5 points per game to go along with 50 percent from the field and 48 percent from behind the 3-point arc. In the June Pangos All-American Camp, he made 75 percent of his field-goal attempts.
"I'm going to be looking for a place where I can get better, a place that I will have the opportunity to play right away," Knueppel told a Wisconsin basketball site. "Winning will be big for me, too. I want to play for a team that will win."
Perhaps Virginia should fly Ty Jerome in for Knueppel's visit in mid-September. Jerome, now a member of the NBA's Cleveland Cavaliers, obviously had an influence on future point guard Christian Bliss' decision to choose UVA after a recent visit. Jerome explained to Bliss about the advantages of developing his game, his body, his mind, and his character at Virginia. Bliss committed to Bennett only days later following that conversation.
Knueppel also said that he isn't concerned at all about NIL packages, which should also help Virginia.
"He's not an ego guy," Wisconsin Lutheran coach Ryan Walz told the Milwaukee Journal Sentinel recently. "He's not like: 'Oh, I've got this school after me now, I heard from this school.'
"You almost have to ask him to talk about it. It's definitely not his favorite thing. But he has gotten to the point where he understands what he needs to do, how serious he needs to take it, because the time is coming."
Walz said he is constantly asked where Knueppel is going to go to school, where he is leaning. He has a stock reply.
"There is no answer to that because he is just not there yet. That isn't a fault of the people recruiting him. That's not saying he's not taking it seriously. He is focusing on one thing at a time. For a high school kid, I can't say that is a bad way to go about it," Walz said.
Last season, for Wisconsin Lutheran, the junior averaged 19.7 points and 9.2 rebounds per game and shot 51.5 percent from the 3-point line in leading his school to a 23-5 record.
"He always said I need to concentrate on winning this next game or getting better this week," Walz told the Journal Sentinel. "And it's not just lip service. That is where his focus is."