Nation's No. 3 shooting guard Elijah Gertrude commits to Virginia
Updated with quotes
By Jerry Ratcliffe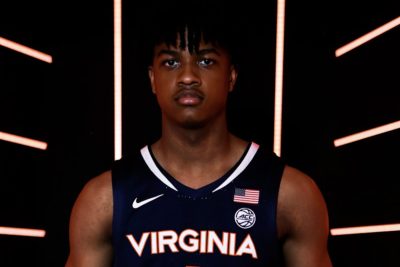 Once Elijah Gertrude set foot in Charlottesville, he was blown away by the family atmosphere he discovered in the Virginia basketball program back in late July.
On Wednesday afternoon, the nation's No. 3-ranked shooting guard became a member of that Cavaliers family when he announced his commitment to Tony Bennett's UVA program. Flanked by his parents, Gertrude declared he was a Wahoo, donning a crossed sabres Virginia cap, while unzipping his hoodie to reveal an orange Cavaliers t-shirt.
His announcement was celebrated far and wide by Wahoo Nation, which had collectively awaited good news after losing out on some of UVA's recruiting targets, most notably, big man TJ Power, who chose Duke over Virginia last week.
With Gertrude, there was a lot to celebrate. The 6-foot-3 guard has enjoyed a meteoric rise in national recruiting rankings over the past year. 
"We're talking about a guy that as recently as the beginning of 2022, didn't even have a profile on any of the national recruiting sites, much less any high major offers," said Eric Bossi, national basketball director of 247Sports. "If there's one thing we know about Tony Bennett, we know that he and his staff are able to find these kinds of under-the-radar, late-bloomer guys and develop them and get the most out of them, so it seems like a really nice fit."
Bennett and associate head coach Jason Williford worked really hard on recruiting Gertrude, who chose the Cavaliers over nearby Seton Hall (only 12 miles from his home), St. John's, Kansas and Rutgers.
In the end, though, it was Gertrude's trips to UVA that won over the senior at Hudson Catholic in Jersey City, N.J.
"Coach Bennett is a historical coach," Gertrude said during his announcement ceremony. "He has a resume of developing his guys, and he's a really great guy.
"I went [to UVA], twice actually, and it was like family. That place was amazing, just amazing. So now, just being able to go there and call those guys my family, it's amazing."
Bossi said Gertrude, a play-making guard who loves defense, is a good fit for Bennett's program.
"In terms of if you're Virginia, you want guys who want to be there and really understand the culture, and I don't know if I've spoken to another kid in recent years who really gets Virginia and their culture more than Elijah Gertrude did even before they offered him," Bossi said. "I remember speaking to him with him about Virginia, and it was clear that he had done his homework on them. He knew what he was getting into, and it was something that he really wanted to be a part of. It was one of those things he could tell as soon as they offered, they're going to have a really good chance of getting him."
The 4-star guard made an incredible leap in the national recruiting rankings over the past few months, particularly in the 247Sports ratings where he bolted from No. 157 overall in the nation to No. 36 for the recruiting Class of 2023. He is ranked by 247 as the No. 3 shooting guard nationally in the '23 class.
"He's a freak athletically," said Gertrude's Hudson Catholic coach Nick Marinello on Wednesday. "The way he dunks … his elevation to the rim is at another level. It comes out of nowhere and you're kind of in awe of it when you see it transform and see the plays he can make."
Gertrude said he watched Virginia a lot while growing up and described getting an offer from the Cavaliers as "amazing." He prides himself in his defensive abilities and said he fits well into Bennett's system because he can defend multiple positions.
This past summer, while playing for the City Rocks (NY) on the EYBL circuit, Gertrude averaged 11.8 points, 4.2 rebounds, 2.5 assists per game, while shooting 55 percent from the field and 43 percent from the 3-point arc.
Virginia is getting an impact player on both ends of the floor. He has the ability to catch and shoot offensively and can get out and run on fast breaks in addition to being a lob finisher with his great leaping ability. Gertrude, who loves defense, has a high basketball IQ.
COMING UP LATER: Hudson Catholic coach Nick Marinello gives us the inside scoop on Elijah Gertrude