NBA's Jerome returns to Charlottesville for third year of hoops camp
By Scott Ratcliffe
Prior to signing with his latest NBA franchise, University of Virginia alum Ty Jerome was in Charlottesville last week for his third-annual youth basketball camp, held at Albemarle High School.
Just before Jerome (who's celebrating his 26th birthday today) agreed to a two-year, $5-million deal with Cleveland last Friday, he teamed up with his trainer, St. Anne's-Belfield head coach Damin Altizer, for the Ty Jerome Skills Camp — a few days of fun, development and competition with area kids — and both were happy to see some familiar faces.
The camp was born in the summer after the pandemic in 2021, just when things were slowly starting to get back to "normal." As Altizer explained, about 75 percent of this year's campers were here last year, and a lot of those were even back for a third year, wearing their camp T-shirts from the past experiences.
Jerome and Altizer, along with several other camp volunteers, would spend the morning guiding the kids through drills and training, and then the campers were split into teams for afternoon games. There was a "regular season," followed by a tournament on the final day of camp, and the campers loved every second of it.
"It's amazing," said Altizer. "I mean, every kid, they come to see Ty, but when they're in their 'league games' and all that, they know how many points they scored and what their record is, and they're asking about the tournament. It's summer camp, but for them — being in the gym right now — it's everything. And that's kind of how we all started, where that moment was everything."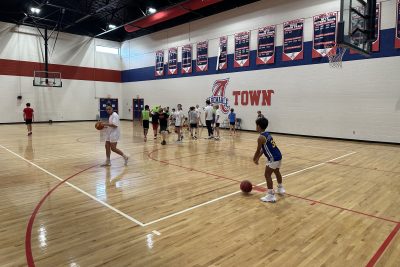 Jerome added: "Just seeing that they want to come back, it just shows that we're doing a good job, they're having fun, and that's what it's really all about. As long as they're having fun, we're doing our jobs. So we get messages and people asking, 'When I'm too old to [attend], can I work the camp?' So stuff like that is awesome, to hear that people want to keep being a part of this."
Jerome's father, Mark, was a high-school coach in New Rochelle in New York City, and ran his own youth camps as far back as Jerome can remember. He said his father's lessons played a role in his own venture.
"He coached me my whole life," Jerome said of his Dad. "He kind of taught me the game, and both my parents played in college and my Dad's been running his camps in New York City since before I was born, so I've taken so much from him and [he's] definitely part of this, for sure."
Jerome admitted that he always knew in the back of his mind that he wanted to run his own camp one day, especially locally, after his success nearby at the college level.
"I knew I wanted to come back here and run it…," he said of holding the camp in the Charlottesville area, "kind of giving back and wanting everyone to have a good time."
Getting a foot in the NBA door
Jerome was drafted by the 76ers with the 24th overall pick shortly after cutting down the nets in Minneapolis in the summer of 2019. His draft rights were eventually traded to Phoenix, and he earned a two-way contract in his rookie season, splitting time between the NBA and the Northern Arizona Suns of the G League.
Jerome saw action in 31 games for Phoenix as a rookie in an injury-shortened season, averaging 3.3 points and 1.4 assists in 10.6 minutes per game.
The following fall, Jerome was traded to Oklahoma City in a package deal that brought All-Star guard Chris Paul to Phoenix. Jerome's playing time increased to 23.9 minutes per game once he fully recovered from the ankle injury that plagued him in 2019-20. He started out with the G League's OKC Blue and eventually played in 33 games for the Thunder in 2020-21, and got his first start as a pro. That season, Jerome posted career highs of 10.7 points, 3.6 assists and 2.8 rebounds per contest.
In his second year with the Thunder, he played in 48 games, starting four, and averaged 7.1 points and 2.3 assists.
A star-studded change of scenery
After getting traded to Houston and waived by the Rockets just before the 2022-23 season, it didn't take long for Jerome to find a new home with Golden State on a two-way deal.
Jerome began the season in the G League with Santa Cruz, but spent most of the campaign with the then-defending champion Warriors. He eventually appeared in 45 games with Golden State (two starts), putting up 6.9 points and 3.0 assists in 18.1 minutes per game, while shooting 49 percent from the floor, 39 percent from 3-point range and a career-best 93 percent from the charity stripe.
All of a sudden, he was sharing the court and the locker room with Warriors superstars Klay Thompson and Stephen Curry, who just so happened to be one of Jerome's favorite players growing up.
Back in January, Jerome showed up at John Paul Jones Arena alongside Curry, as the two sat courtside at the UVA-Virginia Tech game (Steph's father, Dell, starred as a Hokie in his college years). Jerome received a huge ovation from the JPJ crowd, and he and Curry could be seen joking around on HooVision.
"He's probably one of, if not the only guy who when I got to the NBA still kind of, I wouldn't say looked up to, but kind of looked at and held to that standard because he was my favorite player growing up," Jerome said of Curry. "I mean, I guess him and LeBron, I would say, [they have been] doing it for so long and they've been winning championships since I was in eighth, ninth grade.
"So being able to be his teammate and learn from him and share the court with him, it's pretty cool when you look back on it. It's pretty cool. At the moment, I don't think about it because you're so focused on the task at hand, but when you get some time to reflect and look back on it, it's definitely pretty cool."
Camping with CP3
Another player Jerome admired was Paul, who ironically would've been another one of his Golden State teammates next season had he stuck around, after Paul was picked up by the Warriors in the offseason.
Jerome attended Paul's elite point guard camp ahead of Virginia's 2019 championship season, and said it made a major impact on his career moving forward.
"That camp was huge for me," he admitted. "I think I had a solid second year, and that camp was in the summer of my second and third year, and that kind of springboarded the beginning of my junior year and kind of put me on some draft boards and put me on notice with some scouts, and kind of went in there changed my body before that whole summer before that camp.
"That kind of just was a big jumpstart to the following year, and getting to be around [Paul] and seeing he was there at 6 a.m., working out before camp started, working out at lunch, and just seeing everything he was doing that kind of opened my eyes to how serious this really is.
"Then obviously being in the NBA for four years and having some great teammates, you really kind of start to pick from here and here and here, and I've always been an extremely hard worker, but just seeing how diligent, how smart and how strategic you have to be while you're working hard, that's what really opened my eyes too."
Altizer has been training with Jerome for seven years now, and continues to help him prepare for his upcoming seasons. A normal week of offseason workouts consists of two days of "going hard in the weight room and on the court," as Altizer put it, then two days of "long endurance," with a lighter "rest" day in between.
"It's always very regimented. You know how long you're going to be in the weight room and on the court, which is what being a pro is all about," Altizer said. "You're not just taking shots, it's how many shots he's making when he's there. And also, he's obviously an adult. We all knew him when he started here as a kid, but he still approaches every workout with an industrious attitude — but he also loves it. He's just like these kids, and you can tell he never dreads getting in the gym. He goes about his business as he should as a pro.
"[At camp] with the kids, that's just what he shares with them. He says it was 10 or 12 years ago at this point, but he was that kid who was going to camps like these and working hard, and the work speaks for itself, and you put that time in. And maybe it's knockout today or a dribble-tag game, but you can still go hard and have fun while you're doing it, but work hard and let that speak for itself."
Jerome described what a typical workout day is like with Altizer, and it sounds like he carried a lot of Paul's work ethic with him.
"I'll wake up, I'll eat a quick breakfast, I'll go lift," said Jerome. "Right after lift, I'll just do a bunch of spot shots, kind of shoot the lift out, then I'll go home, get some lunch, shower, relax. Come back and get a night workout in with Damin, and I'll go harder in that night workout. And then, two-and-a-half workouts in, spot shots is kind of like a half I say, so two-and-a-half to three workouts in, and then I kind of just go enjoy my night and rest, and do it again the next day."
A Cavalier again
In Cleveland, Jerome — who officially signed his new contract on Thursday — will reunite with All-Star guard Donovan Mitchell, who was his youth teammate in the New York Metropolitan AAU organization.
Mitchell, who spent his first five seasons with Utah before joining the Cavs in free agency last summer, posted an old picture of the two on social media after it was announced that Jerome would soon be his teammate again.
Teammates again. 😁

📸 @spidadmitchell pic.twitter.com/BNXJJlFrhp

— Cleveland Cavaliers (@cavs) July 6, 2023
The Cavaliers finished 51-31 and were the No. 4 seed in the Eastern Conference this past season, seven games behind first-place Milwaukee with Mitchell leading the charge.
The Cavs currently have several other guards on their roster, including Mitchell, starting PG Darius Garland, PG Raul Neto, PG Ricky Rubio, SG Caris LeVert, SG Max Strus, SG Sam Merrill, SG Dylan Windler and Wichita State rookie Craig Porter Jr.
Although it's a loaded backcourt, Jerome certainly has a chance to earn significant minutes, whether it's at one of the two guard spots or at the small-forward position, where he saw a little time last season with the Warriors.
Going through the targeted workouts with Altizer will be a great stepping stone to get Jerome ready for training camp in a few months.
"Earlier in the summer, there's more film kind of coming off [the previous season], and then you kind of get into the routine and what you want to focus on," Altizer explained. "And especially for a player like him — he can never shoot too much, but just putting him in those actions and situations where he's going to be taking those shots, as opposed to always just going around and spot-shooting. [He's] more intentional about where he's taking his shots and how he's taking his shots, so while he's getting tons of reps, they're also reps with what he's going to see in the game."
summertime lab sessions. #LetEmKnow pic.twitter.com/huLIig4IaC

— Cleveland Cavaliers (@cavs) July 8, 2023
The Wahoo connection
Jerome, one of nine former Hoos who played in an NBA game last season, says he still keeps up with UVA as much as his busy schedule will allow, and loves to see the continued success of the program. He even played a part in the recent commitment of Christian Bliss.
"I sat down with [Bliss] for a while," Jerome recalled of their recent conversation, "and I basically told him, 'I can't think of a better place to come in somewhere and really get better. You have all the tools here, you have a great strength coach, you have a great development staff. You have great coaches that pour into you every day. You have nutritionists — it's a great support system.'
"So there's a great culture, like I could go on and on and on, but I can't think of a better place to really come and really get better and really grow as a person and a player."
Jerome said he checks in with his former Cavalier teammates Kyle Guy and De'Andre Hunter on a regular basis, and still catches as many Virginia games as possible when he's not dealing with one of his own games, given the loaded NBA schedule.
"Usually we have a game when UVA is on," he explained, "but if we don't, I'm usually watching. And Kyle and some of those guys that are overseas, it's hard to keep in contact with every day because I think Kyle and Devon Hall were like nine hours ahead of me, and Devon Hall is one of my closest friends, but when he's nine hours on a different timezone, it's tough to keep in contact with someone. But guys like Dre, Dre has been one of my best friends since college and I'm talking to him almost every day."
Now with such a large — and growing — contingent of former Hoos playing in the NBA, Jerome agreed that it has become more of a big family, a "Five-Pillar" fraternity, if you will. And whenever he crosses paths with guys like Joe Harris or Malcolm Brogdon, Jerome is always happy to catch up.
"Definitely still whenever I see Joe, whenever I see Malcolm, whenever I see Trey Murphy, Sam Hauser, Anthony Gill, like whenever I see those guys and they're in the NBA still, it's always lunch, dinner, whatever it is."
Now, if Ty's hosting, those meals will be taking place in Cleveland, at least for the next couple of seasons. Altizer believes that Jerome deserves everything he's worked so hard to achieve, and knows that he will pour all he has into being a contributor with the Cavs.
"I'm just excited for anything for him," said Altizer. "I think everywhere he's been, when he gets in, he shows that he does belong. I think he was close to 90/50/40 this year (90-percent FT; 50-percent FG; 40-percent 3PT). With his ability to shoot the ball and make plays and all that, he very quickly wins fan bases over just because he's everything in the NBA that he was [at UVA]. He just makes the right play, makes guys better and helps teams win."