New par-3 course will give Birdwood golfers loads of new options
By Jerry Ratcliffe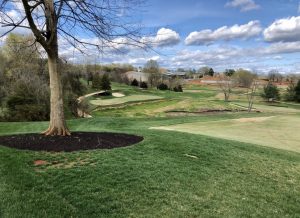 Martin Winters looks out over the new Birdwood Golf Course and imagines all the possibilities.
One of those things the long-time Birdwood director of golf dreams about is the par-3 course. While the new, six-hole loop won't be ready until around October — the par-3 course was seeded just this past week — it will greatly enhance the golfing experience for members and guests.
Short courses are the rage of resort courses across America, so it was no surprise that Boar's Head Resort joined the party when Davis Love III's architects were hired to completely renovate Birdwood.
Winters believes there is myriad of use for the par-3 layout.
"We feel ike it's a wonderful place for Boar's Head Golf Academy to be able to teach people how to play golf," said Winters, now in his 20th year with Birdwood. "New golfers, junior golfers … it will be a less intimidating place and a lot more fun at the golf course for them.
"For those who just want to practice their short game more, it's perfect, and it can also be used for resort guests and corporate groups. They can have tournaments and outings there, or if they have a short window of time, they can go play in an hour or during lunch and go back to their meetings."
Golfers should be able to play the six-hole course in 45 minutes to an hour and then go about their day. The longest hole is 135 to 137 yards. Most of the holes are wedge shots.
It is a walking only course, no golf carts, which cuts down on the cart traffic.
Winters believes the short course allows Birdwood to introduce new golfers to the game, which he sees as a huge selling point.
The par-3 course is located off the Boar's Head entry road, in the vicinity of where old No. 4 (the downhill, par-3, over the pond) and the par-5, No. 5 holes used to be. It borders the new UVA golf team short-game facility, with a little creek dividing the two facilities.
It's just one more reason Winters believes golfers should consider joining Birdwood.
Boar's Head Resort and Birdwood are now taking applications from the public. Anyone interested should contact Samantha Strong, membership manager for Boar's Head Sports Club and the golf course. Her contact information: (434) 972-6031 or sstrong@boarsheadresort.com.
There are comprehensive memberships for the sports club and the golf course, or separate memberships for each. There are plenty of options, including family, individual and non-resident memberships.