New Zealand sharpshooter Murray becomes Virginia's first commitment for 2021
By Jerry Ratcliffe
Virginia reached across the Pacific to land its first basketball recruit for the Class of 2021 early Sunday morning when projected 4-star guard Taine Murray announced on his Instagram account that he had committed to Tony Bennett's program.
Murray, a physical, 6-foot-5, big-bodied standout from Auckland, New Zealand, selected the Cavaliers over Stanford and Maryland. He had narrowed his list of suitors to those three programs last month.
The 18-year-old told Travis Branham of 247Sports in August what he liked about UVA:
"They are one of the most recent schools that came on board," Murray told Branham. "It is amazing to be recruited by such a high-level coach [Tony Bennett]. I have a connection there with coach Kirk Penney who has been over there the past year working with Coach Bennett. I think that's how the relationship started, which I am very grateful for.
"There's not many bad things to say about a school that won a national championship in the past few years and I think the way they play is very unique and it's been awesome to build a relationship with the school."
Penney joined Bennett's staff a year ago as director of player development/coaching staff consultant. He represented New Zealand at two Olympic Games (2000 and 2004) and was part of the nation's Tall Blacks' fourth-place finish at the 2002 World Championships as a red-hot, 3-point shooter. Penney is only the second New Zealander to play in the NBA, and played for Bennett's father, Dick Bennett, at Wisconsin from 1999-2003.
In addition, UVA featured another New Zealander in Jack Salt, who played on the Cavaliers' national championship team in 2019.
Murray signed with a New Zealand professional team, the Breakers, for the upcoming 2020-21 NBL season. In order to not jeopardize his college eligibility, he will not accept a salary.
Breakers' coach Dan Shamir believes joining the professional team will advance Murray's development even if he doesn't get much court time.
"We view him as a future Breaker and we see him as a guy who can become a starter for the Breakers down the road," Shamir told SkySport Breakers.
The start of the Breakers' season has been delayed until December, so Murray will be with the team for the entire season.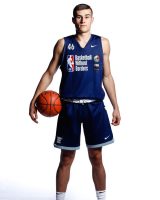 "He's still young and still got a way to go but he already has a body type that makes him a legitimate future guard in the NBL," Shamir said. "We view him as a guy with the skillset, the character and body to become a good player at this level and we want to help him to work towards that.
"He has a good feel for the game but I think his basketball IQ is an aspect of the game where he is going to improve just with the experience with us. He has all the ingredients to become a very good basketballer."
Murray will bring a solid all-around game to Virginia. With a good frame for a guard, he can do it all. He's a solid shooter, particularly from 3-point range, is a decent rebounder for his size and plays good defense, where he is more comfortable guarding a 2 or 3. Some have described him as a potential Joe Harris in waiting.
Virginia also made the cut for 5-star combo guard Trevor Keels of Paul VI Catholic in Fairfax this past week. Keels is considering UVA, Duke and Villanova. The Cavaliers also made the final five for 6-9 power forward Trey Kaufman of Silver Creek, Ind. Kaufman has narrowed his choices to UVA, North Carolina, Purdue, Indiana and Indiana State.
Richmond native Efton Reid, a 6-11, 225-pound 4-star center who played at the Steward School in the state capitol before transfering to Florida's IMG Academy for this season, also has the Hoos in his final 6, along with Michigan, Pitt, Ohio State, Florida State and Georgetown.

Comments