Newest interview with Jarin Stevenson: Virginia still in the mix with UNC, 'Bama
By Jerry Ratcliffe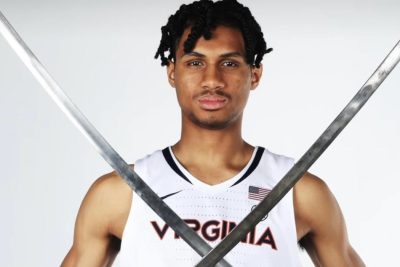 Last week, Jarin Stevenson, the No. 1 power forward prospect in the country, was quoted by Inside Carolina's  Jaylen Harrell that he would decide on possible reclassification at the end of the school year, which is June 9.
Over the weekend, Stevenson told Tar Heel Illustrated's David Sisk that the decision would be "sometime over the summer," and that an early June announcement is not correct.
"I really don't know a date yet," Stevenson said when Sisk caught up with him after an EYBL tournament in Memphis on Sunday. "It's still the same thing. I'm going to make my decision during the summer. I'm still 50-50 on it."
Stevenson is presently a member of the recruiting class of 2024, coming up on his senior season at Seaforth High School in Pittsboro, N.C., where he is coached by his father, Jarod, a former University of Richmond star and who played professionally overseas. Should he decide to reclassify to the Class of 2023, he could commit to a program and play college basketball this coming season.
"I think I know enough to make it to the next level," Stevenson told Sisk. "But I think I can still learn more. I think going to a college system, or just going another year, will help me progress and learn more about the game. Yeah, there is still some things that need to be learned, but I think I can learn that. I'm still not exactly sure about reclassing, but playing time, development, and stuff like that, I've got to get better."
Speculation over the past week has pointed that Stevenson is leaning toward North Carolina for obvious reasons, or Alabama because of a sizable NIL package.
Stevenson, though, said his list is larger.
"Yeah, Alabama, North Carolina, and Virginia are definitely up there," the 6-foot-10 forward said. "But also NC State, Missouri, they're also in there, too. They're all great schools."
Stevenson's last visit was to Alabama, although he is visiting Carolina this week. He was impressed with what he discovered in Tuscaloosa.
"Coach (Nate) Oats runs an NBA system," the high school star said. "They definitely advertise that. They've got great facilities. I shot around in the practice facility a little bit. They run a fast-paced offense. They have good defense, good help, and have rotations. So that is what they have focused on."
Oats told Stevenson he could be like the Tide's Noah Clowney because of his defensive versatility, size and strength, and that offensively he can spread the floor just like Clowney.
Stevenson, who has gained seven pounds of muscle over the past month or so, has been working on his perimeter game. He doesn't want to be put in a box like a standard, physical power forward. He wants to be more of a stretch-four and a shooting threat from the perimeter in order to help prepare him for a career in the NBA.
"I'm just trying to get comfortable out there," Stevenson said. "I know the last three years [his perimeter jumper] wasn't really falling. I'm just trying to get in rhythm with it."
Stevenson is visiting North Carolina today and Wednesday, and revealed what he's looking for on his trip.
"I'm about to learn more [about UNC]," he said. "They've been advertising their facilities and stuff basically, but they are going to talk about it more [during the visit]. I've got to make sure I see [UNC]. It's right down the street, so I've got to make sure I see what they offer and see if I fit into that well.
"I want to see the development, I want to see their type of strength coach, and the development program. Then how I fit into their system and would I get decent playing time over there so I can show my skills."