No. 2 Virginia bests No. 3 Cornell, will play for first Kurtz Cup title Sunday
Courtesy UVA Media Relations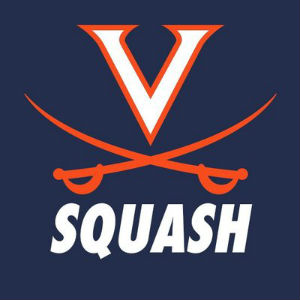 The second-seeded Virginia women's squash team topped third-seeded Cornell in the semifinals of the Kurtz Cup, the B division of the College Squash Association Team Championships, on Saturday. The Cavaliers (16-6) advance to Sunday's finals for the first time in program history to face top-seeded Dartmouth.
Cornell (6-11) captured the first point with a win in position eight, but the Cavaliers posted wins from freshman Maria Paula Moya and senior Julia Thompson to move ahead 2-1. Moya defeated Lily Zelov, 11-4, 10-12, 11-3, 11-5, in position two as Thompson topped Mimi Delisser, 8-11, 11-7, 11-5, 13-15, 11-3, in position five.
Virginia recorded back-to-back wins with sophomore Caroline Baldwin defeating Ania LaDow, 11-9, 11-8, 11-9, in position nine and freshman Sydney Maxwell defeating Colby Gallagher, 11-3, 11-8, 11-6, in position three. Freshman Julia Curran clinched the deciding point, going 11-3, 11-3, 11-3 against McKenna Stoltz in position seven.
The Cavaliers would also add a win from junior Emily Woodworth. Woodworth defeated Alexis Shatzman, 11-9, 9-11, 11-9, 5-11, 13-11, in position six to round out the match.
Virginia will face top-seeded Dartmouth in Sunday's finals. The match will begin at 11:30 a.m. at the Brady Squash Center.
Match Notes:
The Cavaliers advance to the finals for the first time in program history.
Virginia moves to 3-2 all-time against Cornell.
The win is the second this season against the Big Red as the Cavaliers defeated Cornell 5-4 during the regular season.
Virginia will face Dartmouth for the first time since becoming a varsity program in 2017.
Virginia 6, Cornell 3
1. Sivasangari Subramaniam (C) def. Emma Jinks (UVA) — 11-5, 11-3, 11-8
2. Maria Paula Moya (UVA) def. Lily Zelov (C) — 11-4, 10-12, 11-3, 11-5
3. Sydney Maxwell (UVA) def. Colby Gallagher (C) — 11-3, 11-8, 11-6
4. Madison Miles (C) def. Mandy Haywood (C) — 11-6, 8-11, 6-11, 11-9, 11-9
5. Julia Thompson (UVA) def. Mimi Delisser (C) — 8-11, 11-7, 11-5, 13-15, 11-3
6. Emily Woodworth (UVA) def. Alexis Shatzman (C) — 11-9, 9-11, 11-9, 5-11, 13-11
7. Julia Curran (UVA) def. McKenna Stoltz (C) — 11-3, 11-3, 11-3
8. Lucky Martin (C) def. Grace Seymour (UVA) — 11-7, 11-9, 11-8
9. Caroline Baldwin (UVA) def. Ania LaDow (C) — 11-9, 11-8, 11-9
Order of Finish: 8, 2, 5, 9, 3, 7, 4, 1, 6

Comments