No. 22 Virginia wins seventh in a row, escapes on late Clark FTs at Miami, 46-44
In a tight, late-season ACC battle in which neither team led by more than six points, every possession mattered Wednesday night in South Florida.
Jay Huff scored the first 17 Virginia points of the game, Mamadi Diakite kept the Cavaliers afloat with 10 of his 14 in the second half, and Kihei Clark sank the go-ahead free throws with 8.3 seconds left as 22nd-ranked UVA escaped with another nail-biting road win, 46-44, at Miami.
It wasn't pretty, but Virginia (22-7, 14-5 ACC) won its seventh straight game — fourth straight on the road — and its 10th of the last 11, with one more to go this weekend.
As Coach Tony Bennett put it, his 'Hoos once again made just enough plays to emerge victorious. Miami (14-15, 6-13) hung tight all night long and tied the game at 44-44 with 2:15 remaining on a Keith Stone 3-pointer, his second of the game after making just 4 of 27 from deep in ACC competition coming into the night.
Huff, who picked up where he left off in a dominant performance against Duke, seemingly couldn't miss in the first 14½ minutes of action against the Hurricanes, but didn't score the rest of the night after matching his career high (set earlier this season against Georgia Tech) of 17 at the 5:34 mark of the first half (he was 0 for 6, 0 for 3 from downtown from then on).
The ball was in the 7-footer's hands with 45 ticks showing, as his 3-point attempt clanged off the rim, and Miami coach Jim Larrañaga called a timeout with 40 seconds left.
The Cavalier defense came up with the crucial stop out of the break, taking possession with just 15 seconds left, still tied. As Clark dribbled up the floor to set up what figured to be the final possession in regulation, Beverly inexplicably reached in at the half-court stripe and committed Miami's seventh team foul, sending the 5-foot-9 sophomore to the line for two huge ones.
Clark, the conference's second-best free-throw shooter (86 percent on the season), calmly dropped in the front end before the second bounced off the iron and in, putting the 'Hoos up for good, 46-44.
UVA had a foul to give, and Clark was whistled for his fourth personal (team's sixth), stopping the clock with 4.6 ticks left.
Miami senior DJ Vasiljevic, ranked third all-time on the Hurricanes' 3-point list, had already drained a pair of long balls in the second half after going scoreless in the first. He wound up with the rock on the final sequence, driving the right side of the lane against Tomas Woldetensae and releasing the potential tying shot with 3.5 on the clock, which banked off the glass and then off the rim before Huff deflected the ball away and Wahoo Nation breathed a collective, late-night sigh of relief.
Huff went 7 for 10 from the field (3 for 4 from deep) during his commanding start, while his teammates missed their first 10 attempts until Clark hit a 3-pointer at the 3:18 mark of the opening half, giving UVA a 20-15 lead. Diakite said he and the other 'Hoos simply kept looking for Huff's hot hand during the spurt.
"He was hot. We kept feeding him," said Diakite. "Every time I had the ball and [the Hurricane defenders] would come at me, I would pass it to [Huff] because I knew it was an easy bucket."
Huff scored on a turnaround jumper on the Cavaliers' initial possession, then later on an easy alley-oop dunk assisted by Clark before putting up two more points on a sweet touch-pass from Braxton Key to help the 'Hoos take an early 6-2 lead. Key then found Huff in the corner for his first 3-ball at the 12:37 mark before Virginia went without a basket for over five minutes, that is until Huff scored again, this time on a perfect extra-pass feed from Diakite across the lane, with 6:50 on the first-half clock.
Huff sank two more triples in a span of 37 seconds to push the lead to 17-11 with 5:34 left. Miami junior point guard Chris Lykes scored nine of his 14 first-half points over the final five minutes, including a buzzer-beating jumper that made it a 24-23 Wahoo lead at halftime. All Cavaliers not named Huff combined to shoot 3 for 13 in the opening stanza.
Lykes was hit in the eye with an elbow from teammate Sam Waardenburg with just over 12 minutes to play, and did not return. He still led the team with 16 points, and was the only Hurricane in double figures as Miami shot 35.3 percent on the night (18 of 51) and 24 percent from long range (6 for 25).
The Cavaliers went 18 for 49 (36.7 percent), 5 for 15 from 3-point land (33.3 percent) and 5 for 6 (83.3 percent) at the stripe, winning the rebounding battle, 33-30. UVA committed 7 turnovers by halftime and 6 more after the break.
Despite the goose egg over the final 25½ minutes, Huff still led all scorers to go with 9 rebounds (no blocks, but a steal and an assist). Diakite (6 for 13 FG) notched his third career double-double (second in the past four games) with 14 points and 10 boards in his final true road game as a Cavalier.
Key and Clark combined to shoot 4 for 15 from the field, but still contributed. Key had 5 points and 8 rebounds, drawing praise from Bennett for his defensive performance on Lykes in the second half, while Clark chipped in with 7 points, 4 assists (4 turnovers) and the two pressure-packed deciding free throws, as he played just 29 minutes with foul trouble.
Woldetensae did not score for a second straight game after going on a recent tear from the perimeter. He's made just 3 of his last 17 from beyond the arc over the last four games.
UVA hosts No. 10 Louisville Saturday at 4 p.m. for Senior Day, as the Cavalier careers of Diakite and Key will be celebrated.
Highlights from ACC Digital Network: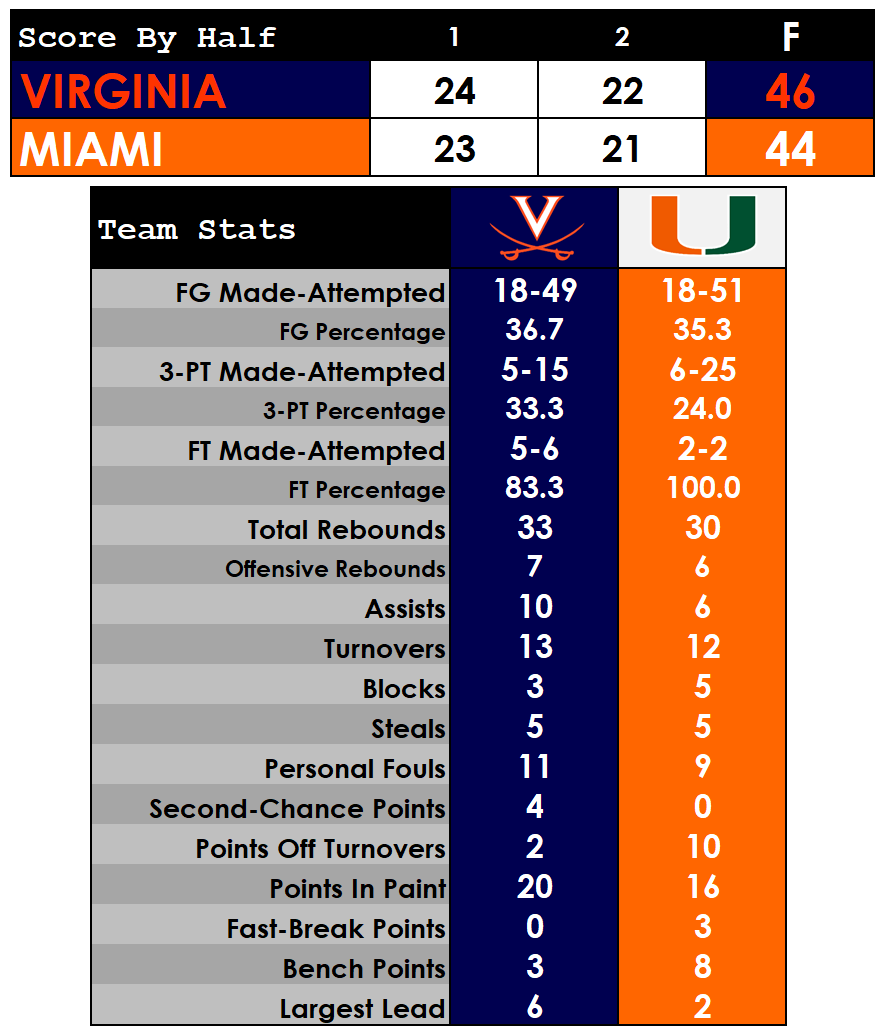 Courtesy UVA Media Relations:
Team Notes
The Cavaliers improved to 22-7, 14-5 ACC
Virginia has won 22 or more games for a school-record ninth consecutive season
UVA has won 14 or more ACC games for the fifth time in the last seven seasons
The Cavaliers are 7-4 in true road games and 9-4 away from JPJ
UVA has a four-game road winning streak
UVA has a seven-game winning streak and has won 10 of its last 11 games
Virginia led 24-23 at the half
The Cavaliers improved to 17-0 when leading after the first 20 minutes
UVA is 12-0 when limiting opponents to fewer than 50 points
UVA is 99-2 when achieving that mark in the Tony Bennett era
Bennett-coached teams are 124-3 when holding opponents to fewer than 50 points (25-1 in three years at Washington State)
Series Notes
UVA is 12-12 all-time vs. Miami in the series that began in 1965-66
The Cavaliers are 3-7 against the Hurricanes in Coral Gables, including a two-game winning streak
Eleven of the last 12 meetings between the teams have been decided by 10 points or less
Overtime has decided two of the last seven meetings
Head coach Tony Bennett is 9-6 all-time against Miami
Player Notes
Double Figure Scorers: Jay Huff (17), Mamadi Diakite (14)
Huff matched career highs in points (17) and 3-pointers (3)
Huff scored UVA's first 17 points on 7 of 9 field goals, including a trio of 3-pointers
Diakite had 14 points and 10 rebounds for his third career double-double
Kihei Clark (4 assists) moved into eighth on UVA's single-season assist list with 172

Comments