No. 4 seed Virginia will face No. 13 Furman on Thursday in Orlando NCAA's
By Jerry Ratcliffe
Virginia has been awarded a No. 4 seed and will face No. 13 seed Furman in the NCAA South Region in a first-round game on Thursday in Orlando, Fla.
Tipoff has been set for 12:40 p.m. on truTV network, an affiliate of CBS.
The winner of the UVA-Furman game will meet the winner of No. 5 seed San Diego State vs. No. 12 seed Charleston in a second-round matchup on Saturday, also in Orlando.
Furman (27-7) won the Southern Conference and made the NCAA Tournament for the first time in 43 years. The Paladins are coached by Bob Richey and have won their last six games and 14 of their last 15. They are led by fifth-year seniors Mike Bothwell and Jalen Slawson, both All-Southern Conference selections. Slawson is a 6-foot-7 NBA prospect.
The survivor of the Orlando regional will move on to the Sweet 16 in Louisville on Friday, March 24.
Alabama is the top seed in the South Region and the top overall seed in the tournament.
UVA (25-7) is coming off an ACC co-regular season championship and runner up to Duke in the ACC Tournament championship game. The Cavaliers returned home from Greensboro on Sunday morning due to the lateness of Saturday's ACC Championship game (See related story on this site with Tony Bennett breaking down the loss to the Blue Devils).
Virginia will devote the next 24 to 48 hours preparing for Furman, scouting the Paladins on video.
"You divvy up the scouts. You watch them, you prepare as quickly as you can and hopefully get night's rest tonight," Bennett said Sunday night. "We just got up this morning and drove back to Charlottesville and then got together for the selection show. We will reconvene tomorrow and start prep that way. It goes by quick and I think you just learn as much as you can as coaches and get the basics for your guys."
This will be UVA's 25th overall NCAA Tournament appearance and its ninth under Bennett.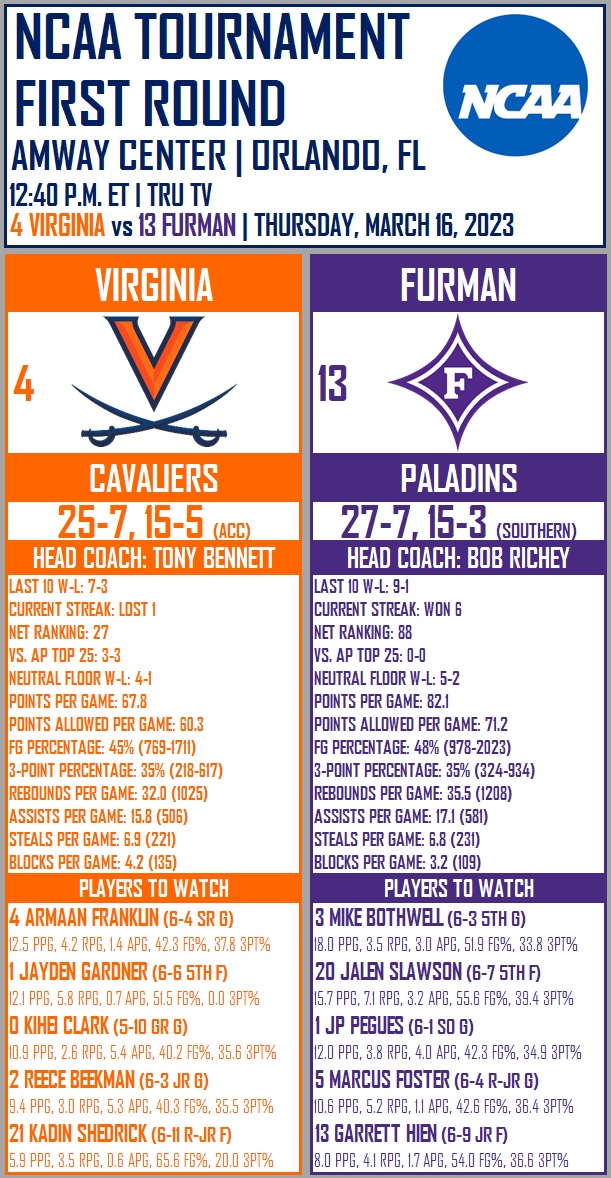 Ticket Information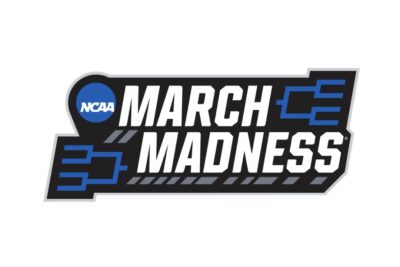 The NCAA has provided a limited number of tickets to schools participating in the NCAA tournament first and second rounds. As a result, fans are encouraged to purchase tickets through the NCAA as only a few Virginia Athletics Foundation donors will have the opportunity to request tickets from the Virginia Athletics ticket office in UVA's block.
Ticket requests for NCAA Tournament first and second-round games for eligible donors out of Virginia's allotment will begin online at VirginiaSports.com on Sunday, March 12.  Donors should use their registered online account and will be notified via email when they can place their request. Tickets may also be requested by calling the Virginia Athletics Ticket Office at 1-800-542-8821 on Monday, March 13 from 9 a.m. until 5 p.m. The deadline to request tickets is Monday, March 13 at 5 p.m.
Requests for the limited number of seats will be filled according to Virginia Athletics Foundation priority points order. Donors who place a request will be notified by email Tuesday the status of their request. All tickets for the 2023 NCAA Men's Basketball Tournament will be delivered electronically.
Tickets outside of Virginia's seating block may be available to purchase through the NCAA. Visit NCAA Ticketing to review ticket availability and to purchase tickets.
For more information on ticket availability in Virginia's block throughout the 2023 NCAA Tournament, click here.