No. 6 Virginia's win streak ends with embarrassing 63-48 loss at BC
By Scott Ratcliffe
Virginia saw its four-game win streak come to an abrupt halt in Chestnut Hill Wednesday night, as Boston College thoroughly outplayed the 6th-ranked Cavaliers from start to finish in a 63-48 win that resulted in a court-storming by the BC student body.
UVA (21-5, 13-4 ACC) shot just 32 percent from the field (19 for 59) on the evening, including just 19 percent (4 of 21) from beyond the 3-point line, and fell a half-game out of first place in the conference standings in the process.
Virginia grabbed an early 4-0 lead before BC answered with a 9-0 run, setting the tone with aggressive play on both ends of the floor. The Wahoos responded with a 9-2 spurt of their own on a Jayden Gardner turnaround jumper to lead 13-11 with 12:59 until halftime, but the Eagles (14-15, 8-10) closed the half strong, using an 11-2 scoring run to push their lead to 26-17 with 2:40 on the clock.
UVA was able to get within seven by the break, 28-21, but missed 8 of its first 10 shots coming out of the locker room, as BC extended the lead to double digits, 38-25, with 14:31 remaining.
First-year guard Isaac McKneely finally gave Cavalier fans something to cheer about, knocking down back-to-back 3-pointers to cut it to 40-31 with 13:34 left, but that's about as close as it would get.
Gardner scored six-straight Cavalier points during one stretch, as his midrange jumper trimmed the deficit to 44-37 with 9:27 to play, and Virginia had the momentum on its side. BC's Jaeden Zackery had other ideas, however, getting a tough bucket to fall in traffic before sinking a huge 3 the next trip down, as the Eagles were back up by a dozen, 49-37, causing Tony Bennett to call a timeout with 7:57 to go.
Ben Vander Plas scored his first basket of the night with 6:19 on the clock, and followed that up with what would have been a three-point play, but missed the ensuing free-throw attempt, and UVA still trailed by 10, 51-41, as the game went under the four-minute mark.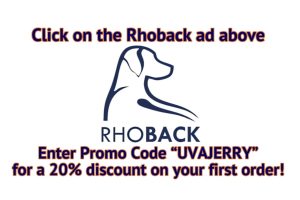 The Hoos were unable to draw any closer from there, as DeMarr Langford's final heave from downtown fell through with 15 ticks left to add insult to injury, and BC snapped a four-game skid against Virginia dating back to January of 2020. The 48 points were a season-low for the Cavaliers.
UVA was outrebounded, 36-31, and committed 9 turnovers on the night, which led to 16 BC points. The Cavaliers forced 13 Eagle turnovers, but only 2 after halftime. Gardner was the only Virginia player in double figures, finishing with a game-high 16 points on 6-of-12 shooting while also grabbing a team-high 5 rebounds, dishing out a pair of assists, blocking 2 shots and coming away with a steal.
Vander Plas added 7 points, all in the final 6:19 of the contest. It was a particularly rough night for the UVA guards, as Kihei Clark (7 points), Reece Beekman, McKneely and Armaan Franklin combined to shoot 9 for 37 from the floor on the night (24 percent) and just 3 for 17 (18 percent) from 3-point land.
Boston College, conversely, shot 52 percent (26 for 50) and 40 percent from deep (6 for 15). Makai Ashton-Langford led the way with 16 points to go with 6 rebounds, 4 assists and 2 steals, while his brother DeMarr Langford added 12 points on 5-for-5 shooting. Zackery also finished with 12 points, while Quinten Post had 8 points and 6 rebounds (4 for 14, 0 for 4 from 3-point range). Prince Aligbe had 5 points and a game-high 7 rebounds.
Team Notes
Courtesy UVA Media Relations
No. 6 Virginia fell to 21-5, 13-4 ACC
UVA scored a season-low 48 points
The loss ended Virginia's four-game win streak
UVA is 8-4 away from home, including a 6-4 true road record
UVA shot 27.6 percent (8 of 29) from the field and trailed 28-21 at halftime
UVA forced 11 turnovers in the first half
BC shot 52.2 percent (12 of 23) in the first half
BC went on a 9-0 run to gain a 9-4 lead
UVA shot 32.2 percent (19 of 59) from the field and 19 percent (4 of 21) from 3-point range
Series Notes
Virginia is 19-9 all-time vs. Boston College, including a 14-9 ACC mark, in the series that dates to 1971-72
UVA and BC split the season series
UVA is 5-6 against the Eagles in Chestnut Hill
Head coach Tony Bennett is 13-6 all-time against Boston College
Player Notes
Double Figure Scorers: Jayden Gardner (16)
Gardner reached double figures for the 118th time
Gardner matched a season high with two blocks
Isaac McKneely (2 3-pointers) has made two or more 3-pointers in 14 contests
Ryan Dunn (2 blocks) had his sixth multi-block game
UVA started Clark, Beekman, Franklin, Gardner and Ben Vander Plas for the 10th-straight game
UP NEXT
Virginia plays its final road game of the season on Saturday at North Carolina. Tip off is scheduled for 6 p.m., and the game will be televised nationally on ESPN.