No. 7-seeded Virginia to host Army, Oklahoma, ECU at Charlottesville Regional
By Jerry Ratcliffe
Virginia believed its 45-12 record would be good enough to command a top eight seeding in the NCAA Baseball Tournament and the selection committee agree on Monday when the Cavaliers received the No. 7 seed in the nation.
UVA will host Army (38-16) in the Charlottesville Region on Friday at noon at Disharoon Park (ESPN+). East Carolina (45-17) will meet Oklahoma (31-26) in a 7 p.m. matchup (ESPN2).
The four-team, double-elimination format will continue with doubleheaders on Saturday (noon and 6 p.m.), and on Monday if necessary. All games will be available on one of the ESPN platforms. Tickets are now on sale (see related story).
Virginia will be hosting a regional for the first time since 2016, but for the 10th time in Wahoo program history. This is the fifth time the Cavaliers have been designated a top-8 national seed. All three opponents in the Charlottesville Regional have played at Disharoon in the past: Army (2012, 2013), East Carolina (2011, 2016) and Oklahoma (2012). Oklahoma also faced UVA in the 2010 Super Regionals at Disharoon.
The survivor of the Charlottesville regional will face the winner of the Conway (Myrtle Beach) Regional, which includes host Coastal Carolina, Duke, UNC-Wilmington and Rider. Because UVA is seeded among the nation's top eight teams, the Cavaliers would host the Super Regional should they win their region.
Virginia has made the NCAA Tournament field 20 times, including 17 times under Coach Brian O'Connor.
"It's a reward for two things, the body of work our players put together this entire season and for our fans," O'Connor said. "You've shown a track record of a great fan base and this community has rallied around this program and this team this year. I'm excited to see the Dish packed this weekend for postseason baseball. We do not take this for granted since we haven't hosted since 2016."
🛣️ The road to Omaha runs through Charlottesville! #GoHoos pic.twitter.com/HV4i34MJ9Z

— Virginia Baseball (@UVABaseball) May 29, 2023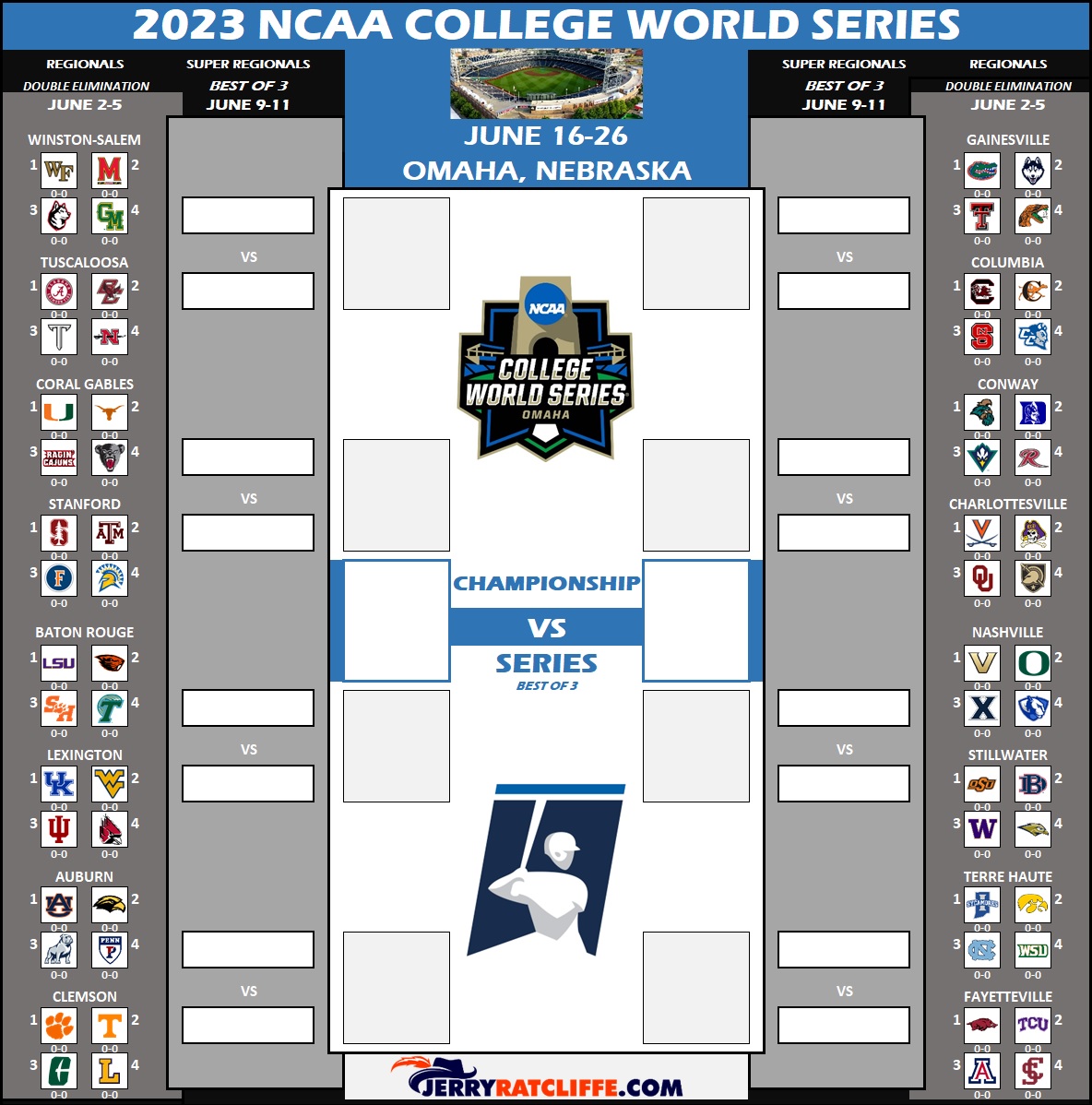 NCAA DIVISION I BASEBALL CHAMPIONSHIP
REGIONALS
Friday, June 2-Monday, June 5
Winston-Salem Regional
[1] Wake Forest (47-10)

Maryland (41-19)

Northeastern (44-14)

George Mason (34-25)
Tuscaloosa Regional
[16] Alabama (40-19)

Boston College (35-18)

Troy (39-20)

Nicholls (32-22)
Coral Gables Regional
[9] Miami (40-19)

Texas (38-20)

Louisiana (40-22)

Maine (31-19)
Stanford Regional
[8] Stanford (38-16)

Texas A&M (36-25)

Cal State Fullerton (31-22)

San Jose State (31-25)
Baton Rouge Regional
[5] LSU (43-15)

Oregon State (39-18)

Sam Houston (38-23)

Tulane (19-40)
Lexington Regional
[12] Kentucky (36-18)

West Virginia (39-18)

Indiana (41-18)

Ball State (36-21)
Auburn Regional
[13] Auburn (34-21)

Southern Miss (41-17)

Samford (36-23)

Penn (32-14)
Clemson Regional
[4] Clemson (43-17)

Tennessee (38-19)

Charlotte (34-26)

Lipscomb (36-24)
Gainesville Regional
[2] Florida (44-14)

UConn (43-15)

Texas Tech (39-21)

Florida A&M (29-28)
Columbia Regional
[15] South Carolina (39-19)

Campbell (44-13)

NC State (35-19)

Central Connecticut State (36-12)
Conway Regional
[10] Coastal Carolina (39-19)

Duke (35-21)

UNC Wilmington (34-21)

Rider (35-19)
Charlottesville Regional
[7] Virginia (45-12)

East Carolina (45-17)

Oklahoma (31-26)

Army (38-16)
Nashville Regional
[6] Vanderbilt (41-18)

Oregon (37-20)

Xavier (37-23)

Eastern Illinois (36-19)
Stillwater Regional
[11] Oklahoma State (41-18)

Dallas Baptist (45-14)

Washington (34-18)

Oral Roberts (46-11)
Terre Haute Regional
[14] Indiana State (42-15)

Iowa (38-14)

North Carolina (35-22)

Wright State (39-21)
Fayetteville Regional
[3] Arkansas (41-16) 

TCU (37-22)

Arizona (33-24)

Santa Clara (35-18)
SUPER REGIONALS
Friday, June 9-Monday, June 12
COLLEGE WORLD SERIES
Friday, June 16-Monday, June 26
Omaha, Neb.