No. 7 UVA falls, 7-2, against No. 2 Trinity in Potter Cup quarterfinals
Courtesy UVA Media Relations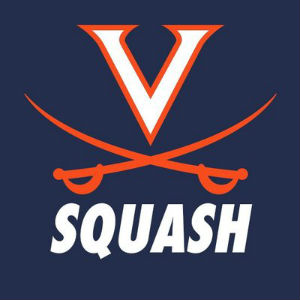 Freshmen Aly Hussein and Omar El Torkey led the seventh-seeded UVA men's squash team in a 7-2 loss to second-seeded Trinity in the team's opening match of the Potter Cup at the Murr Center Squash Courts on Friday.
Hussein recorded a win at the top of the order against Miko Äijänen. The freshman battled through five games, going 11-6, 11-8, 8-11, 11-6, 11-1 to win a point for the Cavaliers.
El Torkey, who closed the matchup between the teams, captured Virginia's second point with a 3-1 win in position two against Kush Kumar. El Torkey defeated the Bantam, 11-5, 5-11, 11-3, 11-8.
Additionally, three Cavaliers won a game against their opponent. Freshman Peter Miller clinched a game in position four, falling, 11-9, 10-12, 11-6, 11-1, in the match. Junior Andrew Braff suffered a 11-7, 2-11, 11-6, 11-7 loss in position eight, while junior Matthew Katz suffered a 6-11, 11-7, 11-5, 11-6 loss in position nine.
Virginia (17-5) will compete in the semifinals of the Potter Cup consolation bracket at noon on Saturday. The team will face the loser between third-seeded Pennsylvania and sixth-seeded Yale in the match.
Match Notes
The UVA men's team faced Trinity (18-1) for the first time on the squash courts.
The match was the first Potter Cup contest for the Cavaliers, who earned their first program berth to the A division of the College Squash Association Team Championships.
Hussein captured a win at the top of the order.
El Torkey recorded the last point of the match, winning position two.
Trinity 7, Virginia 2
1. Aly Hussein (UVA) def. Miko Äijänen (TC) — 11-6, 11-8, 8-11, 6-11, 11-1
2. Omar El Torkey (UVA) def. Kush Kumar (TC) — 11-5, 5-11, 11-3, 11-8
3. Thoboki Moholo (TC) def. Cullen Little (UVA) — 11-6, 11-9, 11-4
4. Aly Eltokhy (TC) def. Peter Miller (UVA) — 11-9, 10-12, 11-6, 11-1
5. Andrew Lee (TC) def. Will Holey (UVA) — 11-3, 11-9, 11-7
6. Ziad Sakr (TC) def. Toby Hansford (UVA) — 11-5, 11-4, 11-6
7. Aly Tolba (TC) def. Teddy Durfee (UVA) — 11-7, 11-7, 11-8
8. Aryaman Adik (TC) def. Andrew Braff (UVA) — 11-7, 2-11, 11-6, 11-7
9. Utkarsh Baheti (TC) def. Matthew Katz (UVA) — 6-11, 11-7, 11-5 11-6
Order of Finish: 4, 8, 6, 7, 1, 5, 9, 3, 2
Comments