No. 7 UVA Overcomes Poor Shooting With Lockdown Defense Against Maine
By Jerry Ratcliffe
When Virginia was leading visiting Maine, 24-14, at halftime Wednesday afternoon, notice was served for the Cavaliers to bear down on defense.
The message didn't come from Tony Bennett but from Mike Curtis, the team's head strength and conditioning coach, and a former UVA player.
"At halftime, Mike Curtis said he didn't want us to let [Maine] get to 30 and there would be some consequences to it," Virginia forward Mamadi Diakite smiled. "So, not wanting to do more stuff later on this week, I challenged the guys to get down and make sure the other team doesn't get anything — they only get the best out of us."
Curtis' demands got through loud and clear to the team, and while Virginia's offense was a bit on the putrid side of things, the defense was superb.
Virginia 46, Maine 26.
It was the lowest score by a Virginia opponent since 2014 when the Cavaliers defeated Rutgers, 45-26, in a holiday tournament at the Barclays Center in Brooklyn.
That had to keep Curtis happy enough to not dish out extra running to the Cavaliers when they return from Thanksgiving.
While seventh-ranked Virginia's offense was on this side of putrid, the defense was good enough to avoid any threat of an upset, although the opportunity was there. Virginia shot a mere 38.6 percent from the field (17 of 44) and continued to struggle from the 3-point line (6 of 18, 33 percent), but this time it was enough.
Playing without two starters might have had something to do with the lackluster offense. Senior guard Braxton Key, the second-leading scorer on the team, is out after surgery on his wrist this week (see separate story on the website), and sophomore guard Kody Stattmann has missed the last four games with an illness.
Perhaps the only thing was Maine's inability to shoot, certainly some of that due to UVA's defense.
The Black Bears, coached by one-time UVA grad assistant Richard Barron, couldn't throw a beach ball into the ocean. Maine was 8 of 43 (18.6 percent). Five of those field goals were from behind the arc where the Bears attempted 26.
"We take great pride in that," Cavaliers' center Jay Huff said. "I think we were thinking about (Maine not scoring 30 points) as the clock dwindled down to four minutes when they had 26 points and it stayed that way for the rest of the time. We (Huff and Diakite) were kind of constantly just thinking about it in the back of our minds."
Bennett seemed more pleased that a couple of walk-ons — Chase Coleman and Jayden Nixon — came in and played hard, along with scholarship reserve Francisco Caffaro, perhaps even harder than some of the players who they replaced.
"They came in and they fought," Bennett said. "I can't say that about everybody. We've just got to keep finding some more ways to challenge ourselves with effort and continue to work on our shooting. I know that's obviously a big eyesore."
The UVA coach said that some of his younger and newer players have been hesitant and uncertain when it comes to pulling the trigger on shots.
While Diakite (15) and Huff (13) led the way in scoring, and point guard Kihei Clark matched a career-high with three 3-pointers (9 points), the rest of the team was a collective 3 of 16 shooting, including freshman guard Casey Morsell coming off a career-high 19 in UVA's comeback win over Arizona State last Sunday.
"For the whole team, that's a difficult thing to get through," Huff said of the poor shooting. "But I think our defense has been our anchor. So, whether or not we're making shots we'll be hopefully getting shots."
The Cavaliers were in jeopardy of losing against Arizona State, which went on a 19-0 run in that game before Virginia stormed back to win, 48-45.
Virginia was outrebounded for the first time this season (32-27), which Huff laughed off by saying that 5-9 Clark was probably hogging all the rebounds again (Clark had 11 boards in the season-opener against Syracuse). 
Bennett wasn't laughing.
"You have to figure out, 'Okay, if ever there's a team that has to be hungry to defend no matter how hard it is, that's where the heart and the effort comes in. Hungry to rebound, and to be kind of a hard rock when you're in a stance and beat screens. We have to do that," the coach said.
Game Notes:
As mentioned above, Maine's Barron formerly worked in the UVA basketball program under Terry Holland, Jeff Jones and Pete Gillen, helping run basketball camps at UVA and at Graves Mountain Lodge.
"I'm a little bit misty," Barron said. "I just got to see Terry Holland (and wife Ann). He has been a big mentor to me. Just hugging their necks and talking to them was a special moment for me. Being back here is a place that's familiar to me.
"I told our guys before the game, I said, 'I remember pickup games in UHall and the times I might have made a shot over Jason Williford (former UVA player and now associate head coach of the Cavaliers) or something like that. You guys will remember this [game] for the rest of your life. So, no matter what the outcome is, make sure they're happy memories."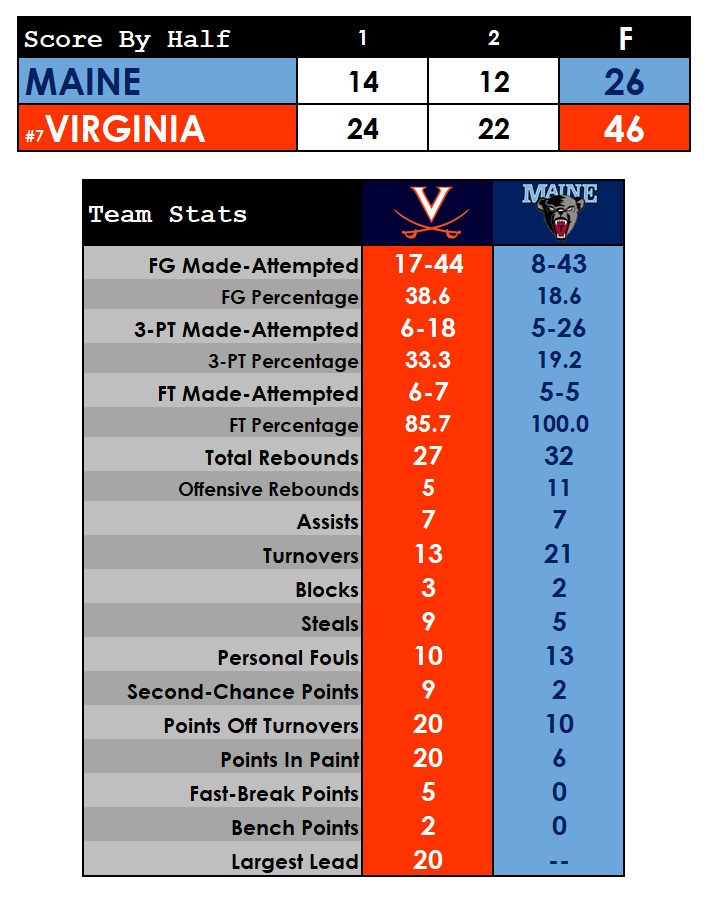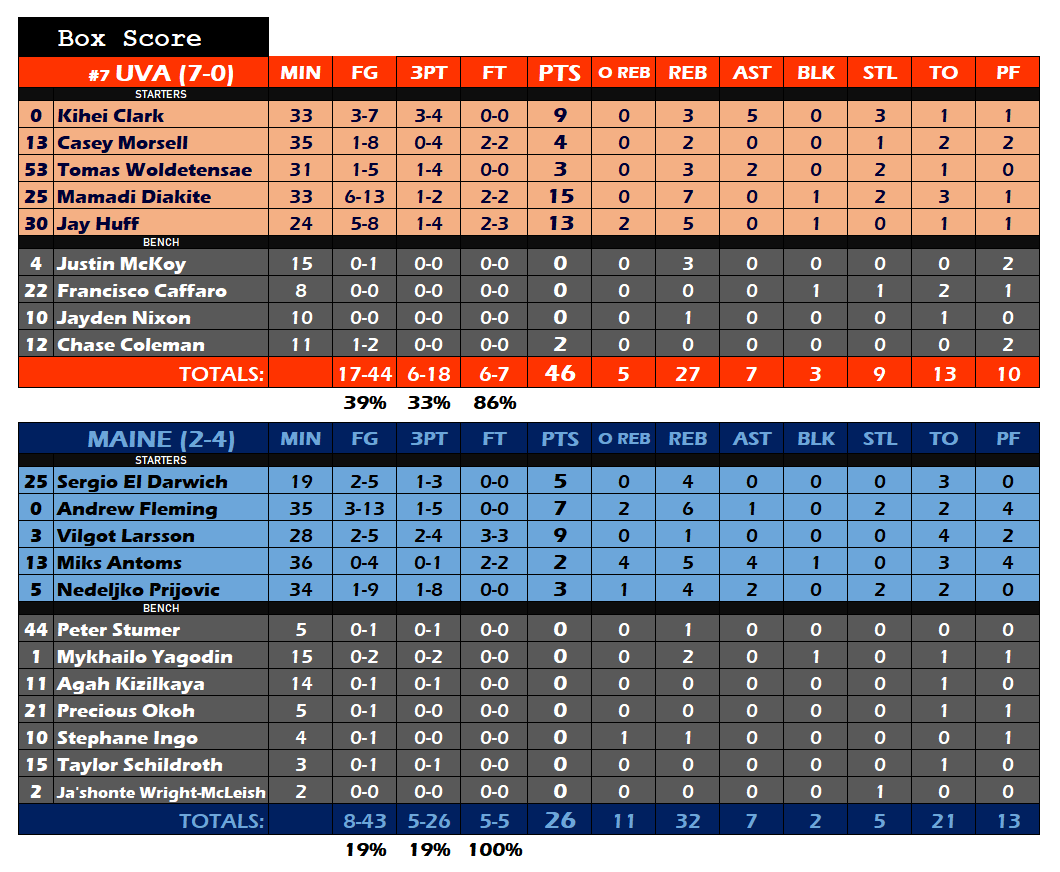 Courtesy UVA Media Relations:
Team Notes
Maine's 26 points tied for fewest allowed by UVA in the shot clock era (since 1986)
Maine shot 18.6 percent (8-43), second lowest all-time for a Cavalier opponent
UVA has started 7-0 for the fourth straight season
UVA held its third opponent to fewer than 40 points (26-0 all-time under Bennett)
UVA is 6-0 when holding opponents to fewer than 50 points (93-2 all-time under Bennett)
UVA was outrebounded (32-27) for the first time in 2019-20
UVA forced three shot clock violations (9 on the season)
UVA has a 21-game nonconference home winning streak
UVA has a 24-game nonconference winning streak
UVA allowed a season-low 14 points in the first half
Series Notes
Virginia and Maine met for the first time
Player Notes
Double-figure scorers: Mamadi Diakite (15), Jay Huff (13)
Kihei Clark matched a career high with three 3-pointers
Chase Coleman played a career-high 11 minutes
Jayden Nixon played a career-high 10 minutes
Kody Stattmann missed his fourth consecutive game with an illness

Comments