No. 7 Virginia Survives Bombshell Barrage By Vermont's Lamb To Stay Unbeaten
By Jerry Ratcliffe
For 35 minutes, Vermont sharpshooter Anthony Lamb made No. 7 Virginia sweat on Tuesday night, giving the unbeaten Cavaliers all they could handle.
That's why they still play 40.
Lamb had exhibited the same kind of deft touch of a Carsen Edwards from behind the 3-point line, drilling one shot after another in Pop-a-Shot fashion as he answered every UVA attempt to pull away. He had 30 points with 5:27 to play and had given the unbeaten Catamounts a 49-48 lead.
That's when Virginia's Mamadi Diakite rode to the rescue. The senior forward locked down Lamb for the rest of the game as the Cavaliers escaped with a 61-55 win that was closer than the final score indicated.
Lamb, who had drilled in a last-second jumper to knock off Big East member St. John's a few nights earlier, had made a half-dozen 3's in the second half (after nailing another to end the first half) and had Wahoo fans nervously chewing their nails. Then came Diakite, who wanted the challenge of trying to stop the Vermont shooter.
After switching with Braxton Key, Diakite handcuffed Lamb, who didn't make a shot the final 5 1/2 minutes. Lamb was suffocated with defense by Diakite's quickness and length (6-foot-9 to the 6-6 Lamb). Not only did he miss his last three attempts from behind the arc down the stretch, but also turned the ball over twice during a critical 9-0 Virginia run that essentially sealed the game.
"I wanted to take the challenge," Diakite said after the Cavaliers improved to 4-0. "It reminded me of last year when we played against Purdue. Carsen Edwards hit it again and again and again. It's not that you couldn't stop him, it's just one of those days when everything falls in."
Lamb hit five in a row to put his team up, 40-36, with just under 10 minutes to play, and the Cavaliers were concerned. Tony Bennett and his coaching staff were constantly mulling over ideas on what to do.
"We said, should we switch the ball screen?" Bennett said of the ongoing conversations. "We had Braxton on him, then we had Mamadi on him. The typical things you go through, like should we run at him?
"A couple of [Lamb's 3's] were frustrating because we fouled him or we just weren't ready, and that wasn't acceptable. After those, I can live with the shots that he hit for the most part. Sometimes when a guy like that, who has not been shooting it well as of yet, all of a sudden he got his rhythm and I said I've seen this story before. We just said, 'make him earn,' that's all we can do.
"There's no out-of-range for a guy like him."
That's not an exaggeration. In fact, Key chuckled later about attempting to cover Lamb, "He hit a tough one over me from probably Steph Curry range."
Although everyone on the Virginia roster and coaching staff were aware of how solid a player Lamb was coming in (he is returning America East Player of the Year, selected as a preseason All-American in some polls, and on the Wooden, Naismith, and Erving watch lists), no one expected this kind of performance from the Vermont senior.
Lamb, while averaging 18 points per game, had been horrid from the 3-point line before Tuesday. He was a mere 3 of 25 from the arc (.120) in the Catamounts' first four games.
Once Diakite threw a blanket over the Vermont gunner, the Catamounts were done. After the 9-0, Cavaliers' run, it was game, set, match.
Had Lamb remained hot (he missed three 3-pointers down the stretch), it could have gone down to the wire.
Instead, Virginia turned on its offense after scoring only 24 points by the break (24-18).
Diakite tied his career-high with 19 points and made a career-best three 3-pointers. Point guard Kihei Clark had a career-high 15 points and was 3 of 4 from the arc. Key also matched his UVA career high with 14 points and dished out four assists. 
"I think we showed some grit with enough stops defensively and enough plays offensively," Bennett said. "Some guys stepped up and made enough plays on both ends.
"Lamb reminded me of Jordan Nwora (Louisville). We have experience with guys doing that from unlimited range. [Vermont] is a very veteran team and you can see it. They were unfazed by the atmosphere. Hopefully [the battle] was good for both teams."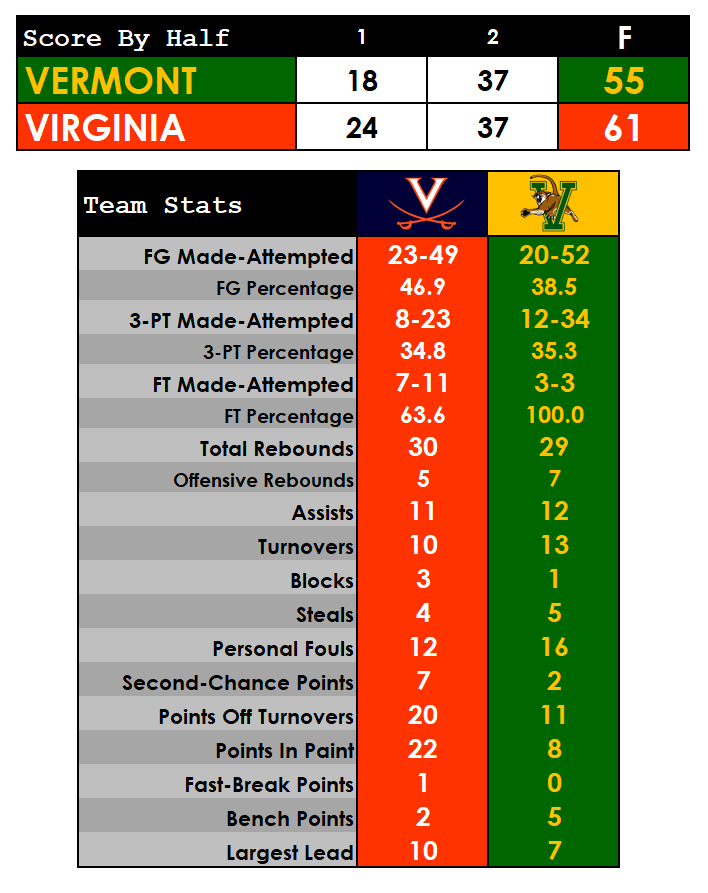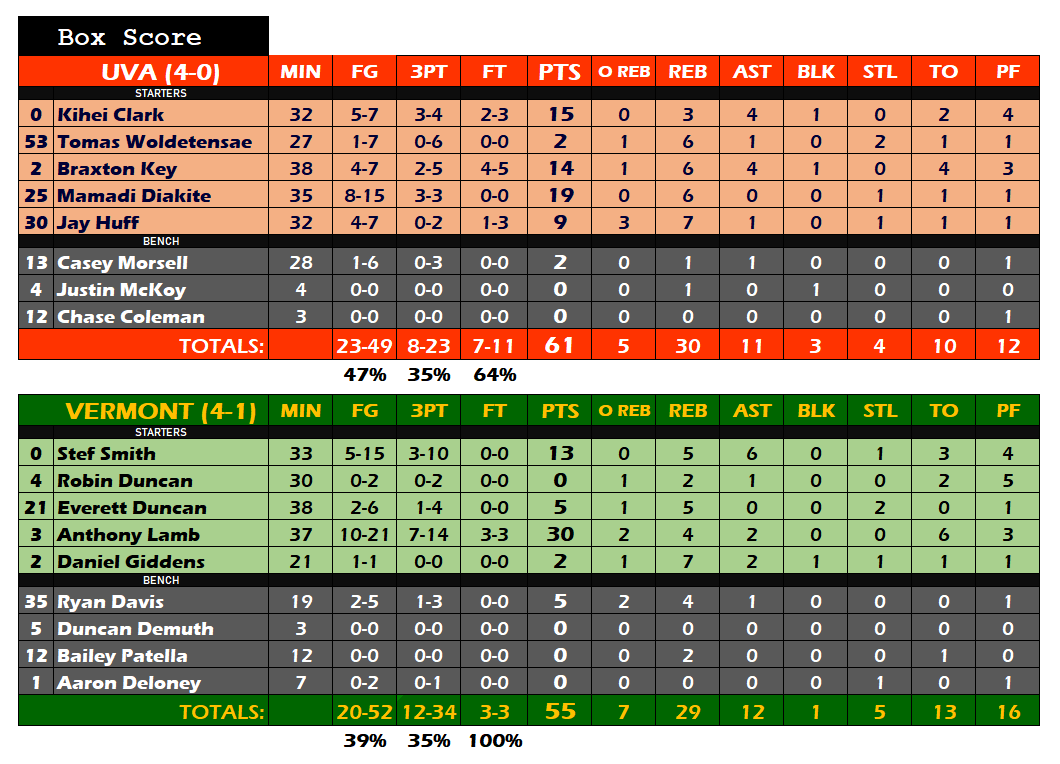 Team Notes
UVA has a 20-game nonconference home winning streak
Vermont started the game on a 7-0 run before a Mamadi Diakite 3-pointer at 16:21
UVA answered Vermont's 7-0 run with a 14-0 run, holding Vermont scoreless for 8:43
UVA has held its opponent to fewer than 20 points in five of eight halves in 2019-20 (Vermont 18 in first half)
UVA had a season-high eight 3-pointers
UVA outrebounded its fourth straight opponent (30-29)
Vermont's Anthony Lamb had a game-high 30 points, including 7 of 14 3-pointers
Series Notes
UVA is 2-0 all-time against Vermont in the series that dates back to the 2007-08 season
Player Notes
Double-figure scorers: Mamadi Diakite (19), Kihei Clark (15), Braxton Key (14)
Diakite tied a career highs in points (19) and made a career-best three 3-pointers
Clark had a career-high 15 points
Braxton Key matched his UVA high with 14 points and dished out a UVA-best four assists
Jay Huff made his first career start and played a career-high 32 minutes
Tomas Woldetensae matched a season-high with six rebounds
Kody Stattmann missed the game with an illness

Comments