No. 9 Virginia falls short at No. 11 Georgia Tech, 4-3
Courtesy UVA Media Relations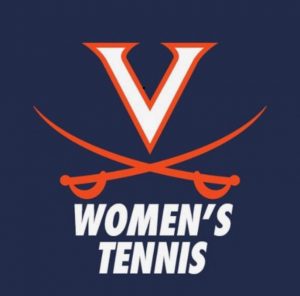 The No. 9 Virginia women's tennis team suffered a 4-3 loss at No. 11 Georgia Tech on Friday in Atlanta. The Cavaliers (7-3, 1-1 ACC) won the doubles point and took an early 2-1 lead in the match, but Georgia Tech (11-5, 1-1) came back to hold a 3-2 edge.
A win by senior Chloe Gullickson on court six tied the match at 3-3, but Georgia Tech picked up a win on court four to secure the victory.
Rosie Johanson and Vivian Glozman got things off to a great start with a 6-0 win on doubles court three. After the No. 17-ranked Georgia Tech doubles team won on court one, the tandem of freshman Natasha Subhash and sophomore Sofia Munera clinched the point with a 6-4 win on court two.
In singles, Munera picked up a quick 6-3, 6-3 win on court five over Rosie Garcia Gross to give UVA a 2-0 lead. Georgia Tech followed with wins on courts one through three to take a 3-2 lead. Gullickson closed out a 6-4, 6-2 win on court six over Monika Dedaj to tie the match, leaving the fate of the match to be decided on court four.
Glozman had dropped her first set against Nami Otsuka, 6-2, but rallied for a 6-3 win in the second set to force a third. Glozman had the early edge in the third set, leading 5-3, but Otsuka won four straight games to take the set 7-5 and clinch the victory for the Yellow Jackets.
MATCH NOTES
Court four was the only match decided in a third set. All other courts were won in straight sets
Munera improves to 17-10 in singles and 6-3 in dual matches. Gullickson is also 6-2 in duals with an 11-9 overall singles record
Subhash and Munera are now 10-2 this season as a doubles team 
ON THE HORIZON
Virginia will host Clemson on Sunday in a noon match at the Snyder Tennis Center. Admission is free to the public.
No. 11 Georgia Tech 4, No. 9 Virginia 3
Singles
1. No. 23 Kenya Jones (GT) def. No. 15 Natasha Subhash — 7-5, 6-4
2. No. 71 Victoria Flores (GT) def. No. 35 Rosie Johanson — 7-5, 6-2
3. No. 110 Gia Cohen (GT) def. No. 89 Amber O'Dell — 6-4, 6-4
4. Nami Otsuka (GT) def. Vivian Glozman — 6-2, 3-6, 7-5
5. No. 95 Sofia Munera def. Rosie Garcia Gross (GT) — 6-3, 6-3
6. Chloe Gullickson def. Monika Dedaj (GT) — 6-4, 6-2
Order of finish: 5,3,2,1,6,4
Doubles
1. No. 17 Flores/Kenya Jones (GT) def. No. 41 Gullickson/O'Dell — 6-2
2. Subhash/Munera def. Gia Cohen/Nami Otsuka (GT) — 6-4
3. Johanson/Glozman def. Sophia Sassoli/Monika Dedaj (GT) — 6-0
Order of finish: 3,1,2

Comments