No room for dummies in Virginia baseball's film room
By Jerry Ratcliffe
One can only imagine what kind of double takes occur when first-time recruits and visitors are shown Virginia baseball's film room at Disharoon Park.
The room contains all of UVA baseball's video equipment and study, research videos where coaches and players can scout opponents and themselves. It's high-tech stuff and a true aid in helping the Cavaliers win.
At first glance, the "Double Dummy Film Room" might raise an eyebrow or a few chuckles in addition to a question or two.
Double Dummy? This isn't an episode of the "Three Stooges," this is UVA, one of the most respected institutions in the nation. Whaddaya mean, double dummy? There's no dummies here.
"I have had some people ask, 'What's the deal with this?'" Virginia coach Brian O'Connor said with a wide smile. "It's not your traditional 'John Smith Film Room.'
"Actually, it's great because I think it's an awesome conversation piece how the room got the name."
No, not John Smith, although it could have been John McAllister, who contributed enough money to have earned having his name on the room. But McAllister had another idea: Double Dummy.
So, really, what is the deal with the name?
McAllister, a UVA grad and local resident, is one of the nation's leading bridge enthusiasts. Bridge, as in the card game. He travels the country and the world competing in bridge tournaments and spreading his passion of the game, which McAllister describes as "a mind sport at the highest level."
When McAllister approached the VAF about a new name for the film room, the organization wasn't crazy about the idea.
"We can't call it the 'Double Dummy Film Room,'" was the answer, until McAllister explained the term.
In the game of bridge, Double Dummy is a huge compliment because it means you know all the cards, something that O'Connor regularly does. With that making sense, the VAF gave its blessing and now when the Cavaliers enter the Double Dummy room, they usually walk out with all the answers.
Not long ago, McAllister gave a tutorial to a small group, including O'Connor, to introduce the game.
"Now that I know a little bit more into what bridge is all about, that it's a challenging mental game and how bright you have to be, it's a great fit," O'Connor said of the Double Dummy name. "It makes things a lot of fun. John McAllister is a fun guy, so it all fits really well."
McAllister, who worked in NBA public relations and in investor relations for a hedge fund after he graduated from UVA, has been a Cavaliers' baseball fan since Seth Greisinger pitched for the Cavaliers in the mid-1990s, but really became a fan after O'Connor took over the program in 2003.
McAllister eventually funded the video room for the baseball program under a different name but decided to update the room's name to promote his film about the game of bridge: "Double Dummy."
"John and I connected on a couple of occasions at VAF functions and through mutual friends, and so when we were adding enhancements to the stadium around a decade ago, John wanted to help out," O'Connor said. "He wanted to help us with something out of the norm, and because technology in the game of baseball has just exploded in terms of video capabilities and things of that nature, his gift was most appreciated."
McAllister has been an avid supporter of UVA athletics and the baseball program for some time. Once he funded the new video technology, the Cavaliers gained an edge on the competition. The company that installed Virginia's system had just completed a similar job for a Major League team.
"I'm thankful that John got us off to a great start and that we had something at a time where few people had it," O'Connor said.
UVA has continued to develop the system, which helps the Cavalier program stay in the know.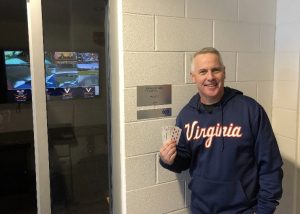 When McAllister decided to produce a film about bridge to help spread the game, particularly to a younger generation, it was a dream come true.
He grew up playing sports and still participates. He loves competition, and bridge gives him that outlet year-round.
"I don't think people appreciate bridge," McAllister said. "I didn't appreciate it early on. It's a game you can play late into life."
While the game is played mostly by older people, McAllister said it doesn't have to be that way, thus one reason for the film, which follows the USA Under-21 team on its quest for a world title.
He grew up in a card-playing family and learned the game from an aunt when his grandfather passed during McAllister's first year at Virginia. During a proposed game of hearts, the aunt persisted for bridge and persuaded the group.
"I fell in love with bridge immediately," McAllister said. "When I lived in New York City after I graduated, I had no idea that the city's main bridge club was only two blocks away."
Now, he plays in tournaments everywhere, having spent 10 days in San Francisco playing in the North America Bridge Championships before Christmas. He's played in tournaments in Australia, New Zealand, all over the globe.
"Bridge has enriched my life so much that I want to share it, and that's why I try to present it to people," McAllister said. "If just one person, as a result of seeing this article or seeing the film room, takes up the game it would make me so happy."
No dummies here.
Support JerryRatcliffe.com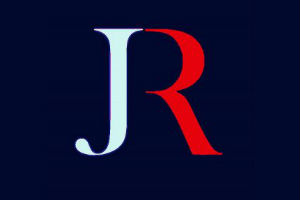 Make a one-time or recurring gift to support JerryRatcliffe.com online below. Your gift is not tax-deductible. Thank you for your support of JerryRatcliffe.com and the "Jerry Ratcliffe Show" podcast!