Now that the parking brake is off, McKneely ready to go bombs away on UVA opponents
By Jerry Ratcliffe
Within a seven-minute span in the first half against Syracuse a week ago, freshman Isaac McNeely drilled three 3-pointers, two of them during Virginia's 15-4 run that helped the Cavaliers pull away from the Orange.
The latter of the three came on a fast break pull-up when point guard Kihei Clark spotted McNeely open. No hesitation. Boom.
A few nights later against threatening North Carolina, the Tar Heels had cut UVA's lead to a single possession with less than three minutes to go. McKneely was open and BOOM, a huge triple that expanded the Cavaliers lead to 61-55 with 2:19 to go as Virginia closed out strong, and handed the Tar Heels their eighth consecutive defeat at John Paul Jones Arena.
All season long, Wahoo fans knew McKneely, the youngster from Poca, W.Va., had it in him. The question was when was he going to emerge as a lethal option with his long-range shooting ability.
Tony Bennett must have wondered, too, because just prior to the Syracuse game, the UVA coach instructed McKneely to "take the parking brake off."
McKneely got the message. Perhaps it was because of his freshman status, not wanting to force his offensive talents too early and maybe offending upperclassmen, just biding his time, waiting his turn.
Bennett wisely interceded and told the kid to shoot. He didn't have to say it twice.
Since then, the West Virginia whiz kid, has been en fuego. Over those last two games heading into today's game at Florida State, McKneely has connected on 7 of his last 11 shots from Bonusphere. Extend it to his last four outings and he is 12 of 21.
That's 57 percent for those of you counting.
You want a sniper, you've got one, but he's only getting started. With only six ACC games under his belt, McKneely is 10th in conference rankings with 2.33 triples made per game (14). Give him time.
Now that the "parking break" is off and he has Bennett's blessing, expect McKneely to take advantage of the green light. While UVA has several players proficient from the arc, Armaan Franklin, Ben Vander Plas, Reece Beekman, Kihei Clark, none of them came to Charlottesville with the high expectations from long range like McKneely. He was billed as the next Kyle Guy, and while he and Guy are different — McKneely is physically bigger and not as mobile (yet) — the dead eye accuracy is frightening to opponents.
Miami coach Jim Larrañaga said that every time McKneely launched a missile vs. the Hurricanes that each looked like they were going in. Sound familiar? That's what they used to say about Guy.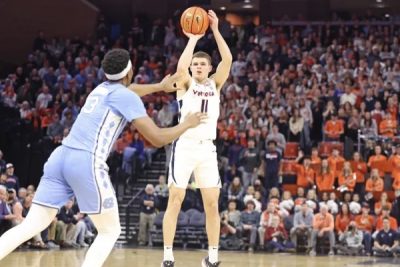 After the Syracuse game, Bennett revealed his chat with McKneely.
"I told him to take the parking brake off … just take it off. If you have a rhythm shot, take it, be assertive," Bennett said. "It's a process for everyone, but we needed that and he's rising up. I want to keep developing that. He's going in the right direction."
McKneely said Bennett pointed out that he needed to be more aggressive and felt like that the freshman sometimes wasn't taking the shots when they're there.
"Coach Bennett has trust in me and that makes me really happy to hear that from the head coach that he wants me to shoot more," McKneely grinned. "I'm sure a lot of people would want to have that problem.
"I'm getting more comfortable with every single game, so I'm just going to keep letting them fly when they're there and credit to my teammates for giving me the ball in spots."