ODU: "They sense that there's blood in he water," said UVA's Elliott
By Jerry Ratcliffe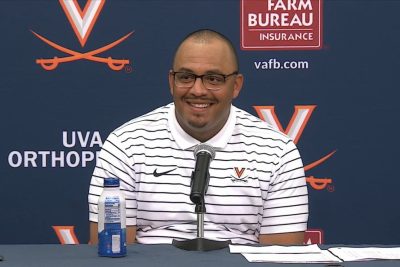 When Tony Elliott was asked about hosting Old Dominion this Saturday (2 p.m. ACC Network), he didn't mince words.
"They're going to come in here and sense that there's blood in the water and they're going to come after us," Elliott said about the Monarchs.
Elliott is correct. ODU, a member of the giant-slaying Sun Belt Conference, has already claimed one upset this season and would like to do it again. Virginia, coming off a stinging loss at Illinois last Saturday, can't afford the upset.
"As I told the guys, first and foremost, they're confident," Elliott said of ODU (1-1). "They've already beaten a Power Five. They're prideful. They want to win the state, just like we want to win the state. They've got a leg up on everybody because they've already got one victory (a 20-17 season-opening win over Virginia Tech) in the state."
It should be noted that Old Dominion has two wins over the Hokies in the last four seasons. UVA only has two over Tech in the last two decades.
After stunning the Hokies two weeks ago, ODU lost at East Carolina (listen to ODU writer Harry Minium on our podcast breaking down the game) last Saturday, 39-21.
The game was close in the third quarter when ECU led, 16-14, but then outscored the Monarchs, 23-7, the rest of the way. ECU dominated the statistical battle by running 86 plays to ODU's 43, stacked up 531 yards to 290, outrushed the Monarchs 261 to 15 and dominated the time of possession at 40 minutes, 52 seconds to only 19:08 for Old Dominion.
"They're capable," Elliott said of ODU. "They're very, very, very capable. They've proven that. But then when you watch them on film, defensively, I think that collectively they're more athletic than what we saw last week (at Illinois). Not quite as big up front, but athletically they've got a 6-2 corner that can play anywhere. I mean, he can run, he can play man coverage.
"Their linebacker, Jason Henderson, is a really good football player. People look at him and probably underestimate him, but he' a really good football player and he's the heart and soul of that defense. No. 5 (Alonzo Ford Jr.) is a very athletic defensive lineman. They've got depth on the D-line so they can roll guys in, keep them fresh."
Elliott was also impressed that the ODU defense and special teams has managed to block two field goals, block punts and return kicks for scores.
"That just tells you a lot about a football team when after a defense has gotten scored on, or they've allowed them into scoring position, how hard do they play on that play," said the coach. "This is a confident group and you can tell they're having fun and they're playing for each other."
In UVA's 24-3 loss at Illinois last Saturday, the Cavaliers couldn't slow down the five-man pass rush as the Illini experienced great success is sending more defenders than Virginia's inexperienced offensive line could block.
So, does Elliott suspect ODU might carbon-copy that plan and use it Saturday at Scott Stadium?
"Of course," Elliott said. "It's not as much copy-cat, it's man, give your guys a chance to make sure that the other team fixed it. There's no doubt that they're probably going to bring some five-man fronts, which you haven't seen a bunch on film. They're primarily a four-down.
"I would imagine it's not hard for them to take one of the linebackers and walk them down on the line and create a five-man front to see if we fixed the technical issues that we had from a one-on-one standpoint."
Offensively, ODU is led by quarterback Hayden Wolff and West Virginia transfer wide receiver Ali Jennings, who hauled in three touchdown catches in the loss at ECU. Jennings had eight of Wolff's 18 completions (29 attempts) for 200 yards.
"Then offensively, they're sneaky," Elliott said of ODU. "They're sneaky good. It doesn't look like it and then boom, here goes a big play.
"Their run game, they'll hit you for two, they'll hit you for three, and boom, here goes one for 40. So we've got to do a great job on both sides of the ball."