Oklahoma State starting TE says he's committed to Virginia
By Jerry Ratcliffe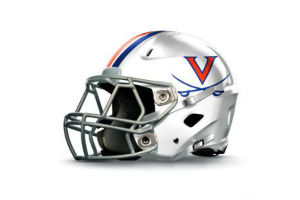 Bronco Mendenhall received an early Christmas present on Thursday when Oklahoma State starting tight end Jelani Woods announced he had committed to Virginia.
The fourth-year, redshirt junior's decision to transfer was considered a major blow to the Cowboys. A 6-foot-7, 275-pound standout from Ellenwood, Ga., Woods had eight receptions for 129 yards and a touchdown this season and posted 31 receptions for 361 yards and four TDs in his Oklahoma State career.
Woods will not play for the Cowboys in their Cheez-It Bowl against Miami.
The big tight end will fill the void of 6-7 tight end Tony Poljan, who transferred from Central Michigan to UVA during the offseason. Poljan was the Cavaliers' second-leading receiver this past season with 38 receptions for 411 yards and six touchdowns, the most receiving TDs by any player on the team.
Like Poljan, Woods was recruited out of high school as a quarterback, but transitioned to tight end. He was a 3-star prospect out of Cedar Groves High School and chose the Cowboys over Michigan, Louisville, Kansas State, South Carolina, Colorado State, South Florida, South Alabama and Florida Atlantic.
Woods led Cedar Grove to its first state championship (13-2 record) as a senior when he passed for 2,316 yards and 26 touchdowns to become an all-state honorable mention selection. As a junior, he passed for 1,992 yards and 20 TDs (only six interceptions), completing 62 percent of his attempts. He also passed for 1,489 yards and 16 scores as a junior.
He was considered the No. 20 dual threat QB prospect in the country by Rivals, and the No. 25 pocket passer by ESPN.
A two-time All-Big 12 honorable mention pick as a tight end at Oklahoma State, he has two years of eligibility remaining.
Woods is the second player to transfer to Virginia in the past week. Formerly, Louisville cornerback Anthony Johnson announced that he had committed to the Cavaliers.

Comments