Olympic Sports Roundup: Two Hoos taken in NWSL Draft; Lax schedules released, and much more
Courtesy UVA Media Relations; The Atlantic Coast Conference; Women in Sports and Events
A pair of Virginia women's soccer players were selected in the first round of the National Women's Soccer League collegiate draft on Thursday, as forwards Alexa Spaanstra and Haley Hopkins were both drafted.
Spaanstra was taken with the 10th overall pick by Kansas City, while Hopkins was selected with the 11th overall pick by North Carolina. This is the second time Virginia has had a pair of first round picks. Morgan Gautrat and Danielle Colaprico were both selected in the first round of the 2015 NWSL Draft.
Virginia has now had 21 players taken in the NWSL Draft in the 11-year history of the event. The duo joins fellow Virginia players Caroline Miller, Molly Menchel, Annie Steinlage, Shasta Fisher, Morgan Brian, Danielle Colaprico, Emily Sonnett, Makenzy Doniak, Brittany Ratcliffe, Alexis Shaffer, Kristen McNabb, Veronica Latsko, Betsy Brandon, Courtney Petersen, Phoebe McClernon, Zoe Morse, Alissa Gorzak, Taryn Torres and Diana Ordoñez as NWSL draft selections.
Virginia has had at least one player selected in every NWSL Draft. The Cavaliers are one of two teams to have a player taken in every NWSL Draft along with Stanford.
Spaanstra earned All-Region honors for the fourth time in her career after earning All-ACC honors for the fifth time in 2022. The forward tallied eight goals on the season to tie with Lia Godfrey for second on the team and also matched Godfrey and Hopkins with five assists this year. She hit a pair of game-winning goals with strikes against NC State and Miami to help lock up the wins. She also set the career record for games started and played at Virginia with 107 games played and making the start in each appearance. Spaanstra finished her Virginia career with 37 goals and 34 assists.
Hopkins earned All-Region honors for the fourth time in her career with her selection this season. Hopkins was an All-ACC second team selection and led the Cavaliers in goals (14) and tied with Godfrey and Spaanstra for second on the team in assists with five. She hit five game-winning goals this season, including strikes to secure wins at No. 11 Georgetown and at No. 21 Penn State in the third round of the NCAA Tournament. She also hit the equalizer against No. 1 UCLA in the quarterfinals of the NCAA Tournament to help send the match into overtime. Hopkins finished her career with 56 goals and 26 assists – 22 of those goals and 14 of those assists came in her two seasons with the Cavaliers.
Hoos in the Pro's. pic.twitter.com/GrACtfhpP1

— Virginia Women's Soccer (@UVAWomenSoccer) January 13, 2023
UVA FIRST-ROUND PICKS IN THE NWSL DRAFT
2023 – Alexa Spaanstra – Kansas City (10th overall); Haley Hopkins – North Carolina (11th overall)
2022 – Diana Ordoñez – North Carolina (6th overall)
2020 – Courtney Petersen – Orlando (7th overall)
2016 – Emily Sonnett – Portland (1st overall)
2015 – Morgan Brian – Houston (1st overall);  Danielle Colaprico – Chicago  (9th overall)
UVA ninth; ACC top conference in LEARFIELD Director's Cup Fall Standings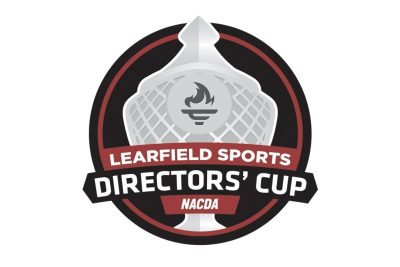 Buoyed by three national championships and a pair of runner-up finishes, the Atlantic Coast Conference led the way in the 2022-23 LEARFIELD Directors' Cup Division I fall standings released Thursday morning, with Virginia checking in at No. 9 in the country.
The ACC's three NCAA titles in 2022-23 are one more than any other D-1 conference. Of the five national championship games for ACC-sponsored sports in the fall, ACC teams played in four of those games.
The ACC leads all conferences with four schools in the top 10, and 10 schools among the top 25 of the current LEARFIELD Directors Cup standings. North Carolina holds the top spot, while Syracuse checks in at No. 5, and Pitt is tied for No. 6..
Notre Dame and Florida State rank 13th and 14th respectively, followed by No. 17 Duke, No. 19 Wake Forest, No. 21 NC State and No. 22 Louisville. Clemson ranks 35th.
"We are thrilled with the incredible success our teams had across the board this fall, which is a true credit to our outstanding student-athletes and coaches," said ACC Commissioner Jim Phillips, Ph.D. "We look forward to watching our amazing winter and spring programs continue to perform at the highest levels."
North Carolina took home the women's field hockey title, finished as runner-up in women's soccer, and collected a pair of top-10 finishes in men's cross country and women's cross country. UNC has 382.50 total points in the current LEARFIELD standings, while Stanford holds second place with 330 points.
NC State (women's cross country) and Syracuse (men's soccer) have also claimed NCAA titles during the current academic year. Florida State soccer joined UNC in the Women's College Cup, while Louisville finished as the NCAA runner-up in volleyball after defeating Pitt in the national semifinals.
In addition, nine ACC football teams earned bowl bids, marking the 22nd consecutive season in which the conference placed at least six teams in postseason games.
The winter Division I LEARFIELD Directors' Cup standings will be updated and published in early April.
The LEARFIELD Directors' Cup was developed as a joint effort between the National Association of Collegiate Directors of Athletics (NACDA) and USA Today. Points are awarded based on each institution's finish in NCAA Championships.
Complete standings and the scoring structure can be found on NACDA's website at www.directorscup.org. In addition, please visit www.thedirectorscup.com and follow us on Twitter @ldirectorscup.
Top-ranked UVA men's lacrosse 2023 schedule revealed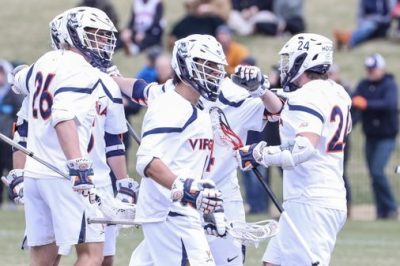 Virginia men's lacrosse head coach Lars Tiffany announced the team's 2023 schedule on Tuesday. The regular-season slate features 14 games, including eight home contests at Klöckner Stadium.
Season tickets are available for purchase through Jan. 29. Single game tickets will go on sale beginning Jan. 18. For more information or to purchase tickets, visit VirginiaSports.com/Tickets.
The top-ranked Cavaliers will host Michigan (Feb. 11), Harvard (Feb. 18), Richmond (March 4), Towson (March 11), reigning national-champion Maryland (March 18) and ACC foes Duke (March 31), Syracuse (April 22) and Notre Dame (April 30).
Virginia takes on Ohio State in a neutral-site contest at the Paradise Coast Sports Complex in Naples, Florida on Feb. 25.
UVA's true road slate consists of Johns Hopkins (March 7), Notre Dame (March 25), North Carolina (April 7), Duke (April 15) and Lafayette (April 25).
"The Virginia fanbase will not see a familiar slate of opponents to open the 2023 season," said Tiffany. "With the addition of two Big Ten opponents and an Ivy, we have boosted what is already a challenging schedule. Our men know what a formidable gauntlet we have created here, and this is raising the level of intensity of our preseason training: we don't have a choice with this slate."
The 2023 NCAA Division-I Men's Lacrosse Championship is comprised of eight first-round games (May 13-14) at campus sites. This year's quarterfinals will be held at Tom & Mary Casey Stadium in Albany, New York (May 20) and Navy-Marine Corps Memorial Stadium in Annapolis, Maryland (May 21). For the first time since Tiffany and the Cavaliers won the program's sixth national title in 2019, Championship Weekend returns to Lincoln Financial Field in Philadelphia, Pennsylvania. The semifinals are set for May 27, while the finals will commence on May 29.
Broadcast selections will be announced at a later date as released by the Atlantic Coast Conference and its television partners. Start times and dates are subject to change based on broadcast selections.
Virginia, which is ranked No. 1 in the USA Lacrosse/Nike preseason poll, returns seven 2022 USILA All-Americans, including Tewaaraton Award finalist Connor Shellenberger. Additionally, the Cavaliers' incoming recruiting class was ranked best in the nation, according to Inside Lacrosse.
NOTING THE 2023 SCHEDULE 
The Cavaliers enter the 2023 season on an eight-game home win streak, dating back to the 2021 season.
Virginia and Michigan will square off for the first time in series history … Lars Tiffany is 2-0 all-time as head coach against the Wolverines, having defeated U-M in 2015 and 2016 while at Brown University.
For the first time in school history, UVA will compete in the state of Florida when it takes on Ohio State at the Paradise Coast Sports Complex in Naples, Fla.
The Cavaliers return to Homewood Field for the first time since 2019 to face Johns Hopkins in a clash for the Doyle Smith Cup.
Virginia's 2023 slate features four 2022 NCAA Tournament teams, including Harvard, Ohio State, Richmond and Maryland.
2023 Men's Lacrosse Season Ticket Renewals
Current UVA men's lacrosse season ticket members can renew their existing seats until Jan. 29. Seats can be renewed online at UVATix.com or by calling the Virginia Athletics Ticket office at 434-924-8821. Season ticket members may add on or relocate their seats by contacting the ticket office.
2023 Men's Lacrosse New Season Tickets
Fans who do not currently possess season tickets may purchase general admission seating for $35 each. UVA Faculty & staff receive a discount of 20 percent on up to four (4) seats. Reserved seats may become available in February.
2023 Men's Lacrosse Single Game Tickets
UVA men's lacrosse single game tickets will go on sale via UVATix.com beginning Jan. 18 at 9 a.m. General admission tickets are $8 in advance and $10 at the box office. Reserved seats are $12 in advance and $15 at the box office.
Note: Single game tickets for UVA's home contest against Maryland (March 18) will first be made available exclusively to season ticket members and Virginia Athletics Foundation donors. Maryland single game tickets will go on sale to the public beginning March 1 (subject to availability). Ticket prices are $10 for general admission and $15 for reserved seating.
Discounted general admission group tickets will be available for most games beginning Jan. 18. Tickets are $6 each for groups of 20 or more. Group tickets must be purchased in advance by calling the Virginia Athletics Ticket Office.
New for 2023 – UVA Men's Lacrosse Mini Plan
Fans can pick four of the eight home games and save compared to single game ticket prices. Fans can pick two from Michigan (Feb. 11), Harvard (Feb. 18), Richmond (March 4), and Towson (March 11), and pick two between Maryland (March 18), Duke (March 31), Syracuse (April 22), and Notre Dame (April 30). Mini plans go on sale Jan. 18 at 9 a.m. and start at $24.
All game dates and times are subject to change.
Virginia women's lacrosse team announces 2023 schedule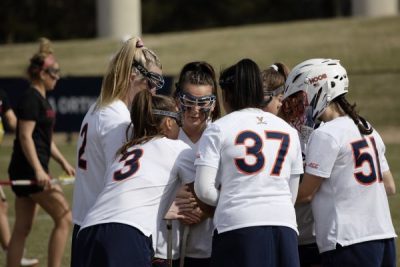 The Virginia women's lacrosse team released its 2023 schedule that includes six home games at Klöckner Stadium and nine Atlantic Coast Conference games, head coach Julie Myers announced on Tuesday.
Season and single-game tickets are available starting today. For more information or to purchase tickets, visit VirginiaSports.com/Tickets.
"We are always excited to begin our season and compete with the best teams in the country," Myers said. "Our non-conference schedule includes teams from the top conferences across the country. We will play eight NCAA tournament teams from 2022 and the ACC slate now has nine teams. To see our conference expand provides even more great competition and visibility for the sport."
UVA's 16-game schedule will open with a cross-country road trip to play Stanford (Feb. 10) and UC Davis (Feb. 12) in Palo Alto, Calif.
The first home game for the Cavaliers will come on Saturday, Feb. 25 and will also serve as the ACC opener as the team hosts Louisville. Virginia's home slate also includes first-year ACC program Clemson (March 3), Elon (March 5), Notre Dame (March 25), Duke (April 8) and Virginia Tech (April 20) in the regular-season finale.
Along with its season-opening trip, UVA road games will include Princeton (Feb. 18), reigning NCAA Champion North Carolina (March 11), Richmond (March 15), Pitt (March 18), James Madison (March 22), Syracuse (April 1), VCU (April 5) and Boston College (April 15).
The 2023 ACC Championship will begin with play-in games for No. 7/10 and No. 8/9 teams. The Quarterfinals (April 26), Semifinals (April 28) and Championship (April 30) will be played in Charlotte, N.C.
Virginia is entering its 48th season and the 28th under Myers. The Cavaliers advanced to the NCAA Round of 16 in 2022 to extend their postseason streak to 27-straight. UVA knocked off 3-seed Syracuse in the ACC Quarterfinals to advance to the ACC Semifinals in the 2022 ACC Tournament. The Cavaliers are ranked No. 13 in the preseason polls.
The Cavaliers return 23 letterwinners from last season. Sophomore Rachel Clark returns as the leading scorer for UVA last season, after posting the most goals by a freshman in school history with 64. Graduate student Ashlyn McGovern added 63 goals and returns with 143 career goals to rank ninth all-time. Junior Aubrey Williams is back after shattering the single season record in draw controls with 149. She is currently fifth in UVA history with 199 career draws.
Three Hoos selected to US U21 Women's Field Hockey National Team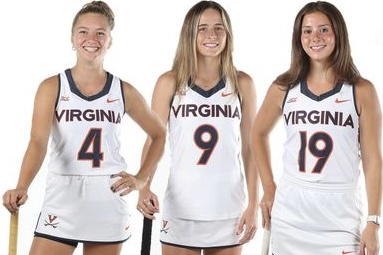 Jans Croon, Madison Orsi and Daniela Mendez-Trendler have been named to the 2023 U.S. U-21 Women's National Team, as announced Tuesday by head coach Tracey Paul.
Following the U-21 Selection Camp held January 4 to 8 at the Chula Vista Elite Athlete Training Center in Chula Vista, Calif., Paul named the 2023 U.S. U-21 Women's National Team. This same group will attend the Junior Pan American Championship (JPAC) Selection Camp in February.
"Congratulations to all the players who made the 2023 U-21 squad," commented Paul. "We were encouraged by the quality of athletes at the recent selection camp with each session and training game fiercely competitive – some very good players have missed out on selection this time. The fluid pathway being developed across our National Teams is becoming very evident with six players from the selected U-21 squad currently working with the U.S. Women's National Team."
Croon and Mendez-Trendler were both members of the 2022 U21 team that competed at the Uniphar 5-Nations tournament in Dublin, Ireland, last June.
Additionally, Virginia signee Mia Abello has also been named to the roster.
The JPAC Selection Camp will take place from February 17 to 20 at Bessant Field at Queens University of Charlotte in Charlotte, N.C. from which a squad will be named to represent USA at the 2023 Junior Pan American Championship from April 10 to 18 in Saint Michael, Barbados at the Wildey Hockey Centre located in the Sir Garfield Sobers Sports Complex. This junior men's and women's event is a qualifier for the 2023 FIH Hockey Junior World Cup.
Trio of Cavaliers chosen on combined U18-U19 US Youth National Team Camp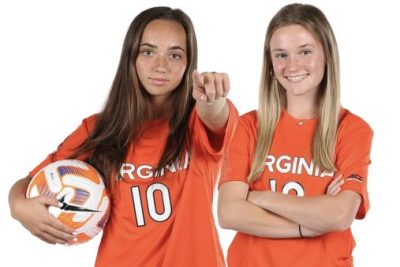 Three Cavaliers have been tabbed for participation by U.S. Soccer for a combined U-18 and U-19 Youth National Team training camp at the U.S. Soccer National Training Center in Carson, Calif.
Forward Maggie Cagle and midfielder Jill Flammia, a pair of freshmen who just completed their first season with the Cavaliers this past fall, will be joined by incoming midfielder Yuna McCormack on the roster for the camp.
All the players in camp are age-eligible for the 2024 FIFA U-20 Women's World Cup, the host of which has yet to be determined. Players born on or after Jan. 1, 2004 are age-eligible for the U-20 WYNT Player Pool. Players born on or after Jan. 1, 2005, are age-eligible for the U-19 WYNT Player Pool and players born on or after Jan. 1, 2006, are age-eligible for the U-18 WYNT Player Pool.
Cagle and Flammia helped the Cavaliers advance to the quarterfinals of the NCAA Tournament this past season as Virginia battled eventual NCAA Champion UCLA into overtime. Cagle was an All-ACC third team and All-Freshman selection after tallying 12 assists and four goals on the season. Her 12 assists led all Division I freshmen this past season. Flammia was an ACC All-Freshman selection after tallying four goals on the year.
McCormack is ranked as the sixth overall recruit in the IMG Top 150 player rankings for 2023. She competes with Bay Area Surf soccer club. She has been a part of multiple Youth National Team camps at several age groups throughout her career.
Bressler honored on D1 Softball Preseason Top 100 list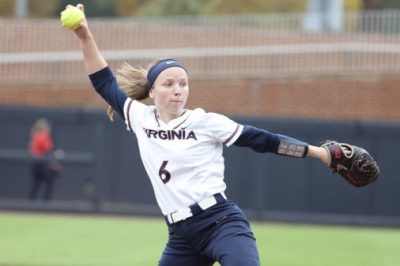 Right-handed pitcher Jenny Bressler of the Virginia softball team has been named to the D1 Softball Preseason Top 100 list it was announced on Tuesday. The list recognizes the top 100 players nationally regardless of position as ranked by the D1 Softball staff.
Bressler, a graduate transfer, came in at No. 94 on the list and joins the Cavaliers after a successful career at UNLV.
In her time at UNLV, Bressler struck out 599 batters, the fourth-most in program history, and posted 78 career wins which ranks second all-time at UNLV. She finished her senior season with the Rebels with 225 strikeouts to set the single-season mark at UNLV. She was a four-time Mountain West All-Conference first team selection and a two-time NFCA All-Region selection. Bressler was named to the All-Tournament Team at the National Invitational Softball Championship (NISC) in May after helping UNLV to a runner-up finish.
Bressler joins a Cavalier squad that is coming off one of the best seasons in a decade after finishing sixth in the ACC a year ago and also earning a bid to the NISC. The Cavaliers tied the program record for ACC wins in a season and the 28 wins last season was the most since the 2010 season when Virginia posted 34 wins and advanced to an NCAA Regional at Tennessee.
Virginia opens the 2023 season at a tournament hosted by Houston on Thursday, Feb. 9. Tickets for the season are on sale now at UVATix.com.
UVA Volleyball adds NC State transfer Hernandez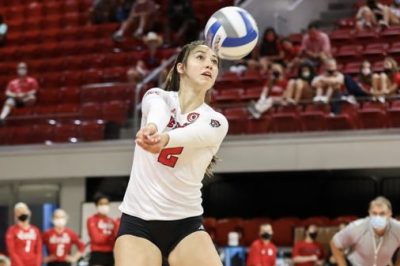 Virginia volleyball head coach Shannon Wells announced the signing of defensive specialist/libero Saskia Hernandez on Thursday. Hernandez is set to enroll at UVA immediately after a two-year stint at NC State.
"Throughout the recruiting process it was easy to see that Saskia would be a great fit for our program," said Wells. "She has high expectations of herself on and off the court and wants to be surrounded by the best. Saskia has grown up in a family of elite athletes and knows what it takes to excel at the highest level. We are excited for her to join our program this semester as she trains and competes to earn the starting libero position this Fall."
In 2022, Hernandez (Miami, Fla.) redshirted and did not appear in any matches for the Wolfpack. As a true freshman in 2021, she played in six contests and logged 18 sets. Hernandez recorded 23 digs on the season, including a season-high six digs against then-No. 4 Pittsburgh on Sept. 26, 2021.
Originally an outside hitter in high school and on the club circuit, Hernandez is a two-time USA Beach Volleyball national champion and a USA Volleyball High Performance Championship. In 2019, she was nabbed Miami-Dade All-County Player of the Year and Athlete of the Year.
Hernandez is the youngest of five kids, including her two older sisters Sylvia and Priscilla Hernandez. Sylvia played at the University of Miami from 2014-17, while Priscilla was at Miami from 2018-21 before transferring to NC State in 2022 alongside Saskia. Her parents, Henry and Sylvia Hernandez, also competed at Miami with her mother running track and her father playing baseball.
Hoos set to head to Blacksburg for Virginia Tech Invitational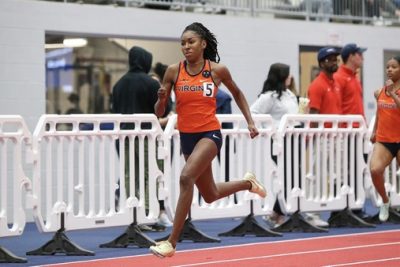 The Virginia men's and women's track and field teams are set to return to indoor action as the teams travel to Rector Field House in Blacksburg to compete at the Virginia Tech Invitational. Events will begin today from 5 p.m. through 8:35 p.m. The competition will resume Saturday from 11 a.m. through 3:30 p.m.
HOW TO FOLLOW
The meet will not be streamed, but fans can follow the action through a live results link posted to VirginiaSports.com. Live updates will also be posted to the team's official Twitter account (@UVAtfcc).
HOOS IN THE RANKINGS
The initial USTFCCCA Track and Field Ranking Index has yet to be released for the 2023 season. The first rankings of the new campaign are scheduled to be announced on Monday, January 23.
LAST TIME OUT
The Virginia sprinters got their seasons off and running before the winter break as they competed at the Liberty Kickoff (Dec. 2) where a handful of new faces made their Virginia debuts. Among those new faces was Peter Djan who opened his Virginia career clocking 8.12 in the 60-meter hurdles, a time that was good for ninth-fastest in Virginia history.
Kayla Bonnick opened her season with a win in the 60-meter dash posting a time of 7.54 while the Cavaliers got their first look at a men's 4×400 relay team consisting of Alex Sherman, Jaden Lyons, Jay Pendarvis and Tom Corel.
TRACK AND FIELD DEBUTS
After some impressive debuts from the Virginia sprinters, more new faces will be on display at Rector Field House over the weekend, including the highly anticipated UVA track and field debuts of Gary Martin, Justin Rogers and Esther Seeland.
Martin is set to make his collegiate track and field debut following an incredible high school career out of Warminster, Pa. in which he recorded a pair of sub-four-minute mile times including the fourth-fastest high school time in U.S. history (3:57.89). Martin is coming off a cross country season in which he helped UVA qualify for the NCAA Championships.
Seeland is also scheduled to make her Virginia debut on the track after transferring from Division III Messiah a season ago. At Messiah, Seeland was a three-time NCAA Division III Champion and set the Division III indoor records in both the 800-meters and 600-meters. Seeland was an important contributor to the Virginia women's cross country squad that finished ninth at the NCAA Championships in the fall.
Rogers will see his first action in a Virginia uniform over the weekend. A pole vaulter out of Hershey, Pa., Rogers joins the Cavaliers as a three-time Pennsylvania state champion and state record holder in both the indoor and outdoor pole vault. Over the summer, Rogers won gold at the USA U20 Championships in Eugene, Oregon. He also placed ninth at the U20 World Championships in Cali, Columbia.
ON THE HORIZON
Virginia will make a second trip to Blacksburg next weekend when the Cavaliers take on the Hokie Invitational on Friday (Jan. 20) and Saturday (Jan. 21).
Cavalier wrestlers to begin competition at Virginia Duals against Ohio, Navy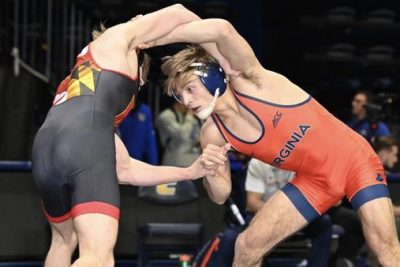 The Virginia wrestling team heads back out on the road this weekend for two days of competition in the Virginia Duals at the Hampton Coliseum. The Cavaliers kick off the event with a pair of duals today against Ohio and Navy.
HOW TO FOLLOW THE ACTION
The duals at the Virginia Duals will be streamed on FloWrestling which is available by subscription. Live results will be provided through TrackWrestling. Links to both the live stream and results are available at VirginiaSports.com. Fans can also get updates by following the program's official Twitter account (@UVAWrestling).
WEEKEND DUAL SCHEDULE
Friday
11:30 a.m. – Ohio
1 p.m. – Navy
Saturday
1 p.m. – Kent State
2:30 p.m. – No. 23 Maryland
QUICK SHOTS
Virginia (3-1) is coming off a 26-6 victory over George Mason last weekend in a neutral-site dual in Richmond.
The Cavaliers have five wrestlers ranked or receiving votes in the latest weekly individual rankings.
Virginia holds a 4-2 lead in the all-time series with Ohio and won the last meeting 29-9 in 2019.
The Hoos are looking for the first win over Navy after facing the Midshipmen seven times previously.
The last meeting between Virginia and Navy came in the 2009 season.
Virginia is 3-6 all-time against Kent State, winning the last meeting 23-12 at the 2020 Virginia Duals.
The Hoos are 26-40 all-time against former ACC foe Maryland, but won the last meeting 24-9 at Maryland last season and have won five straight against the Terrapins in the series.
The match against Maryland will be the second dual against a nationally-ranked for for UVA this season.
VIRGINIA'S PROBABLE LINEUPS
125: Patrick McCormick OR Kyle Montaperto OR Peyton Fenton
133: Garrett Grice or Keyveon Roller OR Marlon Yarbrough
141: Dylan Cedeno OR Evan Buchanan OR Brian Courtney
149: No. 30 Jarod Verkleeren OR Michael Gioffre OR Mason Stefanelli
157: No. 26 Jake Keating OR Denton Spencer
165: No. 14 Justin McCoy OR Nick Hamilton
174: Vic Marcelli OR Justin Phillips OR Hudson Stewart
184: No. 16 Neil Antrassian OR Hadyn Danals
197: Michael Battista OR Krystian Kinsey
285: Ethan Weatherspoon OR Colden Dorfman OR Jessie Knight
UP NEXT
Virginia will continue competition at the Virginia Duals on Saturday when the Cavaliers face Kent State and No. 23 Maryland in back-to-back duals to close out the weekend.
UVA to host three matches this weekend at McArthur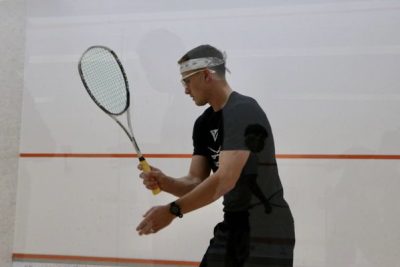 The No. 5 Virginia men's squash team hosts three matches, playing Rochester today, Chatham on Saturday and Drexel on Sunday at the McArthur Squash Center.
HOW TO FOLLOW
Links for live results are available on VirginiaSports.com.
All three matches will be five-court systems.
ABOUT THESE HOOS
Virginia (4-2) won its last two matches, including a 9-0 win over MIT for its second MASC win of the year.
This weekend starts a streak of four-consecutive home matches for the Cavaliers.
UVA has played at least two players at each position on the ladder this season.
Aly Hussein and Evan Hajek lead the Cavaliers with four wins apiece.
Six different Cavaliers have three wins on the season.
AGAINST NO. 12 ROCHESTER
Friday will be the second meeting between UVA and Rochester.
The Cavaliers won the first meeting, 6-3, at the CSA Championships on March 1, 2020.
AGAINST NO. 11 CHATHAM
It will be the second meeting between the Virginia and Chatham.
The two teams previously met on January 29, 2022, with UVA winning 5-0 at home.
AGAINST NO. 7 DREXEL
This is the eighth meeting for the Cavaliers and Drexel.
Drexel leads the all-time series 6-1.
Virginia's lone win in the series was a 5-4 victory on Feb. 6, 2022, at the MASC Championships.
The two teams played three times in 2022, with Virginia going 1-2 in those contests.
Williams to receive WISE's Woman of the Year Award in March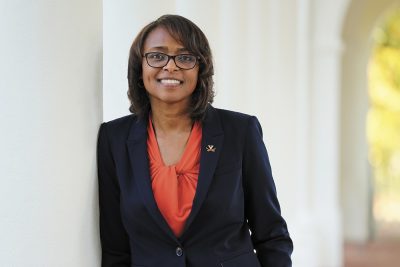 Women in Sports and Events (WISE), the leading voice and resource for women in the business of sports, will host its 27th WISE Women of the Year Awards Luncheon at the Ziegfeld Ballroom in New York City on March 15th honoring four recipients of its WISE Women of the Year award.
The 2023 recipients are: Andrea Brimmer, Chief Marketing and Public Relations Officer, Ally Financial; Jill Gregory, EVP, General Manager, Sonoma Raceway; Hillary Mandel, Executive Vice President, Head of Americas, IMG Media and Carla Williams, Director of Athletics, University of Virginia. WISE members across North America had the opportunity to nominate women for their accomplishments and significant contribution to the business of sports, and the honorees were selected by the organization's National Board.
"Each of these women exemplifies not only what it means to be a leader, but what it means to be a way-maker, paving the way for those who will follow their example," said Kathleen Francis, National Board chair and president of WISE. "We look forward to celebrating Andrea, Jill, Hillary and Carla at our annual luncheon and the great work they do, creating opportunities for women."
The first African-American woman to lead an athletic department at a Power Five School (ACC, SEC, Big Ten, Big 12 and Pac-12), Williams was appointed director of athletics at the University of Virginia in 2017. Upon her arrival, she instituted The Master Plan project for UVA's Cavalier football program and UVA Olympic Sports to address "the immediate needs to upgrade facilities."
She has served on the executive committees of both the National Association of Collegiate Directors of Athletics and the National Association of Collegiate Women Athletic Administrators, in 2015 being named one of the top 10 senior woman administrations in the NCAA by CollegeAD.org.
Prior to UVA, Williams spent 13 years in athletic administration at the University of Georgia, rising to deputy director of athletics. She played professional basketball in Spain between graduation from UGA and returning for her Masters, serving as assistant coach for the Lady Bulldogs as they advanced to consecutive Final Fours in 1995 and 1996, and the 1996 national championship game.