Olympic Sports Update: No. 2 Virginia holds off Louisville, 2-0
Courtesy UVA Media Relations
After falling on the road at Notre Dame Friday night, a pair of free kicks gave the Cavaliers the openings they needed on Sunday, as No. 2 Virginia scored twice in the final 16 minutes of play to take a 2-0 victory over Louisville at Klöckner Stadium.
GOALS
74' – UVA: Alexis Theoret (free kick)
83' – UVA: Haley Hopkins (Talia Staude)
After both teams manufactured few threatening chances through the first two thirds of the game, Virginia (9-1-1, 2-1-0 ACC) broke things open off a free kick in the 74th minute. A foul about 25 yards out set up the chance for the Cavaliers and Alexis Theoret lined up for the kick on the right side of the box. She sent it over the wall and into the upper corner past the back post to put Virginia on the board.
It would be the first of two free kicks leading to a score for the Cavaliers.
The second goal came almost 10 minutes later. A foul set up another free kick for the Hoos – this one on the Virginia side of the field near the circle. Talia Staude took the kick, driving it toward the box where it was flicked in by Haley Hopkins with a header to double the lead for the Cavaliers.
If you couldn't make it out to Klöckner on Sunday, here are the highlights of our win over Louisville.#GoHoos🔶⚔️🔷 | #ALLIN⚽️🔥 pic.twitter.com/pjsvQJcB6q

— Virginia Women's Soccer (@UVAWomenSoccer) September 26, 2022
NOTES
With the win, UVA improved to 11-0-0 all-time against Louisville and 7-0-0 in games played at Klöckner Stadium.
With the win over Louisville (4-3-2, 1-2-0), Virginia is now 62-8-13 in games following a loss under head coach Steve Swanson.
Alexis Theoret scored her first goal of the season with her strike. It's her second career goal against Louisville.
Haley Hopkins hit her 50th career goal with her strike and now has eight goals this season.
Cayla White improved to 13-1-1 on the season and posted her seventh solo shutout of her career.
"We were happy to come away with the result today," said Swanson. "It was not our best performance but you have to credit Louisville for putting good pressure on us on the defensive side. We talked about how important set plays were going to be and they proved to be the difference coming from a great strike by Alexis (Theoret) and another good header from Haley (Hopkins)."
Virginia will go back on the road in ACC play when the Cavaliers take on No. 5 Duke in a 7 p.m. contest on Friday. The game will be streamed on ACCNX from Koskinen Stadium.
UVA knocks off No. 3 Syracuse on Afonso's late goal
After a physical battle throughout the entire 90 minutes, Virginia downed No. 3 Syracuse by a score of 1-0 thanks to a spectacular goal in the final minutes from captain Leo Afonso on Saturday night at SU Soccer Stadium.
Goals (Assists)
85' – Virginia: Leo Afonso (Unassisted)
Virginia (6-3-0, 2-1-0 ACC) went toe-to-toe with Syracuse (7-1-1, 2-1-0) in a battle for the midfield as each team sought to control possession and the pace of play early on. Physicality became a theme that couldn't be ignored as yellow cards were issued to Virginia's Reese Miller and Axel Ahlander as well as Syracuse's Jeorgio Kocevski within the first 20 minutes of action.
In the 22nd minute of play, Ahlander was taken down outside Virginia's own penalty area. Once again, it was Kocevski who was the guilty party, but this time a second yellow card signaled the end of his night forcing Syracuse to play with 10 men for the remainder of the match.
Following the red card, the Cavaliers amped up the pressure. The Cavaliers grabbed hold of possession and took control of the pace of play. Virginia substitute and leading goal-scorer Kome Ubogu came just inches from putting Virginia ahead on a pair of occasions, but the half would end scoreless.
The Cavaliers started the second half with a flurry of chances, but play shifted back and forth between the two teams as the match wore on. As the hour mark approached, Virginia began to pin the Orange back in their defensive half while Syracuse threw numbers behind the ball.
Patience was crucial for the Cavaliers as they set out to break down a stout Orange back line that featured as many as six players at times. Asparuh Slavov and Axel Ahlander each created chances that drifted wide of the goal or were denied by the Syracuse goalkeeper as the Cavaliers struggled to unlock the low block.
With 84 minutes down, it was Slavov who played an intelligent long ball down the right-wing releasing Leo Afonso. Drifting down the outside of the Syracuse penalty area, the striker cut inside on his left foot and unleashed a shot that was thrashed into the top left corner of the goal to clinch the victory for his side.
An incredible evening Syracuse. Relive all the action from last night's win over the No. 3 Orange 🔁#GoHoos⚔️ pic.twitter.com/G2mWGEyZUa

— Virginia Men's Soccer (@UVAMenSoccer) September 25, 2022
NOTES
The victory is Virginia's first over a top-25 opponent this season
Virginia has entered a match against Syracuse trailing the Orange in the polls on three occasions and improved to a record of 2-0-1 in those games after tonight's result
The last time an unranked Virginia squad upset a ranked opponent came when Virginia triumphed over No. 4 UNC by a score of 2-0 in Chapel Hill (10/7/2016)
George Gelnovatch improves to an all-time record of 32-29-8 when coaching against the nation's top 5
Afonso has scored in consecutive matches against Syracuse
Afonso scored his fifth goal of the season to tie Kome Ubogu for the team lead in goals
The goal is Afonso's third game-winner of the season
Afonso's goal was just the third Syracuse has conceded this season
Virginia improves to a record of 5-2-1 against Syracuse all-time and 3-1 at SU Soccer Stadium
Virginia outshot the Orange by a margin of 14-10 while placing four shots on target
The Cavaliers achieved double-digit shot totals for the eighth time in their nine games this season
Virginia and Syracuse combined for nine yellow cards on the night and a total of 27 fouls
The Cavaliers were whistled offside on nine occasions
The Cavaliers will hit the road again on Friday, as Virginia makes the trip to No. 8 Pittsburgh for a 7 p.m. kickoff.
No. 10 Cavaliers blank No. 11 Syracuse, 3-0
The No. 10 Virginia field hockey team picked up a 3-0 victory against No. 11 Syracuse on Friday at Turf Field. The Cavaliers dominated the game, taking a season-high 26 shots while limiting the Orange to just two shots through the first three quarters of play. Senior Cato Geusgens scored two of Virginia's three goals.
Virginia (5-3, 1-1 ACC) jumped out on the attack early, taking 10 shots in the first period. UVA was awarded a penalty corner with 20 seconds left in the opening quarter. An initial shot by Noa Boterman was saved. The refs initially called a penalty on the Cavaliers, but after a challenge, a second penalty corner was awarded for UVA with two seconds left on the clock. Geusgens knocked in her shot from the top of the circle to give UVA a 1-0 lead.
Virginia continued the pressure in the second quarter, firing off another seven shots to take a 17-2 shot differential into the halftime break, as well as the one-goal lead.
The Cavaliers added their second goal on their 13th penalty corner of the game in the fourth quarter. Syracuse saved an initial shot from Jans Croon, but Adele Iacobucci found the ball after the save and zipped it over to Laura Janssen who was positioned at the corner of the cage to deflect it in.
Syracuse (7-2, 1-1) pulled its goalkeeper with 3:48 remaining in the game, a move that proved costly when UVA earned its 14th penalty corner of the game. With no keeper in the net, the Orange defense could not keep Geusgens shot out of the cage.
🌞 Starting your morning with a look back at yesterday's 3-0 shutout W against Syracuse 🌞#GoHoos⚔️ pic.twitter.com/dW3BEXS0et

— Virginia Field Hockey (@UVAFieldHockey) September 24, 2022
NOTES
Virginia held a 26-8 edge in shots. Six of Syracuse's shots came in the fourth quarter and three of those were in the final 30 seconds of play.
Virginia held a 14-6 edge on penalty corners.
Laura Janssen's goal is her team-leading seventh of the year.
Cato Geusgens goals were her second and third of the year.
Annie McDonough and Daniela Mendez-Trendler assisted on both of Geusgen's goals.
Syracuse's Brooke Borzymowski made 12 saves.
Jet Trimborn made four saves for the Cavaliers.
It was the Cavaliers' second shutout victory of the year and the first shutout in Trimborn's career.
"The team stepped up today," said head coach Michele Madison. "They put the pressure on, and they kept the pressure on. They were relentless in their pursuit. Our defensive corners showed up and took away their chances. It was a total team effort on our part. They just dug deep and did what it takes to win and dominate an ACC game."
The Cavaliers conclude their homestand next weekend by hosting No. 3 Louisville on Friday at 3 p.m. and No. 17 William & Mary on Sunday at 1 p.m.
UVA completes sweep at Coast-to-Coast Battle in Beantown
Behind a pair of dominant performances that featured strong pack running from the Cavaliers, the Virginia men's and women's cross country teams swept the women's 5k and men's 8k races at the Coast-to-Coast Battle in Beantown on Friday afternoon.
The Virginia women remained undefeated on the season as they clinched their third victory of the campaign. Leading the way once again for Virginia was Margot Appleton who crossed the finish line with a time of 17:12 to finish second and clinch her third top-two finish in three races this season. Following Appleton by less than a second was Massachusetts native Camryn Menninger who took third place for the third time this season. The scoring places were rounded out by Esther Seeland, Sophie Atkinson and Anna Workman who placed fifth, seventh and 10th respectively.
Mia Barnett placed 12th in her cross country debut this season with a time of 17:37 while Linnaea Kavulich placed seventh with a time of 18:00. Virginia took down two ranked opponents in No. 21 Gonzaga and No. 20 Harvard.
On the men's side, Virginia won its second consecutive meet of the season as the Cavaliers went 2-3-4-5-6 in the men's 8k to earn the top spot.
Leading the way for Virginia was Yasin Sado who recorded his second consecutive runner-up finish this season with his time of 23:53. Following Sado were Justin Wachtel, Jack Eliason, Rohann Asfaw and Virginia debutant Will Anthony whom all crossed the finish within four seconds of Sado and helped the team capture its second victory in as many races. Virginia has won its last two races following a second-place finish in its season opener. The Cavaliers topped No. 15 Harvard and No. 20 Syracuse.
Wes Porter and Derek Johnson rounded out Virginia's top-seven runners as they placed eighth and ninth respectively.
"It was excellent to see our teams put in a dominant performance today," said Director of Track and Cross Country Vin Lananna. "Both teams entered with a good race plan, executed them well and are progressing nicely overall. On the women's side we were excited to put together our whole team today. We have some things that we must continue to work on, but we will see a very strong team this year."
"The men put together an outstanding display of pack running. That is going to be incredibly important as we quickly approach the championship season. We are looking forward to hosting the Panorama Farms XC 23 in just a few short weeks on October 15."
Coast-to-Coast Battle in Beantown
Franklin Park
Boston, Mass.

Women's Team Results (5k)
Virginia (27)
Northeastern (97)
Dartmouth (113)
La Salle (170)
Gonzaga (170)
Syracuse (190)
Boston College (219)
Harvard (224)
Quinnipiac (248)
Santa Clara (252)
Yale (270)
Boston University (305)
Bucknell (316)
Monmouth (338)
Youngstown State (394)
Brown (432)
Vermont (447)
St. John's (490)
Maine (566)
Men's Team Results (8k)
Virginia (20)
Dartmouth (98)
Northeastern (103)
Yale (139)
Youngstown State (164)
Boston University (185)
Syracuse (203)
Monmouth (208)
Rhode Island (249)
Bucknell (269)
Maine (305)
Harvard (307)
Brown (316)
Boston College (317)
Vermont (369)
Hoos fight hard, but come up short twice to open ACC play
The Virginia volleyball team came up short in the fifth set against NC State in its 2022 ACC opener at Memorial Gymnasium Friday night, and then UVA outside hitter Grace Turner tied her career high of 23 kills and posted a career-best six service aces, but the Cavaliers fell in five sets (25-22, 25-20, 15-25, 14-25, 14-16) to North Carolina in Memorial Gymnasium on Sunday afternoon.
In addition to her 23 kills and six aces, Turner finished Sunday's contest with seven digs, three block assists and was 27-for-27 in serve-receive.
After dropping the first two sets, the Tar Heels (9-4, 1-1 ACC) came back to win three straight games and staring down a match point for UVA (8-5, 0-2) in the fifth. The loss was Virginia's second requiring five sets on the weekend, having dropped another heartbreaker to NC State just two days prior.
After trailing 10-4 early on in set No. 1, the Cavaliers fought their way back to win it, 25-22. Turner was behind the service line for four consecutive UVA points amid a 5-0 run by the Cavaliers to cut the UNC lead to 10-9. Later, back-to-back UVA points delivered its first lead of the game, 15-14. A kill by middle blocker Veresia Yon broke a 16-16 tie a few plays later and from there the Cavaliers held on to the lead for the remainder of the frame. Yon's third kill of the set capped the first in favor of the Cavaliers. 
In the second, Virginia put together one of its best sets of the season, after winning, 25-20. Trailing 16-15, the Cavaliers broke the game open after tallying five straight points to secure a 20-16 lead. Virginia went on to score the final three points of the set while achieving a .321 hitting percentage. Defensively, the Cavaliers were perfect in serve-receive, successfully handling all 18 UNC serves during the set. Middle blocker Abby Tadder, who finished with a match-high six block assists, led UVA with three block assists in the second as UVA totaled 4.0 blocks in the set, while the Tar Heels had none. Turner posted six kills on seven swings in game No. 2 in addition to a pair of aces. 
Coming out of the break, North Carolina leaped out to a 14-5 lead. The Cavaliers started to settle in towards the middle of the third, but the deficit was too much for Virginia to overcome as the Tar Heels got on the board with a 25-15 win. UNC hit .483 in the third after posting 16 kills on 29 swings with just two attack errors. For the second set in a row, Turner posted six kills terminated six balls, this time on 10 swings.  
Another huge lead for the Tar Heels early in the fourth proved to be the difference as UNC evened the match, 2-2, with its 25-14 win. The Cavaliers cut the UNC lead to seven twice, but the Tar Heels scored the final four points of the set to close it out. Four reception errors and just seven assists disrupted the flow of the Cavaliers' offense, which had just eight kills and hit .111 in game No. 4. 
Virginia led 10-8 to open the fifth before North Carolina scored three straight with the help of two UVA errors to grasp its first lead of the set since winning the opening point. Coming out of a North Carolina timeout, the two teams were tied 13-13 before Easton found Yon on a slide, which she put down with force to give the Cavaliers match point. North Carolina responded by scoring back-to-back points to flip the score give the Tar Heels match point, which prompted a UVA timeout. Coming out of the huddle, a Virginia attack error sealed set, 16-14, and match and delivered the Tar Heels' first ACC win of the season.
😤 𝗚𝗥𝗔𝗖𝗘 𝗧𝗨𝗥𝗡𝗘𝗥 𝗛𝗔𝗗 𝗛𝗘𝗥𝗦𝗘𝗟𝗙 𝗔 𝗪𝗘𝗘𝗞𝗘𝗡𝗗…

🏐 4.30 kills per set
🏐 Back-to-back 20-kill matches
🏐 Tied her career high of 23 kills vs. UNC
🏐 Career-high 6 aces vs. UNC
🏐 .968 reception percentage#GoHoos⚔️ pic.twitter.com/3nbuWW2Od7

— Virginia Volleyball (@UVAVolleyball) September 25, 2022
NOTES 
Turner tied her career high of 23 kills on 46 swings and had just seven attack errors to hit .348. Turner set her career high of 23 kills in UVA's five-set win over Charlotte (Sept. 9) earlier this season.
Turner also posted a career-best six service aces, the most by a Cavalier in a single match since Jelena Novakovic's six against UNCW on Sept. 7, 2018. Turner was the only Cavalier to register an ace on the day. She also successfully passed all 27 UNC serves sent in her direction.
The Cavaliers out-blocked North Carolina 12.0 to 9.5. Virginia's 12.0 blocks tied its season high, which the Cavaliers achieved in their season opener, a four-set victory over ETSU (Aug. 27) in Gainesville, Florida.
Set No. 5 featured eight tied scores and four lead changes. Both teams had match point in the fifth.
Virginia concludes its eight-match homestand on Wednesday when the Cavaliers host No. 10 Pittsburgh. First serve is scheduled for 8 p.m. on ACC Network.
Long claims gold and Rosts nets bronze at World Rowing Championships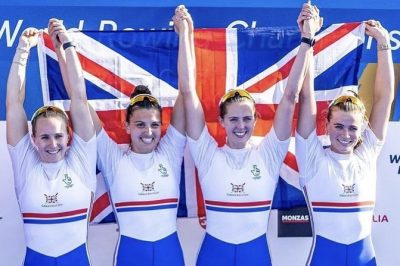 University of Virginia rowing alums Heidi Long and Morgan Rosts earned gold and bronze medals, respectively, at the 2022 World Rowing Championships this weekend in Racice, Czech Republic.
Long (2019) and the Great Britain women's four topped the Netherlands 6:26.40-6:28.63 on Saturday. Long also helped Great Britain to a gold medal in the women's four at the World Rowing Cup III with a world-best time of 6:18.64.
Rosts (2018) was part of Canada's women's eight that finished third Sunday behind Romania (6:01.14) and the Netherlands (6:05.04) with a time of 6:07.51. Rosts also claimed a a silver medal in the Canadian women's eight at the World Rowing Cup III.
Former Cavalier Hannah Osborne (2014) and New Zealand placed 10th in the women's quad at the world championships.