One More To Go As UVA Advances Past Auburn in National Semifinal, 63-62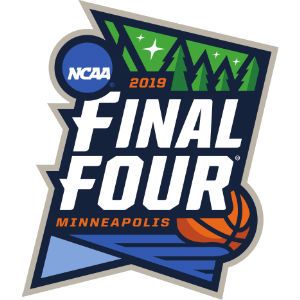 MINNEAPOLIS — Yes, Virginia. There is a national championship game Monday night, and thanks to three Kyle Guy free throws with just six-tenths of a second on the clock, the Cavaliers will be one of the participants.
UVA survived to defeat Midwest Region champion Auburn, 63-62, at U.S. Bank Stadium Saturday night, and the Wahoos (34-3) will now play for their first national title in program history against either Michigan State or Texas Tech Monday at approximately 9:20 p.m. ET.
"Survive and advance," UVA coach Tony Bennett said, "I guess that's taking on a new meaning."
A Ty Jerome 3-pointer put UVA up by 10, 57-47, with 5:21 left before the Tigers (30-10) scored 14 straight to lead 61-57 with just 17.6 ticks showing.
Guy sank a 3-pointer with 7.4 seconds left to cut it to 61-60, and Auburn's Jared Harper was fouled immediately, sending him to the line for a 1-and-1.
Harper made the first and missed the second, and Auburn had a pair of fouls to give and used them both, leaving UVA with an inbounds pass with :01.5 showing.
Jerome found Guy in the corner behind the 3-point line and was fouled by Auburn's Samir Doughty, and it came down to three tries from the charity stripe.
Guy calmly drained No. 1 and No. 2 before Auburn coach Bruce Pearl called for time.
Guy stepped to the line, knowing a make would catapult the Cavaliers to a place they've never been. And it dropped home.
"These are moments that every basketball player has dreamed of, hitting the game-winning shot, or free throws, or whatever," Guy said afterwards. "Kind of had that feeling in your stomach, like a good nervousness, like, 'Alright, this is my chance.'
"To be able to go to the National Championship off of that for these guys and Coach Bennett, I mean, I really don't have the words."
The Tigers heaved one down the floor to no avail, and the final horn sounded.
"Chaotic, man," Jerome said of the final sequence. "Just like the last game we had. You know we always believe and Kyle made a great cut and came up really clutch on making three free throws."
The Auburn faithful booed the call heavily, and the Tiger bench argued that Doughty did not commit a foul.
"I do feel for Auburn, but I feel better for us right now, and I'm just thankful these guys stepped up and played the way we needed to and got through," said Coach Bennett.
A statement was sent out by J.D. Collins, the national coordinator of officiating, after the game, regarding the call.
"With 0.6 seconds remaining in tonight's national semifinal game between Virginia and Auburn, Virginia's Kyle Guy was fouled on a three-point attempt by Auburn's Samir Doughty," the statement reads. "The call was made by official James Breeding, who ruled that Doughty moved into the airborne shooter, making contact with Guy while taking away his landing spot.
"The foul was a violation of Rule 4, Section 39.i, which states, 'Verticality applies to a legal position and also to both the offensive and defensive players. The basic components of the principle of verticality are: The defender may not 'belly up' or use the lower part of the body or arms to cause contact outside his vertical plane or inside the opponent's vertical plane."
Trailing by three at the half, Virginia scored the first eight points (highlighted by a Kihei Clark strip of Jared Harper followed by an easy lay-in on the other end) of the second half, while Auburn misfired on its first eight field-goal attempts out of the break, giving the 'Hoos a 36-31 lead.
Harper finally got one to drop from long range at the 14:11 mark, and then Samir Doughty followed that up with a score off of a Cavalier turnover to quickly get the Tigers back to even.
A Doughty 3-ball got Auburn back within a point, 44-43, at the midway point of the second half, but Clark answered with a deep one from the opposite corner, then Jerome sank another to give the 'Hoos a 7-point advantage.
Auburn would not go away, trimming it back to three on a Harper triple from straight away in transition, but again, the Wahoos had an answer as Jerome beat the shot clock with a tough shot in the lane. UVA sophomore forward De'Andre Hunter took charge out of the locker room, scoring 8 of his 14 points over the opening seven-plus minutes, and muscled his way through a double team to make it 54-47 with 5:58 to go.
After Jerome's big 3 that put the 'Hoos up by 10, he picked up his fourth foul less than a minute later and watched from the bench until there was 2:55 left. Diakite missed a pair of free throws with UVA up by just 1 with 2:17 to play, and then Jerome misfired on two 3-point tries in the final 1:25, but in the end, Guy's heroics under intense pressure saved the day once again.
The Cavaliers started the contest the best way possible, forcing a shot-clock violation on Auburn's opening possession.
Mamadi Diakite scored the first basket of the Final Four, his only two points of the half, and a Guy 3-ball put the 'Hoos ahead 8-4, but Auburn's leading scorer Bryce Brown answered right back with a triple of his own at the 15:53 mark.
The Tigers took their first lead after the initial media timeout and led 13-10 before a Cavalier spurt briefly swung the momentum.
Guy scored on a Clark steal, then Jerome got bumped on a runner but couldn't complete the three-point play. After a Hunter jumper, Jerome drove another one home to complete a run of 8 straight, and the Cavaliers matched their largest advantage of the half, 18-13, with 8:36 left in the half.
Harper scored his first basket of the game with 4:13 to go, putting the Tigers back up, 24-22.
Jerome finished the half nailing a pair of 3-pointers — both made possible by his teammates' offensive rebounds — but Anfernee McLemore had the last laugh, sinking a 3-ball with 40 seconds showing to snap a 28-28 tie and give Auburn a slim lead at the break.
Jerome led all scorers with 21 points, and also led the Cavaliers in the rebound category with 9 and the assist category with 6. Guy finished with 15, Hunter added 14, and Clark offered 9 points, while Diakite posted a career high with 5 blocks.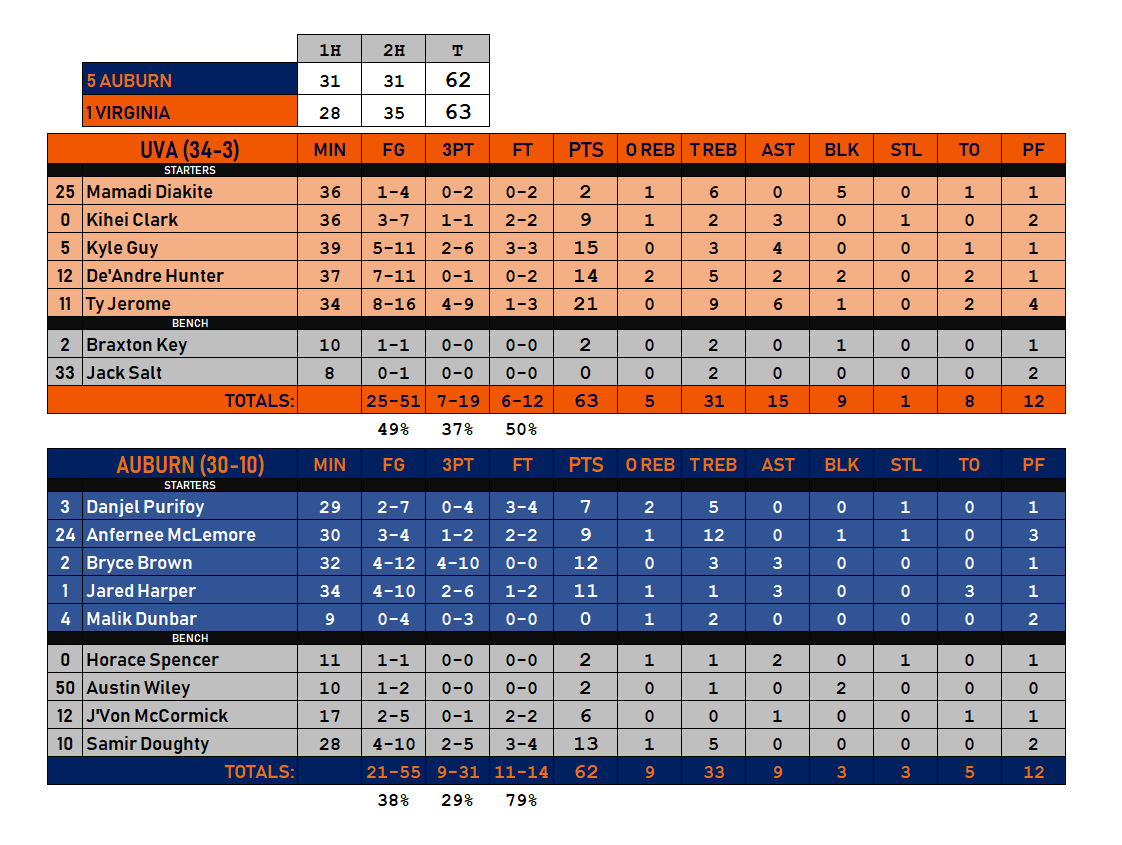 Comments