Opponent Preview: Miami Hurricanes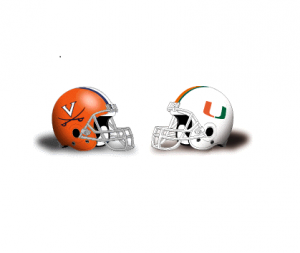 EDITOR'S NOTE: This is the sixth in a 12-part series previewing Virginia's football opponents, in order of schedule.
By Jerry Ratcliffe
Miami hasn't won a conference title in football since taking the Big East crown in 2003. The Hurricanes likely won't end that streak this season in the ACC, but new head coach Manny Diaz vows that things will be different at "The U."
Diaz was there at Yankee Stadium last December when the 'Canes were crushed 35-3 by Wisconsin in the Pinstripe Bowl. Shortly afterward, Diaz left his role as Miami's defensive coordinator to become head coach at Temple.
In a whirlwind turnaround, before Diaz could comfortably find his way in his new surroundings, he was back on a plane to Coral Gables after Miami head coach Mark Richt surprisingly retired. Still, the bitter taste of a lopsided bowl loss lingered with Diaz as he set out to return "The U" to football glory.
"We're not what we were when we limped off the field last December," Diaz said at the recent ACC Football Kickoff event in Charlotte. "What team we are, I'm not really sure yet. We'll get an idea when we get back together [in August training camp]."

He may need a program to become familiar with all the new personnel as Miami led the ACC in transfers during the offseason, including safety Bubba Bolden from Southern Cal, defensive back Trevon HIll from Virginia Tech, wide receiver K.J. Osborn from Buffalo, along with several others.
The Hurricanes return four starters on offense, six on defense to a team that finished 7-6 last season after starting at No. 8 in the AP Top 25 poll. A four-game slide in the middle of the season seemed to take the life out of the squad before it finished the regular season with wins over Virginia Tech and Coastal Division champ Pitt.
Diaz will have his work cut out, but he knew exactly where to begin when he returned to the program.
"Our whole focus is to learn how to be defined by our toughness and our level of competition, which is really what Miami has always been founded on," Diaz said. "There are certain things that have been a specific recipe for success for Miami when that recipe is followed."
Toughness, swagger, big plays have been part of that winning recipe. Diaz knows all about those intangibles. That's one reason he created the "Turnover Chain," to inspire his defense to boast those qualities.
When Richt was fired at Georgia, fans at "The U" were excited to gain a coach of his success and experience. Plus, he was a Miami grad, having played quarterback for the Hurricanes. He brought back belief that Miami could be a top program again, so when he called it quits without warning, the greater Miami community was bummed out.
Diaz, a native son, is hopeful that he can continue where Richt left off. The son of the former mayor of Miami, Diaz knows all about the community he grew up in, knows all about the "U's" history with the city.
"Our community is massive. We are Miami's team," Diaz said. "The University of Miami has always had a great connection with the Miami community.
"Going back to the '80s, there has been a reflection to who our kids were, and how our kids played, and who the fans were in the stands. Our stands are not filled with alumni. Our stands are generally filled with the people of South Florida and those people want to see an extension of themselves on the field. That goes to the style of play, to the passion the team plays with, the amount of fun they're having, and the toughness that they play with."
Diaz is aware more than most of the value of community support, and is well aware as to why.
"We're Miami. We're way down there at the end, kind of like a cul de sac," he said. "The rest of the country generally tends not to like Miami. We need our community because if they're not for us, nobody else is going to be for us. We're kind of the team that people generally like to see lose. It's important that we restoke that Miami versus the world culture that was so good for us in the past."
Diaz wasn't pleased with how the Hurricanes faltered under adversity last season and may have a good idea of why that happened.
He said that the team played at different levels on different days and pointed out that not everyone on the roster may be up to the challenge. Diaz and staff spent the summer trying to identify "who's in, and not's not."
The Hurricanes' former defensive boss remains close to Richt, and is thankful for what Richt did for Miami's program. He said the program is in infinitely better shape in 2019 than it was in 2016 when Richt took over.
"All I have to do is look in my office every day," Diaz said. "We have a brand new indoor practice facility with brand new offices. It's not even the same football program it was four years ago. No slight on the coaches before Coach Richt. Everyone knew that Miami needed [improvements] for a long time.
"But it took a guy like Mark Richt, with his vision and leadership skills, to galvanize the community, to get everybody to step up to fix a longstanding wrong. The [coaches] before Coach Richt could have done better if they had [the improved facilities] too. I'm the fortunate one that gets to benefit from the heavy lifting of the men that came before me. I'm well aware of that."
Diaz said that because he came from the "inside" of the program, that he had the ability to diagnose what was wrong with Miami, something that might take a new coach from the outside much longer to discover. Diaz said he knows the (chemistry or lack thereof) Miami locker room, the coaching staff, the administration, and the things the program stumbled on.
"Three things I could easily identify within the first two weeks on the job that I felt like needed instant improvement for us to compete at the level we should compete," Diaz said.
The first thing was to fix the offense. He believed everyone on that side of the ball, coaches and players alike, needed to become more accountable. Secondly, he had to fix the weight room.
"That's where your culture is," Diaz said. "If I see a team that's not competing at all times, usually that's kind of a hidden thing. How a team plays is often determined in the weight room. There were some things in there we thought we could improve."
The third item Diaz recognized was recruiting. He believes Miami has to recruit at a higher level that it has in recent years.
Most recruiting analysts believe that Miami has underperformed considering the talent that has been collected in the program.
Part of the offensive problem may be solved depending on who Diaz selects as the team's quarterback. Last season it was musical chairs at the QB position, which created great inconsistency.
N'Kosi Perry, who started six games as a redshirt freshman last season, was highly inconsistent, but has reportedly worked harder in the offseason and is taking his role more seriously. He battled in the spring with Ohio State transfer Tate Martell and redshirt freshman Jarren Williams.
Diaz wasn't comfortable naming a starter in the spring and said that he will delay his decision until after the second scrimmage of training camp. 
"I'm hoping that with the work [the quarterbacks] did over the summer that it will be rather obvious by that moment," the coach said.
With Miami opening up the season against rival Florida (Aug. 24 in Orlando), it will be important to select the right starter beforehand.
The quarterback will be surrounded with plenty of weapons led by returning running back DeeJay Dallas, who rushed for more than 600 yards as a backup last season. Miami's backfield is deep and there are plenty of targets in the passing game as well with Jeff Thomas returning after leaving the program late last season. Tight end Brevin Jordan is one of the best in the conference.
Main problem on offense is a rebuilt offensive line.
Defensively, the Hurricanes should be solid, even with the loss of unblockable tackle Gerald Willis and pass rusher Joe Jackson at end. Miami is loaded at linebacker, led by Shaquille Quarterman. All four starters return in the linebacking corps and the secondary is solid.
COMING LATER TODAY: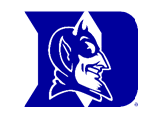 Comments