Opponent Preview: Old Dominion Monarchs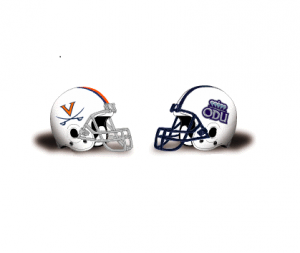 EDITOR'S NOTE: This is the fourth in a 12-part series previewing Virginia's football opponents, in order of schedule.
By Scott Ratcliffe
For a football program that has only been resurrected for a decade, Old Dominion has come a long way. Head coach Bobby Wilder built the program from scratch as far back as 2007, a full two seasons before his Monarchs would take the field.
A decade later, Wilder still faces issues with filling his roster, as evidenced by 48 — count 'em — 48 new players on campus.
First, for Wahoo fans that don't know much about the relatively young program, here's a brief history.
Known then as the William & Mary Norfolk Division Braves, the school competed in football from 1930 until 1941, when the program was discontinued for a myriad of reasons.
In 2005, the decision was made to restart the football program at Old Dominion University, and Wilder was hired in 2007.
Beginning as an FCS independent in 2009, ODU finished 9-2 in its inaugural season, then went 8-3 in 2010 before joining the Colonial Athletic Association in 2011. The Monarchs reached the top 10 and finished 10-3 that season, advancing to the second round of the FCS playoffs.
Wilder took his team a step further in 2012 behind the play of star quarterback Taylor Heinicke, who became the first player to throw for 5,000 yards in an FCS season. ODU was a No. 4 seed and advanced to the FCS quarterfinals and finished 11-2. Heinicke put Old Dominion on the map and went on to win the Walter Payton Award (the FCS version of the Heisman) that season as a sophomore.
ODU was an independent FCS school again in 2013 before transitioning to a member of Conference USA in the Football Bowl Subdivision (formerly known as Division I-A) in 2014.
Since then, the Monarchs have gone 1-5 against the ACC, and their only winning season came in 2016 (10-3, bowl win).

A 49-35 upset win by the 0-3 Monarchs over then-No. 13 Virginia Tech in Norfolk briefly put the program in the national spotlight last September. The Monarchs went on to drop their next three games to fall to 1-6 and couldn't recover, finishing 4-8 overall (2-6 in Conference USA).
Heading into this season, Wilder revealed the fitting team motto for the upcoming campaign during Conference USA's recent media day.
"For us, our theme this year, this is a 'New Year, New Team,'" the coach said.
That also includes a "new" stadium. ODU's S.B. Ballard Stadium has been undergoing a massive $67.5-million renovation project — fresh with thousands of new seats, a new scoreboard, sound system — that will all be ready for the home opener against Norfolk State on Aug. 31.
"It's a landmark occasion," Wilder said. "It's not only something that's incredibly important to our program and the athletic department, but to the university to have a venue like that … now you've got a 22,000-seat football stadium that's first class. It's going to be the best facility in the league. It's been a huge boost for our players because of their excitement level to play in it, but then also for our program in terms of our fan base and how much we appreciate them, and also for recruiting."
The Monarchs graduated 21 seniors from last year's squad. With those 48 incoming players joining the ODU roster, nearly half of the team is new. That number includes 28 freshmen, 14 junior college transfers, four graduate transfers and two additional transfers.
"That's the most important thing that's happening right now, is that blend of veteran players that we have working with those new players that arrived," Wilder explained, "and what's been most encouraging is how excited those new players are to be here. They're excited to represent Old Dominion, they're excited with the new stadium that's coming on line and the opportunity to play this year, so it's been a good spring and summer for us." 
ODU was picked to finish 6th in the Conference USA's East Division, which is exactly where the Monarchs finished in 2018. No Old Dominion players showed up on the preseason all-conference teams, as chosen by the 14 head coaches.
The biggest shoes to fill will be those of quarterback Blake LaRussa, along with his top two receivers — Jonathan Duhart and Travis Fulgham — who all graduated. The team's second-leading rusher, Jeremy Cox, has also moved on.
LaRussa threw for over 3,000 yards, while Duhart (74 catches for 1,045 yards) and Fulgham (63 catches for 1,083 yards) each caught 9 of his 19 touchdown tosses. In the win over VT, LaRussa put up 495 yards and 4 TDs, with Duhart and Fulgham combining for 330 yards and 4 TDs.
Junior-college transfer Messiah deWeaver is the new projected starting quarterback, although he will have to win the job over fellow JUCO dual-threat signal caller Stone Smartt, along with returning QBs Jonah Fitzgerald and Steven Williams, who could possibly see more time at receiver.
Wide receiver Eric Kumah (6-2, 220 pounds) will add a spark to the offense after transferring from Virginia Tech, along with Hokie tight end grad transfer Chris Cunningham.
Kumah was second in receiving for Tech last season with 559 yards and 7 touchdowns. Cunningham appeared in 18 games in three seasons for the Hokies, recording 22 catches for 297 yards and 7 scores.
ODU only returns three starters on offense, but will have leading rusher Kesean Strong (499 yards, 9 touchdowns) back in the fold. Strong, who was recently named to the watch list for the Doak Walker Award, is also the team's leading returning receiver (21 catches for 177 yards and 2 TD in 2018).
He'll be running behind team captain Isaac Weaver, a 6-foot-6, 295-pound junior lineman who could use some help up front, protecting whoever emerges as the starting QB.
"That's the most veteran player we have on our team, going into his junior year, in terms of games started," Wilder said of Weaver. "He started all 24 games at Old Dominion as an offensive lineman, primarily at left tackle, and this year you may see him some at guard, he may play center. We're going to put our best offensive lineman in the position that we feel like we need him the most, and we'll determine that through the summer."
The Monarchs bring back seven starters on defense, led by linebacker Lawrence Garner. Garner, who was named to both the Bednarik Award and Nagurski Trophy watch lists, missed a pair of games as a sophomore in 2018, but still managed to lead the team in tackles with 100.
"He's primed to just have a huge year this year," said Wilder of Garner's potential.
Linebacker Oshane Ximines, who led the team with 11.5 sacks, became the school's first professional selection when he was selected by the New York Giants in the third round of April's NFL Draft.
First-year defensive coordinator David Blackwell brings a 4-2-5 base over from East Carolina, on a defense that will feature 11 JUCO transfers.
Despite the key losses and new faces, spirits are high around the program, with an eye on the future. That includes two additional scheduled meetings in the UVA-ODU series. Virginia will play in Norfolk on Nov. 21 next season, and then the Monarchs will play at Scott Stadium in September of 2022.
Monarch Tidbits
# ODU's shocking win over the Hokies was a nominee for the ESPY Awards' Best Upset. This little nugget comes from ODU Athletics: "According to ESPN's Football Power Index, ODU had a 1.8 percent chance of beating the Hokies prior to kickoff. This marked the biggest upset by an FBS team in the 14 years of ESPN's Football Power Index predictions."
# After 26 years at Virginia Tech, including 13 seasons as offensive coordinator, Bryan Stinespring is in his first year with ODU as tight ends coach and run game coordinator.
# There is a strong UVA connection to ODU, as head basketball coach Jeff Jones starred and coached for the Cavaliers, while his assistant, Bryant Stith, is still the Wahoos' all-time leading scorer. Old Dominion's athletic director, Wood Selig, was formerly associate AD at Virginia in the 1990s.
COMING MONDAY:

Comments