Orange sink the 'Hoos in OT for first losing skid in nearly three years
For the first time in three seasons, Virginia's men's basketball team has dropped back-to-back games. Syracuse got hot late and prevailed in overtime, 63-55, at John Paul Jones Arena Saturday, giving UVA its first losing streak since the Cavaliers fell in four straight ACC contests in February during the 2016-17 season.
The 18th-ranked Wahoos (11-4, 3-2 ACC) have now lost three of their last five games, and once again a slow start and an overall poor performance from 3-point range, combined with too many costly turnovers, contributed to the eventual outcome.
Neither team was shooting the ball well, as only a combined 86 points were scored (43-43) during regulation, but the Orange's shots started falling in the extra frame.
"We got the ball in certain spots there but we couldn't come up with key stops," Tony Bennett said of the overtime woes. "[Syracuse] made some tough shots and we had some breakdowns. The ACC, for a lot of teams, is whoever comes ready and plays the best."
Syracuse (9-7, 2-3) knocked down three in a row from long distance — one from Elijah Hughes, one from freshman Joseph Girard III and one from the coach's son, Buddy Boeheim — in the span of a minute to make it 52-45 and ultimately decide the contest, as UVA never got closer than five from there.
"That's tough to come back from," Jay Huff admitted of the 3-point barrage. "I mean, a lot of it was that [the Orange] made shots and we didn't."
Huff, who led the Cavaliers with 16 points to go with 10 rebounds (8 of them on the offensive end) and a pair of blocks, emerged from his recent offensive struggles, connecting on 7 of his 12 attempts in a season-high 41 minutes, but the Orange had too much for the 'Hoos in the OT period.
Buddy Boeheim added a jumper in the lane and then a long, desperation 3-pointer to beat the shot clock that banked in and rolled home to put things out of reach, all right in front of his father, Jim, who watched in amazement from the sideline.
"He's out there to shoot," said the elder Boeheim — who was coaching in his 75th career overtime game— of his son's performance from the outside. "If we had another shooter to come in it would be different. It's unfortunate that he's my son because people will say, 'He's playing his son.' No, I'm playing the best shooter. He's the best shooter in the league and he's one of the best shooters in the country."
The long bombs spoiled another Virginia second-half comeback. The 'Hoos had erased a 30-23 deficit with a 12-0 run to take their largest lead of the day, 35-30, with just over 12 minutes to play.
UVA then went scoreless for seven minutes before Braxton Key ended the drought with a jumper that put his team ahead, 37-36, with five minutes remaining.
Huff, who also double-doubled the first time around against Syracuse, jammed home back-to-back dunks — the latter that followed up a Mamadi Diakite missed slam — to put the 'Hoos back in front, 41-40, with 3:18 left.
Buddy Boeheim answered with another big 3 from the corner to put the pressure back on the Cavaliers. Kihei Clark didn't have his best day offensively, but knocked down a pair of clutch free throws to tie it up at 43 and ultimately send it to OT.
Hughes missed twice in the final minute of regulation and UVA had a chance to win it with the last shot, but Clark missed a 3-pointer and there was a scramble for the rebound before time ran out on the second half.
Diakite briefly gave the 'Hoos an overtime edge, 45-43, with a basket 25 seconds in, but it was all Orange from there. Girard III nailed one last deep-ball dagger to cap a 17-6 Syracuse spurt with 46 seconds left before Diakite and Tomas Woldetensae added two last-minute triples to make it respectable.
The Orange led by seven late in the first half before a Clark 3-pointer and a Huff dunk in the closing seconds trimmed it to 24-20 by the break. Virginia is now 0-4 when trailing at halftime, and also 0-4 when allowing 60 or more points in a game (the 'Hoos are a perfect 11-0 in all other contests this season).
Girard III led all scorers with 19 points (5 for 11 from deep), while Hughes added 18 points (4 triples) and 9 rebounds. Boeheim had 14 points and 3 more from downtown as Syracuse shot 32.8 percent from the field (20 of 61) and 40 percent from 3-point range (12 for 30).
For the 'Hoos in addition to Huff, Clark finished with 13 points, 6 rebounds and 9 assists, while Diakite contributed 13 points and 8 boards. Key had 7 points and team-highs of 11 rebounds and 4 steals.
UVA shot 31.3 percent on the evening (21 for 67), and once again struggled from beyond the arc, making just 7 of an eye-popping 31 attempts from long range. Virginia won the battle on the boards, 47-44, but turned the ball over 15 times.
It doesn't get any easier for the Cavaliers, who hit the road for three of their next four, beginning with No. 10 Florida State on Wednesday at 7 p.m. on ESPN2.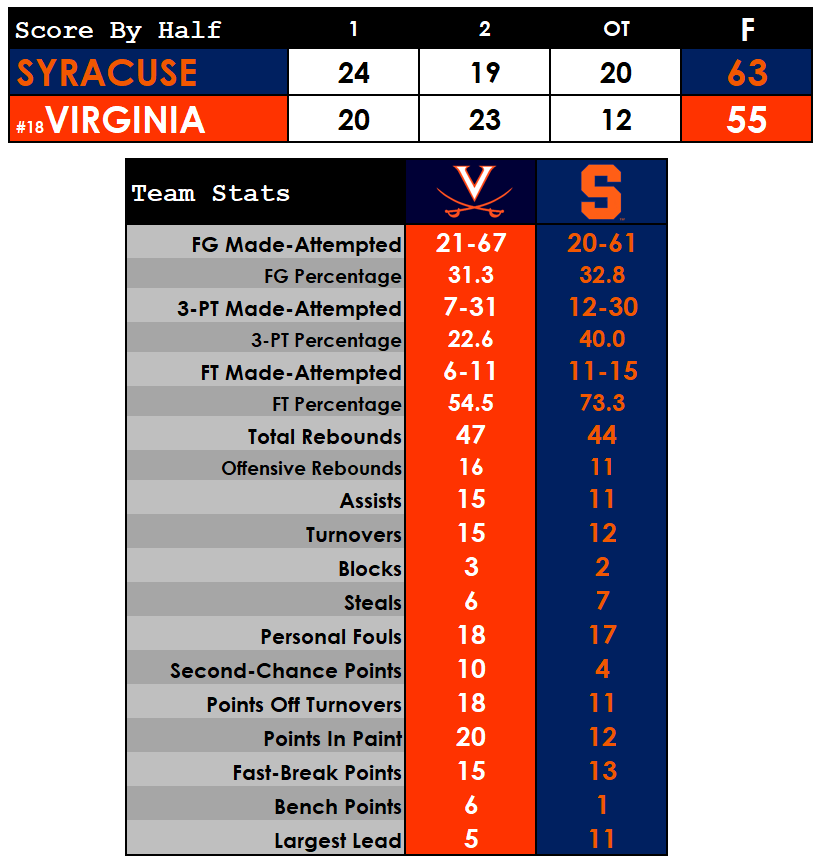 Team Notes
The loss snapped UVA's four-game winning streak vs. Syracuse
The Cavaliers have lost back-to-back games for the first time since 2016-17 ( Duke and North Carolina)
UVA 5-10 all-time in overtime under Bennett
The loss ended UVA six-game ACC home winning streak
UVA went on a 12-0 run to gain a 35-30 lead at 12:03 second half (Syracuse scoring drought 6:49)
UVA shot a season-low 31.3 percent (21 of 67) from the floor
UVA matched a season-high with 47 rebounds (47 at Syracuse in season-opener)
Series Notes
UVA is 8-6 all-time against Syracuse, including a 7-2 mark in ACC action, in the series that dates back to 1983-84.
The Cavaliers are 3-2 against the Orange at John Paul Jones Arena.
UVA has held the Orange to 68 or fewer points in each of the last 10 meetings between the teams.
Head coach Tony Bennett is 7-3 all-time against Syracuse.
Player Notes
Double-figure scorers: Jay Huff (16), Kihei Clark (16), Mamadi Diakite (13)
Huff recorded his second career double-double with a career-high tying 16 points and 10 rebounds
Huff recorded his first double-double in the season-opener at Syracuse
Key tied a career high with 11 rebounds
Clark had a game-high nine assists

Comments