Out of Sync 'Hoos Lose in Derby City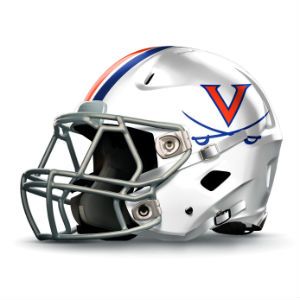 By Jerry Ratcliffe
LOUISVILLE – Maybe the next time Virginia travels to Derby Town to play football, Bronco Mendenhall should borrow some of that kryptonite from Tony Bennett.
While Bennett has had an overflow of success at Louisville in basketball – so much that former Cardinals coach Rick Pitino said UVA was his kryptonite – Mendenhall has experienced the opposite effect.
Saturday night was just another example. The Cavaliers were out of sync offensively – no surprise to many of its followers – but the defense couldn't seem to play to its standard in a rain-soaked 28-21 loss. It was another frustrating road loss for Virginia, its third straight defeat away from the friendly confines of Scott Stadium. In a game that really wasn't as close as the final score indicated, the Cavaliers couldn't find success in Louisville.
UVA got its final score with only 21 seconds to play, which drew the Cavaliers within a touchdown, and recovered the onside kick to no avail as the game ended on an unsuccessful Hail Mary pass from quarterback Bryce Perkins to triple-covered Terrell Jana in the end zone.
While Mendenhall's team owned a 14-7 halftime lead and felt confident it would expand the lead in the second half, the offense laid an egg while the defense couldn't handle Louisville's adjustments to its run game.
Mendenhall cited several reasons why things fell apart for the Cavaliers, now 5-3 overall and 3-2 in the ACC, but still tied with next week's opponent, North Carolina, for the Coastal Division lead.
In what he described as a difficult loss, the coach said his team blew assignments on three key Louisville running plays, failed to play well defensively on third down, turned the ball over too much (a Bryce Perkins' interception and a Joe Reed fumble after catch), and that his offense seemed out of sync, which comes to absolutely no surprise to UVA followers.
He also blamed himself for not having coached the team well enough to compensate for its troubles on the road. Virginia hasn't won on the road since its season-opening victory at Pitt.
While Mendenhall was willing to fall on the sword as CEO of the team, Cavalier fans would prefer to point the finger at offensive coordinator Robert Anae for an anemic offensive effort in its three recent losses. During that span UVA went seven consecutive quarters without scoring a touchdown, had six trips inside the red zone at Miami and came away with a mere three field goals, and had it not been for Perkins' late scoring pass in the final minute at Louisville, he would have gone three straight games without a TD toss.
Really, it appeared on paper and on film that Virginia's offense would have a great opportunity to break out of its slump against Louisville, which was giving up 33 points and 455 yards of offense per game.
Yes, the Cavaliers scored 48 in its recent home win over Duke, but that was greatly aided by five Blue Devil turnovers, awarding the UVA offense with short field position on several of those scoring drives.
For an offense struggling to run the ball most of the season, Louisville seemed as if it might be the answer to UVA's rushing woes. The Cardinals were giving up 217 yards per game on the ground.
In fact, Anae's offense did have some early success, putting up 60 yards on 12 attempts in the first half as tailback Wayne Taulapapa struck for two rushing TDs. Not so much in the second half as the Cavaliers resorted back to their old ways, running the ball 14 times for a mere 18 yards.
Part of the problem was an injured Perkins coming out of the game midway through the third quarter with an apparent right knee injury. Wahoo fans held their collective breath when the team's top offensive weapon limped off the field. However, just like he did at Georgia Tech last season, he shook it off on the sidelines and returned to the game.
"We certainly did [expect to run the ball better] and we certainly thought it would yield more points," Mendenhall said afterward. "Bryce's injury early on had some impact, but yeah, I was surprised we werent able to control the ball more, move the ball more and maintain more momentum."
Taulapapa, who finished with 55 yards on 11 attempts, said that Louisville did a good job of adjustments to its run fits.
"It was more of just shooting ourselves in the foot," Taulapapa said. "We have to fix a lot of those things and play the whole game to help the offense be what it's supposed to be."
Offensive guard Ryan Nelson, who told media this past week that he had pledged to Perkins' mother that he would protect her son, felt poorly after the game that Louisville posted four sacks in the game and provided the scary moment that every Cavalier fan dreads.
"We were trying to find out who hit him, looked around and found out, then figured we had to protect Brennan (Armstrong, Perkins' backup). We've got to keep him standing up," Nelson said. "We started out running the ball well. That was a great job by [the offensive line] and Wayne, and then we just slowed down and we can't afford to do that anymore."
Defensively, the Cavaliers were in for a challenge. Louisville is an explosive team capable of putting up big numbers, such as the 62 it scored on Wake Forest a couple of weeks ago.
While UVA contained that attack in the first half limiting the Cardinals to 187 yards (they average 457 per game), that all fell apart quickly after the break.
Virginia, the No. 8 team in the nation in total defense, No. 4 in QB sacks, and No. 14 against the run, couldn't live up to its great reputation.
The Cardinals, behind speedy quarterback Malik Cunningham and freshman running back Javian Hawkins, sliced and diced the Wahoos for a total of 227 yards on the ground, almost triple the normal real estate Virginia gives up in a game.
"[Louisville] had a very good game plan with the stretch [play] and the quarterback keep as well," said UVA defensive lineman Eli Hanback. "We were very confident [at halftime], held them to seven points. As a team, we didn't come out and play complementary football. You can't win when you don't do that."
It didn't help that the Cavaliers lost defensive captain, linebacker Jordan Mack, in the third quarter to a targeting call that Mendenhall strong disagreed with. Still, Virginia had difficulty filling its gaps consistently.
"The quarterback and running back could break it because they were fast guys, very quick, very shifty," Hanback said. "If we were off the gap at all, they could hit a crease and go."
That's exactly what Louisville did as Hawkins stacked up 136 yards rushing, while Cunningham added 97, as the duo accounted for three rushing touchdowns.

Comments