Perkins had superstar written all over him from the first time he set foot at UVA
By Jerry Ratcliffe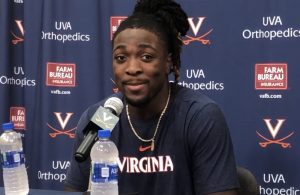 I'll never forget meeting Bryce Perkins for the first time. It was a cold day in Charlottesville, even colder if you were accustomed to Arizona's climate, where Perkins grew up and played college football before crossing the country to seek his quarterback fortunes.
I arrived at the McCue Center early and spent some time chatting about Perkins with Jim Daves, UVA's assistant AD for media relations, before Perkins' scheduled arrival. We were standing in the hallway at McCue, where media traditionally will interview players and coaches on bad-weather days, just outside the weight room.
Meanwhile, an old friend — Marques Hagans — came by. I had known Hagans ever since he was a senior at Hampton High School, then to Fork Union Military, then to UVA.
I remember sitting in Hampton coach Mike Smith's office one afternoon, having accompanied Virginia recruiting coordinator Danny Wilmer on his trip. Wilmer was looking for talent, and made that clear every time he walked into a coach's office on recruiting trips.
"Got anybody that can help us beat Florida State?" Wilmer would always ask the coach.
Smith, who had great respect for Wilmer, and vice versa, answered like this:
"Hell, Danny, the best athlete in the state of Virginia is right there under y'alls noses at Fork Union," Smith said.
He was referring to Hagans. Smith was right, and Wilmer knew it. UVA pursued Hagans, who had committed to Indiana in hopes of becoming the next Antwaan Randle El, and convinced him to stay home.
If you're a Wahoo fan, you know the rest of the story, how Hagans did help Virginia beat Florida State in 2005. His performance was so good that Seminoles coach Bobby Bowden came as close to cursing as he ever has, stating, "We couldn't stop that dadgum No. 18."
No. 18, of course, was Hagans, who was spectacular.
Moving forward to that moment in the McCue Center hallway, I asked Hagans, the wide receivers coach at UVA, what he thought about the junior-college transfer quarterback.
Hagans shot back, "Dynamic."
I pushed him to elaborate. Hagans said he was the most dynamic player UVA had featured in a long, long time.
"Since, maybe … you?" I asked Hagans, who answered with a big smile.
My interview that day with Perkins was great. He was candid and positive-thinking. He truly intended on leading the Cavaliers to glory, no question about that. He was a big guy at 6-foot-3, 215 pounds.
He intrigued me more than most football players who have come through, and the more I researched, the more people I talked to from his past, the more impressed I was. Amazed, actually.
I talked to his father, Bruce, a former NFL running back. I talked to his brother, Paul, a present free-agent NFL running back. Talked to his college coach. Talked to an opposing junior-college coach who raved about Perkins.
Man, this guy seemed like the real deal. It didn't take long for Perkins to prove that point, engineering UVA's football turnaround to a bowl win over South Carolina his junior campaign, and to a win over Virginia Tech to capture the ACC's Coastal Division title and championship game appearance against defending national champion Clemson his senior season. He closed his career with a strong performance against Florida in the Orange Bowl, having taken the Cavaliers to places they had never been.
Along the way, he broke UVA's career record for total offense (7,910 yards) in only two seasons.
Fast forward to present day. Perkins had been in California for the past several weeks to prepare for the upcoming NFL Draft. Because of the Covid-19 virus that essentially shut down the state of California, Perkins came back to Charlottesville last week in hopes of continuing his training here.
While out west, he worked out at 3DQB, which is the complete quarterbacks camp with an impressive list of clients, such as Tom Brady, Drew Brees, Matt Ryan, Jared Goff, Eli Manning, Marcus Mariota, Carson Wentz and more.
Perkins decided to enter that camp when he was snubbed by the NFL Combine and the college all-star games. I was curious how that effected him, and wondered if it inspired him to prove to them what they missed.
"Yes, definitely," Perkins said. "With me not getting invited to the combine or any all-star games, lots of opportunities for a lot of teams that couldn't see me.
"Especially after the combine, I was motivated to train hard, especially that following week. It was like I was training for the Super Bowl. After that, I kept that mindset of playing, practicing, preparing with that chip on my shoulder because I know I'll get my start, and when I do, I want to make it stick."
UVA coach Bronco Mendenhall said last week that he felt the NFL and the all-star games not only missed but missed badly on not inviting Perkins to participate, even though neither are traditionally friendly to dual-threat quarterbacks. Still, Mendenhall revealed that there were at least three NFL clubs that have shown real interest in Perkins, with all three hoping the Virginia QB remains off most teams' radar.
Since returning to Charlottesville, he has worked out with some of his former UVA teammates, including Joe Reed. With gyms being closed, Virginia strength and conditioning coach Shawn Griswold gave players workouts to follow, different exercises that players weren't accustomed to, but yet effective.
When he was back home in Arizona for a short period, he would have someone at his old high school to get his workouts and throwing drills on video in order to show scouts.
"Film speaks for itself and that's the biggest selling point for anybody going into the draft," Perkins said. "I want to make myself a masterpiece for teams when they come to see," Perkins said.
While at the 3DQB experience, he worked with Adam Dedeaux (CEO/motion performance expert), Tom House, Ph.D. (motion performance expert), John Beck (motion mechanics instructor) and Taylor Kelly (motion performance expert).
While there, Dak Prescott of the Dallas Cowboys was there to work out, along with the Falcons' Ryan and the Rams' Goff. Perkins made a point of watching them closely to pick up anything he could.
He also did a lot of boardwork at camp. He has done Facetime with teams and was able to show them his knowledge on the boards, which he said definitely helped because he wasn't able to work out for teams physically but could show them what he was all about mentally.
Somewhere along the way, someone recorded a video of Perkins performing what appeared to be a more-than-challenging box jump, which he accomplished, and posted on Twitter (see below).
Standing broad to 60" box jump 🤙🏾

🎵 -Jesus x @HerccAZ pic.twitter.com/cz5inSRE7u

— B Perk (@3_ToDaNeck) February 21, 2020
"The box was 63 inches," said Perkins, who had been known to hurdle a defender or two during his career. "I was surprised.
"I was thinking, there's no way I can get this and that if I did get it, it would probably be by one foot and I'd have to get somebody to catch me."
He credited Cedric Middleton, his weight and speed guy, for preparing him for such a challenge.
Former teammate Bryce Hall saw the video.
"Yes, I did see the ridiculous jump from my boy on Twitter," Hall said. "Obviously I saw what a freakish athlete he was at UVA, so it didn't surprise me."
As Perkins said on my radio show while he was training in California, he believed that the NFL is more open-minded toward drafting a dual-threat quarterback now due to the success of athletes such as Lamar Jackson, Taysom Hill and others. Perkins reiterated his thoughts a few days ago during the interview.
"Definitely, [Jackson's] MVP season opened the door for a lot of people," Perkins said. "It's kind of the way the league is going anyway. You see a lot of teams struggling with their offensive lines, so the need for a mobile quarterback to go out and create and make off-script plays is at an all-time high right now.
"So many quarterbacks who are mobile now have opened it up for everybody who dreamed of playing quarterback and were told they were too athletic. I've always hated that label. There's a lot of guys beyond me and Jalen Hurts (Alabama/Oklahoma) who are athletic, but are better quarterbacks who happen to be athletes."
There have been some thoughts as to whether Perkins would work out for an NFL team at a position other than quarterback because he is a freakish athlete, who runs like a running back.
"Uh … yeah, in the right system," Perkins said with a little hesitation. "I would have to ask a few questions about the whole thing as far as would this be a permanent change or a Taysom Hill-type of role."
Hill, the former dual-threat QB for BYU, has been a hybrid of sorts for the New Orleans Saints, sometimes running kind of a 'wildcat' scheme, other times lining up like a regular quarterback, occasionally having been used as merely a decoy.
"Whatever would give me the best option for the 53-man [roster]," Perkins said. "I'm not opposed to it. I'd just want to know what they're planning going into it instead of being blindsided, so I can prepare a little bit. I haven't played other positions so I'd be real raw and rusty."
Sure, he wants to make an NFL roster that badly and would do whatever it takes, but let's not kid ourselves, Perkins has bigger dreams and that chip on his shoulder.
"I believe I can play quarterback and I can play quarterback on a high level in the NFL," Perkins said. "If I make a 53-man roster, playing quarterback is the first option. I know I will be a great quarterback for someone in the league."
Marques Hagans could have told them that two years ago.
Comments