Perry, Davis, Chandler recognized with honorary 'first picks' of NFL Draft
By Scott Ratcliffe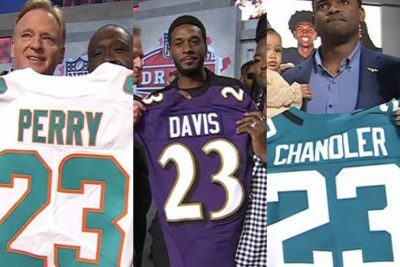 On one of its most important nights of the year, the National Football League took a moment prior to the start of the 2023 Draft to honor the lives of the three Virginia football players whose lives were cut short last fall.
D'Sean Perry, Lavel Davis Jr. and Devin Chandler, who were victims of a shooting on UVA grounds in November, were recognized posthumously on Thursday night in Kansas City.
NFL Commissioner Roger Goodell acknowledged the fact that all three Cavaliers had dreams of playing on Sundays, and in a classy gesture, he made Perry, Davis and Chandler the honorary first picks of the draft.
Joining Goodell on stage were UVA alums Melissa Stark and D'Brickashaw Ferguson, as Perry, Davis and Chandler's families were presented with No. 23 jerseys donning their names on the back.
"The NFL Draft is a time of anticipation and excitement as the nation's best college football players eagerly await the chance to play at the next level," said Stark, a longtime NFL analyst. "But this year, the draft holds deeper significance for the University of Virginia football community because of three young men who are no longer with us."
Stark explained to the many fans in attendance from across the league that not only did Perry, Davis and Chandler shine on the gridiron, but how they were exemplary young men off the field as well.
"These men were more than just talented athletes," she said, "they were valued members of their community, known for their kindness, leadership and determination. As the draft gets ready to start, we remember No. 1, 15 and 41, and the impact they had on so many in so short a time.
"They will live on in the hearts and minds of those who knew them, and in the UVA Strong community around the world."
Ferguson, a former Wahoo offensive tackle (2002-05) and No. 4 overall pick in 2006, shared memories of all three Virginia players — Perry's love of art and music and his desire to give back to the younger generation through football camps; Davis' strong faith, his close-knit relationship with his family and the love of his hometown of Ridgeville, S.C.; Chandler's infectious smile and sense of humor, and his dream of being drafted by the Jacksonville Jaguars.
"All three of these young men had dreams of one day being drafted and playing in the NFL," Goodell said. "Tonight, we can make one of those dreams come true."
As their loved ones approached the stage, Perry's family was given a Miami Dolphins jersey, Davis' family a Baltimore Ravens jersey, and Chandler's family a Jaguars jersey. Fans from every NFL team cheered loudly and tears flowed throughout the venue.
"So, to make it official, with the first picks in the 2023 NFL Draft, we welcome to the NFL family D'Sean Perry, Lavel Davis and Devin Chandler of the University of Virginia," Goodell announced to an emotional ovation.
If you missed it or want to watch again, you can watch the full presentation in the video below.