Players, coach remember Tyrone Davis: exactly what UVA needed, never was afraid of spotlight
By Jerry Ratcliffe
When Virginia recruiter Danny Wilmer went hunting for the next Herman Moore in the Cavaliers' offense, once he laid eyes on Tyrone Davis, there was no turning back.
Davis, like Moore, was a big target, 6-foot-4, who grew to 240 pounds, with great hands, good speed, and wasn't afraid of anything. He played for Larry Smith's Halifax County Blue Comets. All college scouts had to do was glance at the field and their eyes were automatically drawn to Davis.
"I'll tell you, he was an imposing figure," Wilmer said. "If you were on defense, he would put the fear of God in you. He had all the tools you would want for a wide receiver."
Davis signed with UVA after a year of preparation at Fork Union Military, and it didn't take long for him to make an impact.
"Fans expected him to become the next Herman Moore, and that's what he did," Wilmer said.
Davis went on to stardom at UVA, eventually breaking Moore's school record for career touchdown receptions with 28, a mark that still stands, plus remains No. 2 to Moore's yards per-catch average (22.0 to 20.9), still the two highest in Wahoo history (see related story on Davis' UVA and NFL careers).
Tragically, Davis, who only turned 50 at the end of June, died unexpectedly earlier this week, reportedly from kidney issues. Wilmer and Davis' former teammates were stunned when they got the news that Davis was gone.
"It was truly shocking when I got a text message from Carl Smith on Monday, that Tyrone had passed away," said former teammate Chris Harrison. "I hadn't seen him this season, but was looking forward to seeing him this weekend because we are all getting together to honor James Farrior."
UVA's Football Alumni Club's weekend coincides with Homecomings. Harrison, now a successful real-estate developer who lives in D.C., was on the fence about attending, but with Davis passing, "I feel like I have to go because I want to see everybody together and share some memories of him and give everybody a big hug."
Davis had planned to attend, having gotten involved with his support of Virginia football in recent years. In a text to former teammate Bill Curry, Jr., who resides in Charlottesville, Davis wrote: "What up my guy! I'm doing alright. I just have to watch how much I exert myself because my energy level is so low. My doctors are trying to find the cause. I'll be there next weekend though."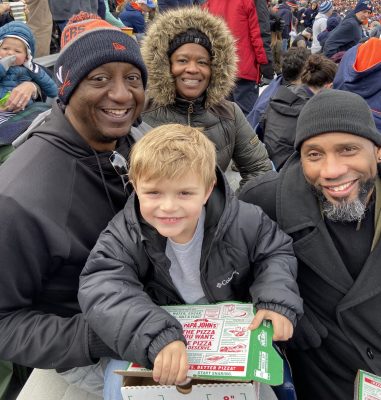 Curry was on the golf course with Barry Parkhill and Dr. Bob Rotella when he received the news from Wake Forest assistant coach Wayne Lineburg. Curry and Davis always hit it off since they met in 1991, but revived their relationship about five years ago and had become really close.
Davis attended UVA's season-opening win over Richmond last month, and Curry realized his old teammate wasn't in the best of health.
"He lost a bunch of weight at one point, then put it back on, and I know he had some kidney problems, so I was really worried about him during the pandemic," said Curry, who is a group director of national accounts for Boston Scientific, one of the largest med-tech companies in the world.
"I was super relieved that he was OK, but when he came to the Richmond game, he tried to talk up to sit with us about 25 rows up, but he couldn't make it up the stairs. We went back down to the tunnel (field level) and they looked after him. He actually watched the game from the tunnel by the locker room.
"It was so sad, because he was such an incredibly awesome human being."
Both Curry and Harrison said the fact that Virginia recruited Davis to step into the role of Moore, a top-10 Heisman Trophy finalist, never caused the rookie to blink.
"He never wore pressure on his sleeves," Curry said. "There was an ease with which he did everything that was utterly consistent. His work ethic, his attitude, I never saw him with nerves. He embraced being a member of the University of Virginia football family as much as anybody I was ever in a locker room with.
"He was such a physical specimen, but he treated everybody as if they were the most valuable person on the team. There was not a lot of people you could say that about. He went on and played for some really good Green Bay Packers teams, with some pretty incredible egos, but he had nothing but nice things to say about every experience he had with the Packers."
Curry's family had become incredibly close to Davis in recent years, considering Davis an uncle.
Harrison agreed with Curry about Davis never being intimidated by filling the star-receiver role on the team, which he did more than adequately. Davis led UVA in receiving yards in 1991, '92 and '94, in addition to leading the team in receptions in 1994 with 38.
"If Ty felt any pressure in replacing Herman, no one knew it, because he handled it with class and grace," Harrison said. "Coming from Halifax, that's a small place, and stepping into the spotlight in that era, where we were coming off from a No. 1 season (in 1990), being in the top 20, going to bowl games (the Cavaliers had played in the Sugar Bowl following the 1990 campaign), I never saw him choke, or be unable to step up to the plate when his number was called.
"He had great hands, I mean great hands. Bill [Curry] sent me a highlight of the play Tyrone made when we went down to Georgia Tech his freshman year. We had lost to Tech in the big national showdown the season before. Well, this was the next season, and Ty made the [Georgia Tech] defensive back and took it to the house. So, if he felt pressure, you wouldn't know it."
Curry remembered that pass play like it was yesterday (see video attached). It was Sept. 19, 1991, Bobby Dodd Stadium in downtown Atlanta. Georgia Tech had beaten undefeated and No. 1-ranked UVA, 42-38, on a late field goal by Scott Sisson in Charlottesville the year before.
In this return game, Virginia and the Yellow Jackets were knotted at 7-7 late in the third quarter when Cavalier quarterback Bobby Goodman connected with the freshman Davis, who hauled in the pass on the right sideline, made his defender miss, and like Harrison said, "took it to the house," 72 yards for a go-ahead touchdown.
"It was his first catch and was for a big touchdown," Curry said. "He was so big and fast, he just took your breath away. He was as great a guy as he was an athlete."
Tech went on to win that game, 24-21, again on a game-deciding field goal by Sisson, but Davis went on to have a great year receiving, and never slowed down until this past year.
"I saw Ty at his most dominant, impressive, physical prowess, and I saw him at his very lowest, and he made me feel exactly the same both times," Curry said. "As much as he suffered the last few years, that smile never left him. His humanity never left him. His kindness was immeasurable. I miss him terribly."
Harrison said that teams from that era considered themselves part of a brotherhood, so having lost a member like Davis was particularly difficult.
"I played for Minnesota and Detroit in the NFL, but I always admired this ring that Ty wore," Harrison said. "I don't know if it was an NFC championship ring or a Super Bowl ring, but I always admired that.
"I have one championship in high school, and we almost won the ACC my last year, but never got a chance to get it. I always admired his career and how he transitioned from wide receiver to tight end in the NFL."
Wilmer once attended five high school games in one day in Southside Virginia when he was recruiting Davis, and made sure he closed his night in South Boston to catch the prize receiver's eye. He really wanted Davis wearing orange and blue.
"He was exactly what we needed," Wilmer said. "He was a great kid. Quiet, with a big smile. But, man, like I said, out on that football field, he'd put the fear of God in you."