Poindexter was once terrified of Welsh, but grew to love him and now joins him in Hall of Fame
By Jerry Ratcliffe
When Anthony Poindexter is inducted into the College Football Hall of Fame this December, he will no doubt be gobsmacked by joining the game's elite.
Emotions may run wild about days at Jefferson Forest High School and how he terrorized opposing offenses during his All-American years as a University of Virginia defensive back. One thought will rise above all others.
"I get to go be beside my head coach," Poindexter said in a recent interview from his home in West Lafayette, Ind., where he coaches for Purdue. "I'll be in the same building, have the same recognition as the coach that I played for. It's awesome that I get to go into the same [Hall of Fame] as my college head coach who just passed away, and that I can be there where we will forever be linked together."
Poindexter, of course, was referring to the late George Welsh, who passed on Jan. 2, 2019, and who was inducted into the Hall in 2004. Welsh led UVA football to unprecedented heights and coached many All-Americans, including Poindexter, who starred for the Cavaliers from 1995-1998.
When Welsh was asked about Poindexter during his former star's UVA jersey retirement in 2009, the coach heaped praise, something Welsh rarely would offer.
"Anthony was the consummate football player," Welsh said. "I'll give you a quote from [Joe] Paterno about Ted Kwalick: 'God intended Ted Kwalick to be a football player.' And I feel the same way about Anthony Poindexter."
Dex, as most of his friends refer to him, was one of the fiercest hitters in the game during his time. Some observers claim they've never seen anyone hit opponents harder than Poindexter. He wouldn't just hit, he would punish, but always within the rules.
"He had no physical fear," Welsh said, noting that he coached two players like that, Poindexter and Chet Moeller at Navy. "Moeller wasn't as big or as fast as Poindexter. He was among the few Midshipmen that tested psychologically that he had no physical fear, no fear for his body. Poindexter was like that."
For those unfamiliar with Poindexter's career at UVA, he was the second player in Wahoo history to be named a two-time first team All-American, and will become the fifth Cavalier player to be inducted into the College Football Hall of Fame, joining Bill Dudley, Tom Scott, Joe Palumbo and Jim Dombrowski.
The 1998 ACC Defensive Player of the Year was a finalist for both the Thorpe and Nagurski Awards as he became just the third Cavalier to be named a three-time first team All-ACC performer, and was honorable mention as a freshman playing out of position on UVA's ACC Championship team. He elected to shun the opportunity to turn pro after his junior season and returned to UVA, his final season shortened by a devastating knee injury.
Being described as one of the fiercest hitters that Welsh ever coached was perhaps the ultimate compliment from a storied coach, something that Poindexter doesn't take lightly.
He remembered returning to Charlottesville for a banquet while he was with the NFL's Baltimore Ravens, and arrangers asked Poindexter to sit with Welsh that night.
"I was wondering how am I going to sit with Coach Welsh for a whole night," Poindexter reflected.
He had known Welsh as a stern coach, a man of few words, a man who suffered no fools and could be intimidating.
"It was one of the first times that I felt like, 'Wow, [Welsh] really likes me,'" Poindexter remembered. "He talked to me the whole night. I was asking all kinds of questions.
"He told me, 'When you walked onto campus that first day and I saw you in practice, I told Art (Markos, the secondary coach), don't mess him up.' He said, 'I just saw [something special] in you. He said, 'You're one of my favorite players.' He was talking to me about Chet Moeller, which ironically enough, I got to coach [Moeller's] son later on when I was coaching at UVA. I don't know why but Coach compared me to Moeller, so I felt I must be pretty good, I must be up there."
While Poindexter had a brilliant career, most Virginia fans remember him for a play during his freshman campaign, the game-ending stop against Warrick Dunn at the goalline as the Cavaliers stunned Florida State, ending the Seminoles' unbeaten 29-game winning streak against ACC competition.
Welsh and then-defensive coordinator Rick Lantz decided to play Poindexter as a nickel back and a backup safety that freshman season. UVA already had veterans Percy Ellsworth and Paul London starting at the safety spots, so it was difficult for the rookie to break in.
"Poindexter was just as good as they were, just not as experienced, so we played him at nickel and blitzed him a lot," Welsh said.
When Virginia played Florida State in 1995, it was later in the season (Nov. 2) and so Lantz suggested they move Poindexter to outside linebacker for the game.
"We went to a three-man line and put in another linebacker," Welsh said. "It wasn't a true 3-4, but it was a three-man rush. Lantz said, 'What the hell, nobody's getting to them with a four-man rush, so why don't we go to a three-man, which will also give us a little better coverage. It worked."
While Poindexter and Adrian Burnim made the stop on Dunn, Welsh pointed out that the unsung hero was Jamie Sharper, who got his hand on Dunn's leg and tripped him up.
"Sharper was an inside linebacker who penetrated past the tackle and got his hand on Dunn's ankle and I think that slowed him up just enough," Welsh said. "Otherwise, I think he's in the end zone. But Anthony and Burnim did a great job."
Welsh said while that is the play that glorified Poindexter's career, there are so many other highlights that get lost in the glitter of FSU.
"I think he had 18 tackles against a good Maryland team one year, so his great performances just went on and on, too many to mention," Welsh said.
Poindexter had been on the HOF ballot for a few years and after having been passed over, he was wondering if it would ever happen. When it finally did, he didn't really believe it.
"I came home from work and my wife, Kim, said there's a package with my name on it," Dex said. "But my son has my name, so there's no junior or senior on the package, so my son opens the package and said, 'It must be for you, dad. There's some kind of football in [the box]."
They pulled the football out and it read, 'Welcome to the College Football Hall of Fame.'
"I thought, this has got to be a damn joke. I looked closer and I read an attached letter that welcomed me to the Hall of Fame. It said you can't really say anything because they were going to announce it Wednesday. It was like Monday or Tuesday when I got the package. I watched a college football show and ESPN's David Pollack from Georgia was surprised when they handed him a ball like mine, so I said, OK, this must be the truth.
"It was crazy, man. I'm excited about it."
For Poindexter, it has allowed him to reflect on his life as a player and a coach and all of those who have impacted his path.
"A lot of people helped me get to this point," Poindexter said. "Obviously my mom, my dad, my brother. My friends, my high school coaches, the staff at UVA and what they allowed me to do. Also my teammates. I played with some great people. I didn't get here all by myself."
Poindexter said that UVA opened a lot of doors for him, doors in his life that probably wouldn't have opened otherwise.
"This place (UVA) is home to me, for my wife, for my kids. It's a lot of things to me, not just playing and coaching (he coached for 11 years for Al Groh and Mike London before moving on). "
Nothing can ever match his experience as a player.
"Now that I coach, I can see what that [Welsh staff] was going through. It was a great staff. Coach Lantz was the coordinator, Markos was in the secondary. Bob Petchel was the defensive line coach. Danny Wilmer came down and recruited me to UVA, and then there was Coach Welsh.
"I said at [Welsh's] memorial last year that you really couldn't appreciate him at the moment we played for him. I know it doesn't make sense to people who didn't play for him but I was terrified of that man. I mean, terrified.
"I looked at him as a father figure, and as the years went on I learned what his program meant, I learned that nobody's bigger than the team. They coached us hard, but they cared for us."
Poindexter clarified his statement about being terrified of Welsh, although most of Welsh's players felt that way when they played for him because he was a tough coach who didn't take any crap.
"I played with some great men like Tiki and Ronde Barber and many others, but man, we'd be at a hotel or somewhere and we were getting ready to get on an elevator and Coach would come by and we'd let him go. We'd just wait because it was just respect. He just had this aura around him. But we were a little intimidated, scared to be in the elevator with him."
Poindexter said it wasn't until he became team captain that he understood his coach a little bit. He would be elected by teammates to go to Welsh's office and ask for things for the team.
"The players wanted a fountain or something in our locker room, Gatorade or whatever. So I mustered enough courage to go in and sit down in front of coach and asked," Poindexter said. "He said OK.
"I went on to have more one-on-ones with him and I got to see a soft side to him. I knew he cared about us. I mean I'd ask for things for the team and he never blinked."
One of the requests was for the team not to have to travel with coats and ties all the time, and could the players change it over to a sweatsuit. Welsh agreed, as long as everyone wore the same type of sweatsuit.
Another request was to cut back a bit on the length or demands during two-a-days, and Welsh cut things back.
Still, up until that dinner where he sat all evening with Welsh, Dex was always intimidated by his coach's presence, that aura he mentioned.
"Even when I was coaching at UVA, Coach would make me nervous when he came in the room. In those days, he was very talkative. He would talk to you all day, really."
When Poindexter was weighing his options about going pro a year early, when he informed Welsh he was coming back for a fourth year, he was surprised at the coach's reaction.
"I said, 'Coach, I'm coming back. I want to play for you. I want to be part of this team,'" Poindexter recalled. "He's like, 'I appreciate that, but if you need to leave and make money to take care of your family, I understand.' It was his way of saying, You've got my blessing if you want to leave this program right now.
"It wasn't like you didn't do enough for me. I was looking for his approval to come back but I didn't think he was going to say that. I really sat back in my seat and I'm like, 'Who is this man?' After he said that to me that day, I knew it was about me, not him. I would have run through a wall for him."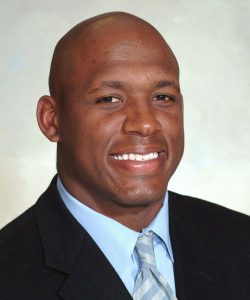 Since getting into the coaching profession under Groh, under London, at UConn, now at Purdue, Poindexter sometimes finds himself conjuring up some of Welsh's sayings and lessons when he's working with players.
"Just the other day, I used a quote he used to say all the time. He used to say, 'You only get better or worse, so you need to get better.' And he had this unique way of when we played a really good game, he'd come into the meeting and knock us down to level.
"I can't be like him because I'm never going to be a coach like him, so in that aspect, I can't be like him on a day-to-day basis, but I picked up a lot of stuff from him, even down to the uniform. He was a stickler for everybody looking the same. Nobody's bigger than the program, don't make your own individual statements. Just little things like that."
As a daily reminder, Poindexter has a photograph of Welsh and the program from Welsh's memorial sitting on his office desk.
"I can always look and see him every day," he said.
Then there was Wilmer, who still lives just outside Charlottesville and keeps tabs on UVA and other programs, including high school football. He's the guy who convinced Poindexter to become a Wahoo.
"Coach Wilmer has a special place in my heart," Poindexter said. "When I got my jersey retired at UVA and in high school, there was one person outside of my parents who was standing beside me both times — Coach Wilmer. He's like a dad to me. My folks love Coach. They thank him every time they see him for what he did for me and my family.
"Coach Wilmer wasn't afraid to tell you that he loves you. He made it so special. He's just a special person in my heart."
While Poindexter has been at UConn and Purdue, he still keeps close tabs on the Cavaliers. UConn faced UVA and Bronco Mendenhall, so he's well aware of Mendenhall's abilities.
"I definitely keep up with UVA and I bought the ACC Network for that reason," Poindexter said. "Even if I'm on the road, my family is watching it unless it's on at the same time as our Purdue game. I watch UVA football, basketball, baseball, whatever.
"I think Coach Mendenhall has done a tremendous job. I told people when he got hired that his teams are always well-coached, well-disciplined, big, strough, tough. I coached against them before he came to UVA and after. I knew it was just going to be a matter of time before he flipped our program around. I'm not shocked that [the Hoos] won the Coastal and went to the ACC Championship."
If there is any question where the Poindexters' allegiances lie outside of West Lafayette, rest assured they are still Wahoos.
When UVA and Purdue faced off in the Elite Eight two seasons ago, the winner going to the Final Four, they couldn't root against their Cavaliers.
"I'm going to put it this way," Poindexter said. "Only me and my family were watching the game at my house. Nobody from town was over. I don't want to go on record of saying what I had on.
"I'm telling you, we're Hoos through and through."
He did say that when Purdue fans came back to West Lafayette after that battle, won by UVA in overtime in a classic game, Purdue fans were raving to Poindexter about how great the UVA fans were, and what great people they were.
"I think there was a mutual respect between Virginia and Purdue fans. When I came back to visit Charlottesville, the people there were saying the same thing about Purdue's fans. You hated to see anyone lose that game, but we were kind of excited at the house."
Just like his old coach, who ended his career with one unforgettable phrase, Poindexter can relate.
"I will forever be a Wahoo," Welsh said upon his retirement press conference.
So will Anthony Poindexter, and come Dec. 8, they will be rejoined at college football's highest level, side-by-side in the College Football Hall of Fame where only the greatest ones live for eternity.

Comments