Popovic named Virginia women's assistant coach
Courtesy UVA Media Relations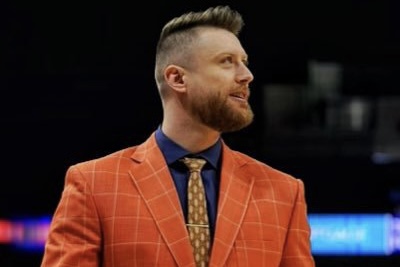 Virginia head coach Amaka Agugua-Hamilton announced Thursday that Janko Popovic has been promoted to assistant coach/video coordinator for the women's basketball team.
"I'm excited to be able to promote Coach Pop," Agugua-Hamilton said. "He has earned every bit of this promotion. He was hired as our video coordinator and excelled in all facets of his role! But his knowledge of the game and prior experience of being an on-court coach and recruiter is what propelled him into this new role. He also builds genuine relationships with everyone he encounters. Promoting him to Assistant Coach/Video Coordinator will allow him to utilize all his talents and continue to help our program operate at an elite level."
Popovic joined Agugua-Hamilton's staff in April 2022 as the team's video coordinator. This summer, he was an assistant coach for the Serbian national team at the 2023 Women's EuroBasket Champions in Slovenia and Israel. He also worked for the Serbian national team as a training camp coach in preparation for a bronze-medal run in EuroBasket 2019 in Serbia and Latvia. He also worked with the national team in the summer of 2021 as an assistant coach/scout and helped lead the team to the gold at Spain's EuroBasket 2021 and a fourth-place finish at the 2020 Summer Olympics in Tokyo.
Before coming to Virginia, Popovic spent two seasons working at Marshall. He began his Thundering Herd tenure as the video coordinator before becoming an assistant coach for the 2021-22 season.
🔶🔷 ℕ𝕖𝕨 𝕋𝕚𝕥𝕝𝕖 𝔸𝕝𝕖𝕣𝕥 🔷🔶
Congratulations to @coachjpop who has been promoted to Assistant Coach / Video Coordinator
🔗 https://t.co/Pihc7eevNI#GoHoos🔶⚔️ #GNSL pic.twitter.com/JeRGfDcl30

— Virginia Women's Basketball (@UVAWomensHoops) July 20, 2023