Remembering George Welsh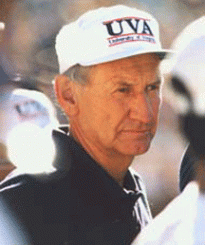 By Jerry Ratcliffe
I'll never forget the first time I saw George Welsh.
Thursday, Dec. 17, 1981, was the day. Welsh, dressed in a simple dark blue suit, entered the old press room at University Hall, through a side door, looking very much in command.
It was Welsh's introductory press conference as Virginia's new head football coach. Dick Schultz, then UVa's athletic director, had gotten the man at the top of his wish list, luring him away from the security of success at Navy, and to the challenge of turning Cavalier football around, a feat thought near impossible at the time.
Welsh didn't think that way. Quite the contrary.
He immediately won the media with positive thinking, although I dare say there were a few snickers in the back of the room when Welsh talked about putting Virginia into the Top 20. During the three decades prior to his arrival, UVa had been considered the butt of most college football jokes. It was much more accustomed to something in that day labeled the "Bottom 10," which lampooned the nation's worst football programs.
"I didn't come here to win four games," Welsh said. "I'm not going to be foolish. If there weren't problems, I wouldn't be here. But if you accept less than the top, you're not going to make it. You're not going to come close."
Welsh had rebuilt Navy into a winner and in fact, would return to Annapolis after the press conference and remain as coach of the Midshipmen through their Dec. 30 Liberty Bowl date with Ohio State, before moving to Charlottesville.
I remember two Welsh answers that day clear as a bell.
Someone asked him to comment on Virginia being a coaches graveyard (two winning seasons in 30 years).
"If this is a graveyard, it's a pretty nice one," Welsh shot back with his dry humor.
With his name having been attached in prior years to vacancies at Pitt and LSU, considered a potential candidate for the job at Penn State and Notre Dame somewhere down the line, Welsh was asked why not wait until a Top 10 job opened up.
"Why can't Virginia be that?" Welsh said. "I think Virginia has to start thinking that way. If there were ever a time to take a program like Virginia, it's now."
If you've been a lifelong Wahoo, you know the rest of the story. In only his third year on the job, Welsh's Cavaliers won eight games, took the program to its first bowl game in its history, defeating Big Ten runner-up Purdue in the Peach Bowl, then made UVa football a model of consistency in terms of winning.
In 1989, Welsh directed Virginia to its only 10-win season in school history, and in 1990, the Cavaliers reached once unthinkable heights, having reach the No. 1 ranking in the nation in both Top 25 polls for three consecutive weeks.
He won numerous ACC Coach of the Year awards, won the Bobby Dodd National Coach of the Year award in 1991, and retired in 2000 as the winningest football coach in UVa and ACC history at that time.
Over those 19 seasons and beyond, I covered Welsh's teams and got to know him and most of his coaching staff.
Back in 2009, when I wrote "The University of Virginia Football Vault … a history of the Cavaliers," I sat down for hours with Welsh and talked about his career. The publisher had only so much room for the Welsh era in the book, so many of the stories Welsh told me have never been written, never been printed.
Over the next week, I'm going to write a series on Welsh's coaching career, focusing on Virginia. There are some delicious stories that take you inside the Cavalier football program, inside of the Hall of Famer's head for some of the biggest games in Wahoo history.
I was deeply saddened Friday morning when I learned of Welsh's passing at the age of 85. I had just left Atlanta an hour before when I got a phone call telling me the bad news.
I had to pull over and collect my thoughts about the greatest football coach that has ever come this way. The remainder of the drive in a steady rainstorm was somber, depressing.
The last time I saw George Welsh was Oct. 27, 2016. Representatives of the Bobby Dodd Coach of the Year committee were coming to Charlottesville that following Saturday to commemorate the 25th anniversary of George winning that award.
I met him over at the McCue Center football offices. He would drop by there most mornings to read the morning papers and drink coffee.
Not much had changed except for the bursitis that had invaded his hands, and a bum knee that bothered him. His memory was still as sharp as his humor.
The greatness was ever present. Always will be.
We lost him way too soon. Never had a chance to say goodbye.
Welsh used to kid all us media types about one of these days he was going to sail into the sunset in an old tramp steamer.
Looks like the Old Salt's ship just came in.
RIP George. You were the best.
Comments