Riverside Lunch, "Best Burgers in Town," has re-opened for business; please support our sponsor!
By Jerry Ratcliffe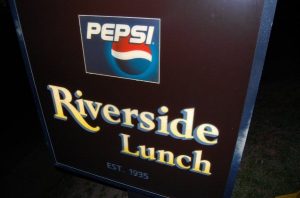 We are all about supporting our sponsors during this challenging time in our history (see related story concerning Mincer's, The Villa and Ragged Mountain Running Shop).
Tonight, we are thrilled to announce that one of our sponsors, Riverside Lunch (1429 Hazel Street in Charlottesville) has re-opened its business for "pick-up only" at this time.
Owner Lee Shifflett said that Riverside is now open from 9 a.m. until 5 p.m. daily, again, for pick-up only. If hours or anything else changes, we will be quick to notify Riverside Lunch fans.
Riverside's telephone number is: (434) 971-3546. You can find them on Facebook here.
Don't know if you saw an article in C'Ville Weekly a couple years ago, but the newspaper asked some of the top chefs in food-rich Charlottesville where they like to go to eat.
Riverside was the popular hangout for those chefs. So, if the top chefs of Charlottesville are eating Riverside burgers, you know you're in good company.
Don't know about you, but I'm going to be picking up some Riverside this weekend. They weren't voted the "Best Burgers in Charlottesville" for nothing.

Comments